You are in the current BP disaster ROV number 378; number 377 is here. The digest of diaries is here
Please DO NOT Rec this diary, rather REC THE MOTHERSHIP instead. She needs your love to stay afloat.
Please be kind to kossacks with bandwidth issues. Please do not post images or videos. Again, many thanks for this.
PLEASE visit Pam LaPier's diary to find out how you can help the Gulf now and in the future. We don't have to be idle! And thanks to Crashing Vor and Pam LaPier for working on this!
For a description of the mothership/ROV liveblogging process, check out this thread.
Must see:
BOP Forensic Analysis Part 1
BOP Forensic Analysis Part 2
BOP Forensic Analysis Part 3

I received a set of links to the massive video library collected by Josef Gerbils of The Oil Drum.
Deepwater Horizon BlowOut & Oil Spill:
Deepwater Horizon BlowOut II
Deepwater Horizon BlowOut III
Deepwater Horizon BlowOut IV
Deepwater Horizon BlowOut V

Those include many videos from our crew and others.
Must reads:

Six Steps that Doomed the Rig is an excellent graphic from the New Orleans Times Picayune.

Lax Oversight Seen in Failure of Oil Rig's Last Line of Defense. Watch video and interactive graphic page, too. That has one of the best overviews of how the BOP works, and doesn't work, and the management interference that caused the accident.

We have a new 40 page 12mb report on the Macondo well that is an excellent reference on the well design.

Deepwater Horizon BP Oil Spill Reference Material - from Whitis is the best source for everything.. The quantitative data diary has also been moved there.

The motherlode of technical data Kairos brought us was removed, but the 19 mb 48 page BP Accident Investigation Overview, and the 12 mb 147 page Confidential TransOcean Assurance Analysis of the BOP with detailed control diagrams starting at page 56, are still available.
Go to the Deepwater Horizon Data Summary for a wealth of actual data from the Department of Energy.
This is what BP DOES NOT WANT YOU TO SEE. The following images are guaranteed to make you .

These images are not for the faint of heart - DO NOT VIEW THEM LIGHTLY.

Really, I mean it. Hold somebody's hand. Grab a tissue.
A brief reference guide to nicknames you may see in the ROV diaries:

Gertrude, aka Gerty: the oil volcano
Lizzy: the diamond saw cutter
Clampy: the cute ROV
Crunchy: 30 ft shear. bit the pipe, now a movie star
Wanda: the dispersant sprayer
laundry basket: yellow thing that brings things up and down
Thingy: those things, you know, those things
Shiny Thing: those really neat things
Ms. Blanche Flo, aka Blanche, aka Flo: the manifold thingy
Thanks to dov12348 for publishing a diary on Oil Terminology.
Technical Info
Here is a tutorial on the sources of well pressure.
H/T to Pluto for finding this much better well casing configuration diagram (PDF).
Here is the initial BP Spill Investigation (PDF) report from 24 May.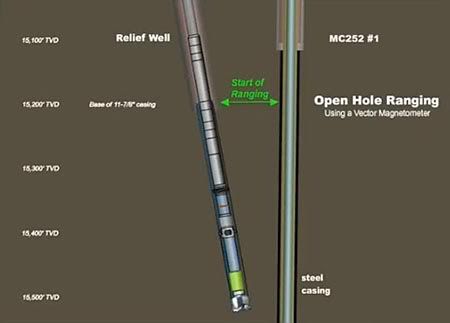 The initial approach above was followed by an open hole and a drill pipe magnetic ranging run. After they got to within 5 feet of the blown out well's lower casing they reamed and encased the bottom of the well in cement. They are prepared to start the final 50 feet of drilling to intercept the annulus which is just past the rock. They may still proceed with reaming through the blown well's casing if only to ensure there is cement at that level. (Photos from The Oil Drum)

On 28 June, Kent Wells provided a dual audio and slide presentation that has an accompanying transcript.
A video primer on ROV Watching, from GW Regular sometv.
Video feeds we are watching

Tomtech created a set of playlists for VLC player to partially solve the problem where titles do not identify the ROV.

==== ROV Feeds =====

20876/21507 - Development Driller II's ROV 1
32900/49178 - Development Driller II's ROV 2
41434/41436 - Olympic Challenger's ROV 1
40788/40789 - Olympic Challenger's ROV 2
30948/35246 - HOS Achiever's ROV 1
35461/36301 - HOS Achiever's ROV 2
47146/47147 - Development Driller III's ROV 1
43698/43699 - Development Driller III's ROV 2
39168/39169 - Chouest Holiday ROV 1
40492/40493 - Chouest Holiday ROV 2
58406/21750 - HOS Iron Horse ROV 1
58406/21750 - HOS Iron Horse ROV 2 points to IH #1.

==Restricted to web browser based viewing==

BP videos All the available directly feeds from BP.
WKRG - Mobile/Pensacola (Contains link for an iPhone app at the bottom.)

==Multiple stream feeds (hard on browser/bandwidth)==

Restore the Gulf.gov has put up a government sponsored multi-feed.
Bobo's lightweight ROV Multi-feed: A great low impact multi-view page
The best multi-view feed Be patient as load time may take a bit.
Markey's multi-view page
Lusty/papicek/sullivanst multi-feed page (originally created by papicek, small improvement by , and huge improvement by )
Vote For America's awesome clickable multi-view Courtesy of one of our very own Kossacks.
These High-def videos of the spew after the riser was cut were provided by the DOE.

See this thread for more info on using video feeds and on linking to video feeds.
Again, to keep bandwidth down please do not post images or videos.
Links, courtesy of several Kossacks
BACKGROUND
BP has a good diagram of the cutting process that partially succeeded
LEGISLATION/FEDERAL RESPONSE
PERTINENT BLOGS and collections of Oil Spill-specific JOURNALISM
Bit Tooth Energy blog (technical discussions) by the famed Heading Out, well known key poster on The Oil Drum blog site.
Previous liveblog ROV diaries:
Daily Kos Gulf Watchers ROV #377 - We Ain't No Ways Tired - BP's Gulf Catastrophe - Yasuragi
Daily Kos Gulf Watchers ROV #376 - Dancing in the Dark - BP's Gulf Catastrophe - Lorinda Pike
Daily Kos Gulf Watchers ROV #375 - Watching When They Let Us - BP's Gulf Catastrophe - Yasuragi
Daily Kos Gulf Watchers ROV #374 - David PA
Daily Kos Gulf Watchers ROV #373: Still Leaking @ the Mudline? No can see - BP's Gulf Catastrophe - David PA
Daily Kos Gulf Watchers ROV #372 - Still Leaking at the Mudline - BP's Gulf Catastrophe - Yasuragi
Daily Kos Gulf Watchers ROV #371 - A New Leak - BP's Gulf Catastrophe - Yasuragi
Daily Kos Gulf Watchers ROV #370 - BP's Gulf Catastrophe - Lorinda Pike
Daily Kos Gulf Watchers ROV #369 - BP's Gulf Catastrophe -Tomtech
Previous motherships and ROV's from this extensive live blog effort may be found here.
Information on our community can be found in Phil S 33's diary here. That diary having timed out, bigjacbigjacbigjac next took up the cause and posted a new bio diary here. The latest bio diary was posted by Ursoklevar on 7-25 and includes the bios from the previous diaries in alphabetical order by user name.

If you'd like, feel free to join in by sharing a little about yourself there.
in the dark time we held vigil,
we held vigil against the night,
we raged against the storm,
we moved with the force of nature
to right a great wrong,
to howl like the wind,
to hold the line,
to renew an ancient vow,
a sacred purpose,
to recall to life the human spirit,
to safeguard that which is most holy to us,
to forge and reforge,
this, above all, to be true,
to awaken our greater nature,
to commune from the deepest regions of our soul,
to heal this realm, to heal our people,
to guard all life, to guard life,
for this generation,

and all to come,

this is why we hold vigil ~ ~ ArthurPoet ~
| | |
| --- | --- |
| | We Are Here |
| | We are here. |
| | We are watching. |
| | Years from now, |
| | if anyone asks, |
| | we will tell them: |
| | We were there. |
| | |
| | Maybe it will not matter. |
| | Maybe nothing matters. |
| | But if we throw up our hands now, |
| | maybe someday, |
| | years from now, |
| | we will ask ourselves, |
| | why did we not at least keep watch, |
| | why did we not? |
| | |
| | Maybe someday, some of us |
| | will talk with someone younger, |
| | and tell of the time we watched. |
| | Maybe that someone younger |
| | will try harder next time, |
| | will do more next time, |
| | remembering |
| | the time we watched. |
| | |
| | -- bigjacbigjacbigjac |
We're all stunned and horrified by this disaster. Huddling with good people to calculate the damage and monitor progress, have a laugh when we can, share the sorrow we feel, and learn a lot in the process... That's what I'm really here for.

This is how I best cope. And if it turns out to be a useful thing to others, then that's great.

Kimberley
This is where you want to be for discussion, worrying, tearing up, and caring for each other. It's also where you're welcome to be angry and scream and curse and cry and rant at the criminal negligence and greed that have brought us all together. Most importantly, though, it's where we can learn from those kossaks among us (I'll not name names for abject fear of leaving one of you out, but you know who you are.) who bring the light of knowledge - sometimes with heat, sometimes without it - and teach us about what's happening beneath our Gulf of Mexico. On a personal note, I'll ask you to please be kind to each other in our little boats. There's enough hurt going on outside without bringing it here. - khowell
Bandwidth Warning: NO IMAGES and NO VIDEOS. Readers who are on DIALUP will thank you!