As soysauce detailed in her diary yesterday, the village of Silwan, near East Jerusalem, saw riots as a result of a settler guard shooting and killing a Palestinian man named Samer Sarhan. There were reports that another Palestinian had been injured as well. According to Maan, he, too, has died.
I thought about writing a little memorial diary to him and other Palestinians whose deaths often go unmourned and unnoticed. But a memorial diary on this website is usually apolitical, and Palestinian lives are a political controversy. So are their deaths. An apolitical diary is not possible when discussing someone who lived and died in Silwan.
So this very political diary is written in honor of the people in Silwan and Sheikh Jarrah and all the other villages of East Jerusalem who are being ethnically cleansed from their homes, while their history and culture is being erased with all deliberate speed. Their story deserves to be told. A diary is not the most convenient medium to convey that, but I will do what I can to explain their reality and what they must deal with day in and day out.
It would be a mistake to take this most recent incident, the death of Samer, in isolation.
Silwan is one of 28 independent Palestinian villages, which in 1967 were annexed into East Jerusalem, which in turn was itself annexed, by Israel. These villages, which before then, were considered separate from the city suddenly found themselves against their will a part of a state, where they were second-class residents.
Silwan's particular tensions were outlined in an article by Joel Beinin, a professor of Middle East history at Stanford, and according to him they go back to 1991. In 1991, a group known as To the City of David (ELAD by its Hebrew acronym) began seizing Palestinian homes and settling them with Jewish citizens of Israel. The reason that ELAD focuses on Silwan is that it claims the village is the biblical City of David, and indeed has redubbed it Ir David.
There is no conclusive evidence whatsoever that Silwan ever had hosted the presence of King David, his son King Solomon, or any Temple of any sort. Indeed, even the chairman of the Israel Antiquities Authority has stated that ELAD "has declared ideological agenda, which presents the history of the City of David [i.e., Silwan] in a biased way." Nevertheless, by 1994, it had begun sponsoring archeological digs, which are destroying evidence of the village's non-Jewish history. ELAD currently controls over a quarter of all homes in Silwan.
The most recent tensions, I submit, are a result of an incident on August 26. On that day, for the third time, Jewish settlers attempted to break down the iron door of a mosque near the Pool of Siloam. After police arrived, they began shooting live ammunition and rubber bullets directly at the Palestinian protestors.
On September 1, ELAD held a conference touting its "Gan HaMelech" park, slated to be constructed on the ruins of 22 demolished Palestinian homes. This conference was met with protest from Palestinians and Israeli Jews. Apparently, CBS's Leslie Stahl and her team were able to capture the brutal beating of protestor Daniel Dukarevich, an immigrant to Israel from the former Soviet Union, on film. They have not aired the footage yet.
Here is video of the beating posted by the Jerusalem branch of the Israeli NGO Ta'ayush:
This is the context of the shooting from yesterday. This is the reality of the Palestinian residents of Silwan and the other annexed villages. The settlers can come into their homes, kick them out onto the streets, and the municipal authorities, when they don't support these actions, won't lift a finger to help them.
We don't know who initiated the confrontation that led to Samer Sarhan's murder yesterday. Witnesses claim that the settler guard chased after Sarhan and some other Palestinians. The Israeli police claim that the settler guard was acting in self-defense. But what we do know is that in the aftermath, Israeli police have allowed the murderer out on bail, and instead of controlling the Jewish settlers, have decided to direct their power and authority at the Palestinians.
Image from yesterday. Notice that the soldier is pointing his tear gas launcher straight ahead rather than at an arc. This is supposedly against Israeli SOP.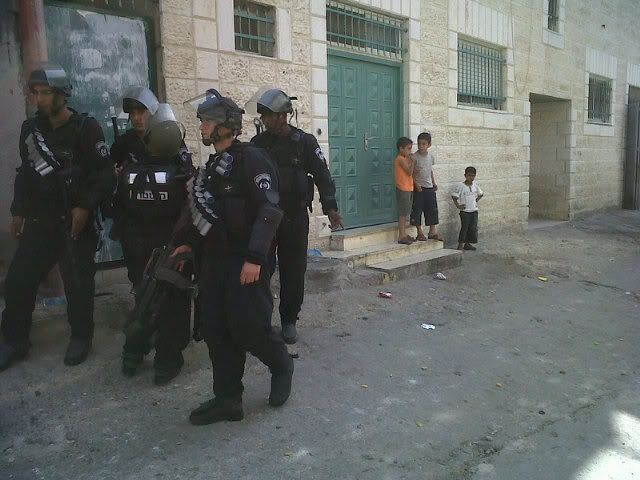 Image from today. Both pictures are courtesy of Israeli activist Joseph Dana, who also blogs at +972.
Dana is reporting that there is a complete strike ongoing in Silwan in protest of Sarhan's killing.
From the same Maan article cited above, the occupation authority has set up checkpoints all across East Jerusalem, in Silwan and other places aimed at Palestinians, while dozens of young men continue to be detained for being involved in clashes yesterday. Meanwhile another Jewish settler in Silwan opened fire on a Palestinian. Thankfully, no one was hurt this time around.
Sarhan was buried today, and his funeral turned violent. Ynet quotes one Palestinian:
We intend to continue to show that the killing of our sons will not be ignored without exacting a price. It can't be that we're shot and our blood is spilled, while life in Jerusalem runs normally.
All I can say, "Amen." Palestinians are not lesser beings. They deserve justice just as much as anyone else, including their Israeli rulers. But there is no justice, when the state allows the murderer to freely return to his home, while detaining Palestinians who protested his crime. There is no justice when Palestinians are placed under lockdown, while the settlers are free to roam the streets shooting at Palestinians.
The PA is too busy to defend the people its supposed to represent. So those people have taken it into their own hands to defend themselves. This is the only logical course of action given the sorry state that which they've been forced into.