The time is here once again. Time to gather around and take a well deserved hiatus from all the politics of the day. Science talk is here. New discoveries, new takes on old knowledge, and other bits of news are all available for the perusing in today's information world. Over the fold are selections from the past week from a few of the many excellent science news sites around the world. Today's tidbits include the hot atmosphere of Venus may cool the interior of the planet, desert dust can dampen river flow far away, new clues on climate change found in pressed plants, cocaine and ecstasy detected in waters in Valencia, mimicking nature to make a new type of solar cell, and two new species of horned dinosaurs discovered. Pull up that beach chair and relax. There is plenty of room for everyone. Settle in for one more session of Dr. Possum's science education and entertainment.
Featured Stories
In what seems to be a real contradiction scientists theorize the hot atmosphere of Venus may lead to cooling of the interior of the planet.
The carbon dioxide and other greenhouse gases that are responsible for the high temperatures were blown into the atmosphere by thousands of volcanoes in the past. The permanent heat – today we measure almost 470 degrees Celsius globally on Venus – might even have been much higher in the past and, in a runaway cycle, led to even more volcanism. But at a certain point this process turned on its head – the high temperatures caused a partial mobilisation of the Venusian crust, leading to an efficient cooling of the mantle, and the volcanism strongly decreased. This resulted in lower surface temperatures, rather comparable to today's temperature on Venus, and the mobilisation of the surface stopped.
Spring winds carry desert dust to the mountain peaks covering the snowpack with a dark layer.
When the winds are right and the desert is dry, dust blows eastward from the semi-arid regions of the U.S. Southwest. In a dust-up, Western style, small dark particles of the dust fall on the mountains' white snowfields, ultimately affecting the entire Colorado River watershed.

While dust has always blown into these mountains, the expansion of grazing and other disturbances in the western U.S. in the mid-to-late 1800s led to a five- to seven-fold increase in dust loading. The snow cover became darker and lasted less long.
Runoff from the Colorado River Basin has decreased by more than 35 billion cubic feet due to airborne dust.
Botanists have for many years collected and pressed plants for preservation and display. New evaluation of pressed plant collections
first direct proof that pressed plants in herbarium collections can be used to study relationships between phenology and climate change when field-based data are not available, as is almost always the case.
The study opens up important new uses for the 2.5 billion plant and animal specimens held in natural history collections in museums and herbaria. Some specimens date back to the time of Linnaeus (who devised our system of naming plants and animals) 250 years ago.
What goes in must come out so finding drug residue in natural waterways is no real surprise.
Scientists from this university and the Desertification Research Centre (CSIC-UV-GV) analysed the presence of 14 kinds of illegal drugs – including heroin, cocaine and ecstasy – in 16 canals and irrigation channels in the natural park. The study looked for the residue these drugs leave behind in human urine after they have been taken, and which end up in the water.
Improving the function and environmental friendliness of solar cells are projects of ongoing concern. New research with water-based gel devices shows promise.
The bendable devices are composed of water-based gel infused with light-sensitive molecules – the researchers used plant chlorophyll in one of the experiments – coupled with electrodes coated by carbon materials, such as carbon nanotubes or graphite. The light-sensitive molecules get "excited" by the sun's rays to produce electricity, similar to plant molecules that get excited to synthesize sugars in order to grow.
As archeologists and palenotologists continue their diggings new species continue to be found. The latest news is a pair of new horned dinosaur species
The giant plant-eaters were inhabitants of the "lost continent" of Laramidia, formed when a shallow sea flooded the central region of North America, isolating the eastern and western portions of the continent for millions of years during the Late Cretaceous Period.
.
Other Worthy Stories of the Week
Shark finning puts species on verge of extinction Video
Nano-sized particles could provide mega-sized data storage
Good fences could help clean up watercourses
Environmental impact of organic solar cells assessed
Taking the pulse of coral reefs
Marine scientists unveil the mystery of life on undersea mountains
Nano-antenna concentrates light: Intensity increases 1,000-fold
Geckos inspire new method to print electronics on complex surfaces
Evidence of a new state of matter found in a simple oxide
Earth's highest coastal mountain on the move
Parting the waters: Computer modeling applies physics to Red Sea escape route
Universal, primordial magnetic fields discovered in deep space
How some early plants learned to live on landRice growers turn to computers for advice, predictions
Titanium foams replace injured bones
New map offers a global view of health-sapping air pollution
Trampling animals can alter muddy Paleolithic sites
For even more science news:
General Science Collectors:
Alpha-Galileo
BBC News Science and Environment
Eureka Science News
LiveScience
New Scientist
PhysOrg.com
SciDev.net
Science/AAAS
Science Alert
Science Centric
Science Daily
Scientific American
Space Daily
Blogs:
A Few Things Ill Considered Techie and Science News
Cantauri Dreams space exploration
Coctail Party Physics Physics with a twist.
Deep Sea News marine biology
Laelaps more vertebrate paleontology
List of Geoscience Blogs
ScienceBlogs
Space Review
Techonology Review
Tetrapod Zoologyvertebrate paleontology
Science Insider
Scientific Blogging.
Wired News
Science RSS Feed: Medworm
The Skeptics Guide to the Universe--a combination of hard science and debunking crap
Daily Kos regular series:
Daily Kos University, a regular series by plf515
This Week in Science by DarkSyde
This Week in Space by nellaselim
Overnight News Digest:Science Saturday by Neon Vincent. OND tech Thursday by rfall.
Weekend Science by AKMask
All diaries with the DK GreenRoots Tag.
All diaries with the eKos Tag
NASA picture of the day. For more see the NASA image gallery or the Astronomy Picture of the Day Archive.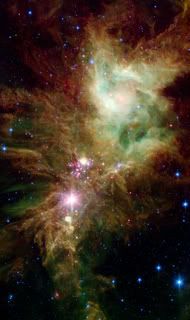 Christmas Tree Cluster, NASA, Public Domain