As the year rolls towards Halloween, decorations begin to hit the shelves. Rubber spiders, glow in the dark plastic webs, even "web in a can" to spray around those dark corners.
Southern California doesn't need canned webbing. The orb weavers have reached maturity and make absolutely fabulous Halloween decorations!
When I was a kid, I had an excruciatingly terrifying case of arachnophobia, so Fall was a difficult season for me. This is the time of year when mature orb weavers sling 20 ft. webs across walkways, spanning an amazing distance for an animal the size of your thumbnail.
There are several species of orb weavers common to southern California, but the most often encountered is probably the barn spider, a common name for a variety of orb weaving arachnids. These are the orangish spiders that tend to rebuild their webs nightly in the same location. They like to position their webs up high under eaves and across to trees. One night I refused to go out and put my bicycle away because one of these spiders had built a web directly over it. I just knew it would drop on my head, and if that happened I would just die!
Dad went out and put the bike away.
These harmless spiders will soon lay their eggs and die. They'll vanish after the first cold snap.

They can be fun to watch. During a territorial dispute over a choice site between the house and the acacia tree, I watched one spider chase another one off its web. The victor then proceeded to disassemble the web, rolled it up into a ball, and ate it!
Another orb weaver I'd been watching set up shop on our front porch. Naturally, I didn't have a camera handy when a yellow jacket got caught in the web. The spider carefully cut the wasp out of the web, then jumped ship on a long lifeline.
The released wasp didn't leave. It came back, perused the web, and spotted the lifeline. It followed the line down to the spider, grabbed it, stung it, and bundled it up.
While they can be scary, they don't leave their web and you will not likely find one in your house. Most of their diet is small insects. Once in a while, they'll get lucky with a fat moth or butterfly. While they can bite, it's rare. Usually, they'll climb up into foliage when disturbed. However, my friend is a police officer, and leaves for work when it's still dark.
One morning, she walked through a web strung across the front walkway, and the spider bit her on the nose before dropping out of sight. Although these spiders aren't dangerously venomous, I would not have wished to come in contact with my friend that day!
Barn spiders can get quite large. I mistook this one for a snail, and was going to pick her off the wall until I noticed it had way too many legs for a snail!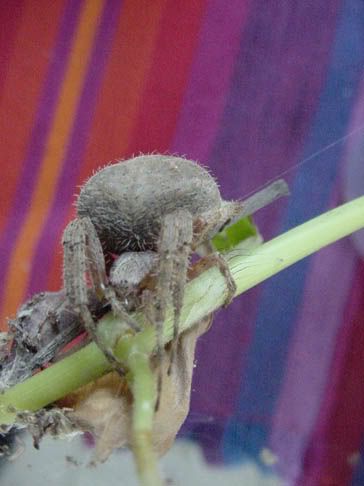 I took her picture and put her up in a Pawlonia tree, where she built a web and stayed until the cold snap ended her life.
If you are lucky, you may also see the Silver Argiope orb weaver. These large, spectacular spiders can be seen in their webs during the day. Like other orb weavers, they tend to stay put, rebuilding webs in the same place.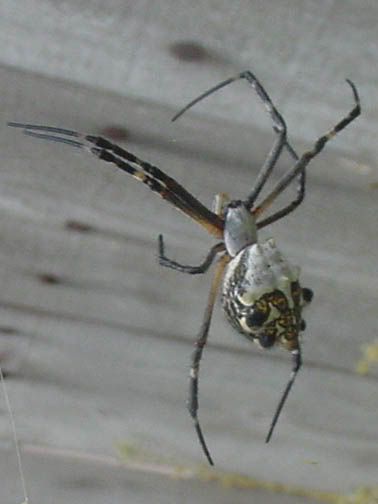 I have pretty much overcome my arachnophobia these days. While you won't see me holding one in my hand any time soon, I can enjoy and appreciate their presence in my garden.
They beat garden gnomes, and best of all, they're free!