Over the past couple of years, much has been made about "angry voters" and, in particular, Teabaggers angry at anything and everything to do with Democratic initiatives and policies.
But, will voter anger alone determine the outcome in the November Elections? Highly unlikely, according to a new NEWSWEEK poll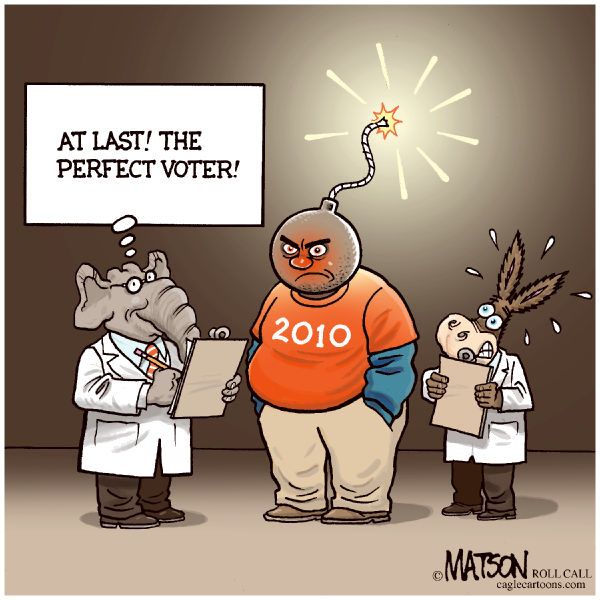 RJ Matson, Roll Call, Buy this cartoon
:: ::
Anger is dominating the current political conversation -- especially if you're an older, whiter, economically anxious voter who dislikes President Barack Obama and tends to prefer Republicans to Democrats. But according to the new NEWSWEEK Poll, there's little reason to believe that anger alone will be the determining factor in November's midterm elections.

SEE THE FULL POLL RESULTS - pdf document
The poll showed that there's not much of a disparity between likely voters who are angry and those who are not

Am I Crazy? by Tim Eagan, Deep Cover, Buy this cartoon
:: ::
But the NEWSWEEK Poll's most revealing finding is that despite months of media coverage insisting that voters are "mad as hell and not going to take it anymore," anger is unlikely to decide this year's elections. For starters, self-described angry voters constitute only 23 percent of the electorate, and there's no reason to believe that they're more likely to cast ballots in November than their calmer peers. Why? Because the percentage of angry voters who say they will definitely vote in the midterms is statistically indistinguishable from the overall percentage of voters who say the same thing (84 percent vs. 81 percent). In fact, majorities of voters say they would not be more likely to vote for candidates who express anger at Washington incumbents (60 percent), Wall Street bankers (52 percent), the illegal-immigration problem (53 percent), the Gulf of Mexico oil spill (65 percent), or health-care reform (55 percent). Fifty-three percent of voters see Obama's unemotional approach to politics -- his "coolness" -- as a positive, versus only 39 percent who don't.

:: ::
A few other important findings that gives the Democratic Party something to cheer about include the following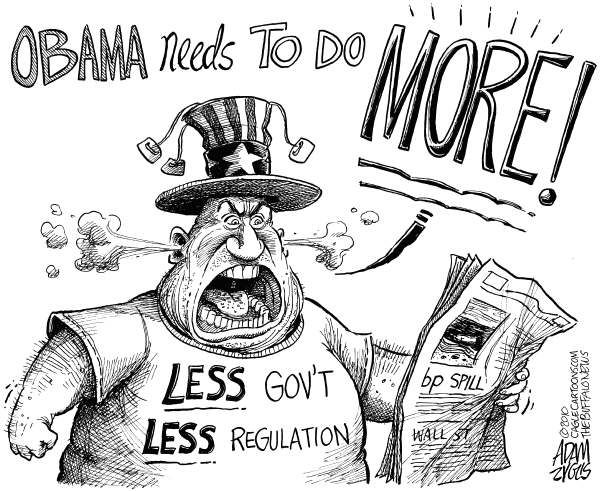 Less Is More by Adam Zyglis, Buffalo News, Buy this cartoon
:: ::
President Barack Obama's job approval rating stands at 48% as compared to George W. Bush's 33% prior to the 2006 Elections and Bill Clinton's 36% before the Democratic debacle in 1994.
32% of voters indicate that they will be voting "for Obama" as opposed to 30% voting "against him."
More voters (39%) blame Bush for the country's economic woes than Obama (32%).
On key issues, Democrats enjoy an advantage in all but one issue. On Afghanistan, Democrats lead by 6 points; health care by 12; immigration by 2, though that figure is within the margin of error; Social Security by 14; unemployment by 12; financial reform by 14; energy by 19; and education by 19. On issues generally favorable to the GOP, voters even prefer Democrats to Republicans on federal spending by 4 points; taxes by 5; and the economy by 10. Contrary to what Karl Rove has lately been spewing on Faux News, the only issue in which the GOP leads is terrorism by 6 points.
46% of voters prefer that Democrats control Congress vs 44% who prefer the Republicans.
The economy remains a major concern but compared to 1994, 68% of voters are dissatisfied with the country's direction vs 71% in 1994. 75% list economic concerns as atop their list vs 52% in 1994.
Social issues are losing their resonance amongst the electorate. In 1994, 59% cited social issues as a major concern vs 41% today.
:: ::
All in all, given the results of the Gallup Poll that I wrote about just this past Tuesday, September 28th -- New NBC/WallStreet Journal Poll: Good News for Democrats? -- and the PPP Poll cited in the rec list diary -- Obama at 48% in 2010, Bush at 33% in 2006, Clinton at 36% in 1994, there is some reason for optimism for the Democratic Party. Don't, however, take anything for granted and as I mentioned in a recent diary, please keep the following in mind over the next month
Treat everyone as an undecided voter from now until election day -- be it anyone on this blog or among friends, family, acquaintances, or co-workers. Insulting people will not win over any votes for Democratic candidates.
Don't lash out at anyone. If confronting teabaggers, be forceful and persuasive with them. Try to shame them by arguing facts but with passion.
Help your state and local candidates GOTV (Get Out the Vote).
Don't give an inch on issues. Remind opponents of the hell Bush left for the Obama Administration to resolve.
:: ::
Poll Methodology
SEE THE FULL POLL RESULTS - pdf document
See reader comments left in NEWSWEEK in response to this article. Almost 350 have done so by now.
This poll was conducted by Princeton Survey Research Associates International on September 29-30, 2010. Telephone interviews were conducted with a nationally representative sample of 1,025 adults, 18 years and over, including 691 adults reached on a landline telephone and 334 adults reached on a cell phone. Results use a two-stage weighting procedure: (1) to correct for different probabilities of selection associated with the number of adults in each respondent's household and their household telephone usage patterns; and (2) to adjust the sample demographics to Census Current Population Survey parameters for gender, age, education, race, region, and population density. The overall margin of sampling error is plus or minus 3.8 percentage points for results based on 1,025 adults. Results based on smaller subgroups are subject to larger margins of sampling error.