Hi everyone. CJB here after a helluva week, folks. I'm sure the same can be said for many of you. And speaking of that, before we go on, let's take a moment to think about Claude and his week. Peace and strength to him as he works on his son's house and property today. Best to all who are there lending a hand.
Next, the weekly sermon:
SMHRB is where we gather every Saturday morning to share frustrations, questions, possible solutions, and general wisdom about keeping our houses in good shape. Everyone is welcome and you should feel free to ask questions. Hopefully, the collective professional expertise and DIY experience here can help you out with your projects.
More after...
For today's little project, we recently replaced the outside door at the landing to the basement. (And by "we," I mean MrCJB. Though I did help carry the door from the car to the side of the house. :-))
Anyway, here are some pics:
Large door-shaped hole after we took out the old door and surrounding wood:
The part on the right that we had to rip out where the previous owner had scabbed in a skinnier door that I'm sure he got for free from the same miscellaneous pile of junk that supplied stuff for waaaay too many "fixes" around here:
Jamb from pre-hung door squared and shimmed into place: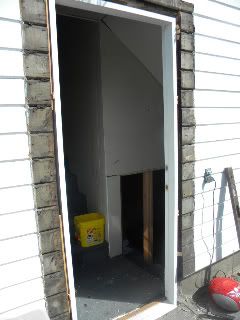 Door attached: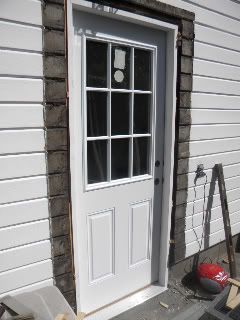 Et voila! The brick molding came with the door. MrCJB added new 1"x6". (He'd like you to notice the cut out flare at the bottom. The ego is in the details, dontcha know. ;-) Just needs a little paint: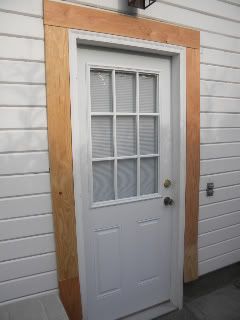 The old door was a crappy little slab. You could see daylight all of the way around it when it was closed, which always made me wonder how in the world it could stick so badly. But, now there's a better door with some nice weatherproofing. It's not sexy, but ya know what? I think this pretty fairly represents the standard homeowner project. Simply making something better. It looks better. It insulates better. It makes us feel just a bit better about our property.
And isn't that what it's all about?
Shop's open. What's going on at your place?