Welcome to the eKos Earthship, your one-stop-shop for green diaries and series.
Announcement: the server hosting eKos software is temporarily down, so the Flash widget isn't working right now. Hopefully it will be back up soon.
Tonight, we're doing something a little different. I'm going to share some photos of my weekend on a section of the Long Trail in beautiful Vermont. This of course will be accompanied by our usual eco-diary roundup.
Peruse the eKos Library to find previously listed diaries. You can also follow eKos on Twitter.
Tonight's editor: patrick
All views expressed by today's editor do not necessarily represent those of eKos or eKos listed diarists.
This wasn't a particularly long hike. Just 18 miles over a couple of days. However, it did include a summit of the highest peak in the state, with plenty of elevation changes and a number of scrambles.
The first day was a little cloudy, but fortunately there wasn't any precipitation. We got to the trailhead in the afternoon, and it was only a couple of miles to the first lodge. I was expecting more of an open shelter, but apparently the Green Mountain Club has some nice facilities available for only 5 bucks a night, and we had them all to ourselves.
The next day the sky cleared up nicely, and we left the frosty morning behind on our ascent up Bolton Mt. Along the way, we got a nice look from Harrington's View, at an elevation of about 2500 ft.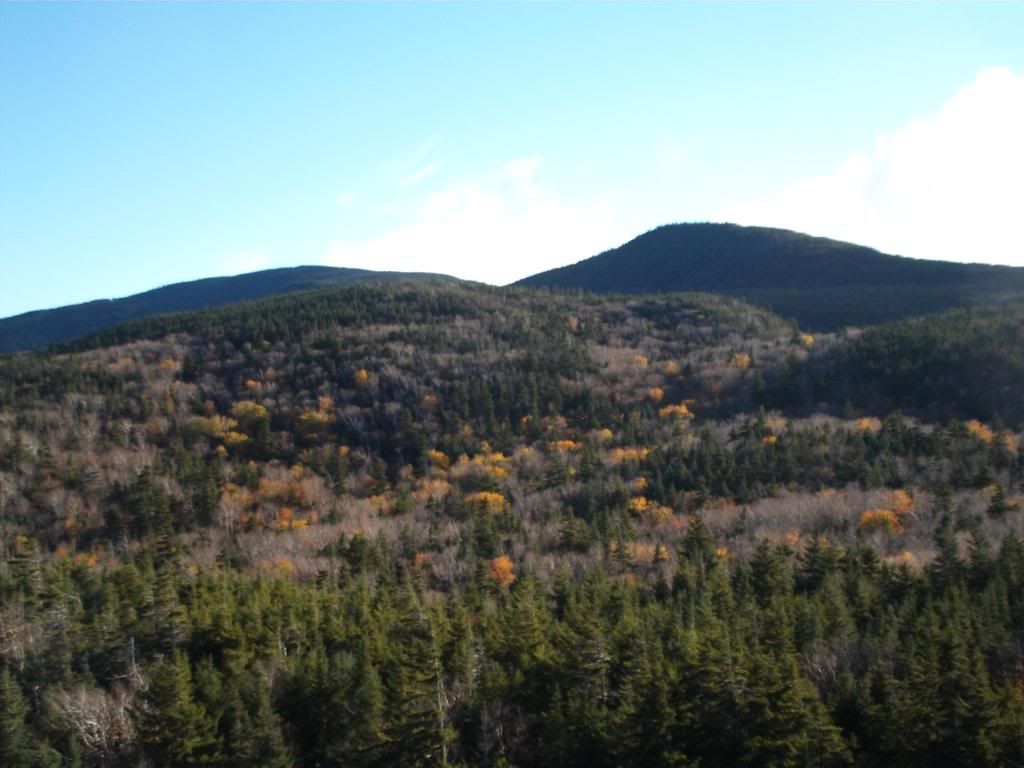 We encountered a couple of streams in the coniferous forests with the distinctive color of tannins (think tea and coffee).
We proceeded over Bolton Mt. (3725 ft) and Mt. Mayo (3160 ft), and then descended into Nebraska Notch, where we ate lunch next to a photogenic pond.
We also got a look at where we had been:

(At least, I'm fairly certain that's Mayo and Bolton).
From the notch, we still had a few miles and about a thousand feet to go to get to Butler lodge. This lodge was even nicer than the first one, and had an excellent view.
After settling in, we got to witness a gorgeous sunset.
The next morning we continued our ascent up Mt. Mansfield. Again, the weather was beautiful.
The climb got a little bit trickier the further we went, and I didn't take any more photos until we had made it most of the way up to the Forehead of Mt. Mansfield.
Mansfield has quite a ridgeline, including the Forehead, the Nose, and the summit at the Chin.

(From the forehead, the Nose (towers) and the Chin in the distance.)
The trail along the ridge was a lot of fun. The area is well protected because of the sensitivity of the alpine plants, and so the trail was clearly marked on either side where necessary.
The gondola for the ski area was in operation, and if my legs had a vote, they probably would have gone for it. But of course I wasn't going to miss the best part!

(looking back toward the Nose and the Forehead.)

(I'm certain there is an interesting story behind the name for this trail...)

(Apparently there is flora up on Mansfield that is found nowhere else in the state of Vermont.)
The view from the Chin was amazing. We could see New York (the Adirondacks), Canada, and New Hampshire.
The USGS marker was pretty easy to find:
And of course I had to have my picture taken at the very tippy-top:
After that, it was seemingly straight down (not really, but it was a bit steep for a while there). It's not as impressive in the photos, but a couple of us looked back up and said something like, 'wow, we just came down from there!'
One last view before coming down into the valley:
A Call for Editors!
eKos, your beloved one-stop-shop for environmental diaries and series, could really use a few more volunteers. We have a great crew, but with the nhttp://www.dailykos.com/story/2010/10/8/193116/507?new=trueew school year and election season in full swing, we're all pretty booked. We'll try to keep the 'ship going, but without some help, we'll have to scale back a bit.
This is where you come in! Yes, you! Anyone can pull off an eKos diary round-up, and maybe even have a little fun at the same time. We have templates and automated widgets to make it simple, plus you get all the mojo you can eat.* If interested, please contact us at ekos350 at gmail dot com.
*Mojo has no nutritional value whatsoever, so please remember to eat real food!

Countdown to 10.10.10.
This weekend, folks!
Sign up for an event near you!
Calculate your carbon footprint and download your personal checklist with easy tips on small changes you can make in your lifestyle to reach the desired 10% decrease in one year.
What Can I Do 10.10.10 Resources

(All times Eastern!)

eKos diaries from Friday, October 08, 2010
Diary
Author
Time (Eastern)
Tags
Gulf Watchers Morning Edition - BP Catastrophe AUV #405
bleeding heart
10/8/2010 6:48:36 AM
Oilpocalypse, BP, Deepwater Horizon, Macondo, Gulf of Mexico
Giving Farmers a Reason to Stay
NourishingthePlanet
10/8/2010 9:03:08 AM
ekos, Nourishing the Planet, State of the World, Innovation, Home Farm Project
OR-GOV: Dudley's plan to increase deforestation
Laurence Lewis
10/8/2010 9:46:03 AM
Oregon, deforestation, clearcutting, Chris Dudley, John Kitzhaber
CA-Prop 21: Save State Parks (with pics and poll!)
Senor Unoball
10/8/2010 10:39:31 AM
Proposition 21, Prop. 21, CA-Prop. 21, CA-Proposition 21, California
eKos diaries from Thursday, October 07, 2010
Diary
Author
Time (Eastern)
Tags
The Last Most Beautiful
erratic
10/7/2010 12:24:45 AM
dogs, nature, beauty, ekos
I'm In Love With My Car
Edger
10/7/2010 9:13:09 AM
Cars, Climate Change, eKos
White House hid the truth on spill: The truth and the oil is still out there.
Phil Radford II Greenpeace
10/7/2010 11:02:30 AM
animals, chevron, Climate change, energy, environment
Haitian Farmers: Growing Strength to Grow Food
Bev Bell
10/7/2010 12:13:07 PM
ekos, Haiti, Earthquake, Haiti Aid, Haiti Reconstruction
Oklahoma Town Fights Coal Ash
Bruce Nilles
10/7/2010 12:35:54 PM
eKos, coal ash, coal, Sierra Club, Oklahoma
eKos: Bee Colony Collapse Mystery Clues Revealed
FishOutofWater
10/7/2010 4:36:46 PM
Recommended, eKos, environment, honey bees, bees
White House and My House, Reflections on 10 months of Solar in Central Texas
Jakkalbessie
10/7/2010 5:45:06 PM
Ekos, Green Energy, Solar Energy, federal government, White House
Tales from the Larder: Mushrooms, part 2
Patric Juillet
10/7/2010 6:00:00 PM
Tales from the Larder, Food Series, Recipes, Mushrooms, Fungi
eKos diaries from Wednesday, October 06, 2010
Diary
Author
Time (Eastern)
Tags
VA AG re-files against UVA/Mann: Climate-change McCarthyism
seesdifferent
10/6/2010 1:55:44 AM
ekos, Michael Mann, climate science, McCarthyism, anti-science
Gulf Watchers Morning Edition - BP Catastrophe AUV #404
peraspera
10/6/2010 6:18:17 AM
Oilpocalypse, BP, Deepwater Horizon, Macondo, Gulf of Mexico
Nourishing the Planet TV: Reducing Post-Harvest Waste
NourishingthePlanet
10/6/2010 9:42:55 AM
ekos, Nourishing the Planet, Nourishing the Planet TV, NtP TV, Innovation
Peabody Coal's Plan to Save the World...Or Itself?
Bruce Nilles
10/6/2010 12:52:17 PM
eKos, Peabody Energy, coal, energy poverty, Sierra Club
Obama's BP Oil-Spill Commision - Government Untruthful
southof
10/6/2010 2:30:57 PM
BP, oil-spill; Macondo; NOAA; false estimates of the size of the spill; Gulf of Mexico; environmental damage; damage and destruction to people's lives in the Gulf; Hurricane katrina; Bush; criticism, eKos
How to Say "Never Again"
Michael Brune
10/6/2010 6:05:09 PM
BP, oil, transportation, ekos
Virginia AG Cuccinelli continues climate science witch hunt
DWG
10/6/2010 6:40:31 PM
climate science, Virginia, Attorney General, Kenneth Cuccinelli, University of Virginia
Drumming For The Planet: MA Climate Action, 11/6/10
WarrenS
10/6/2010 8:44:25 PM
benefit concert, eKos, 350, drumming, music
OMB Censored Accurate Calculations of BP Oil Flow
FishOutofWater
10/6/2010 9:39:19 PM
eKos, oilpocalypse, BP spill, OMB, censorship
eKos diaries from Tuesday, October 05, 2010
Diary
Author
Time (Eastern)
Tags
Obama White House going solar!
Lawrence
10/5/2010 6:48:01 AM
eKos, President Obama, Solar, White House, environment
Fracking is SAFE! Just ask the "Energy Citizens"! S'okay if your tap water ignites.
Eclectablog
10/5/2010 8:17:34 AM
Fracking, Frackaction.com, Rachel Maddow, Pete Seeger, Mark Ruffalo
Gulf Watchers Morning Edition - BP Catastrophe AUV #403
Darryl House
10/5/2010 9:25:11 AM
Oilpocalypse, BP, Deepwater Horizon, Macondo, Gulf of Mexico
Big Win: White House Goes Solar!
Bill McKibben
10/5/2010 10:52:24 AM
350.org, ekos, green, bill mckibben, climate change
The Amazing charity: water, in Photos
Patric Juillet
10/5/2010 1:22:48 PM
Recommended, DK GreenRoots, Water Charity, Water, Environment
Finally, military intelligence that is not an oxymoron
DWG
10/5/2010 2:59:42 PM
clean energy, military, energy policy, New York Times, Elisabeth Rosenthal
New Jersey Residents Can Earn Actual Ca$h if They Go Solar
dotcommodity
10/5/2010 4:47:05 PM
eKos, solar, cheap solar, free solar, solar SRECs
First-Ever Solar Projects Approved for Federal Lands and Other Good Environmental News
askew
10/5/2010 6:39:20 PM
Environment, Energy, Obama Administration, eKos
On winning the climate war
converger
10/5/2010 7:55:31 PM
climate, Obama, NRDC, EDF, Al Gore
What the US Military Knows That Politicians Don't
NoMoJoe
10/5/2010 8:02:28 PM
climate change, fossil fuels, global warming deniers, renewable energy, ekos
eKos diaries from Monday, October 04, 2010
Diary
Author
Time (Eastern)
Tags
"The James Buchanan of Climate Change"?
RLMiller
10/4/2010 12:22:57 AM
eKos, climate change, global warming, Barack Obama
Perhaps I Should Put Up Flags
Miep
10/4/2010 1:03:50 AM
strategy, eKos, community, politics, Little Texas
Gulf Watchers Morning Edition - BP Catastrophe AUV #402
Yasuragi
10/4/2010 6:50:45 AM
Oilpocalypse, BP, Deepwater Horizon, Macondo, Gulf of Mexico
Village Green: the Design & Context of Public Transportation
Kaid at NRDC
10/4/2010 9:09:46 AM
cities, eKos, public transportation, urban planning, communities
A Lame Excuse for Lame-Duck Legislation
A Siegel
10/4/2010 10:00:57 AM
ekos, natural gas, senator harry reid, congress, lame-duck session
"Even Jesus couldn't save their souls"
Edger
10/4/2010 11:54:15 AM
british petroleum, BP, Deepwater Horizon, Gulf of Mexico, eKos
Science Tidbits
possum
10/4/2010 3:32:05 PM
Science, Teaching, Learning, eKos
Macca's Meatless Monday...I'm Down Under
beach babe in fl
10/4/2010 6:02:19 PM
eKos, climate change, meat production, livestock production, health
Mental Gymnastics: The "Going Green" Year Long Project
webranding
10/4/2010 8:19:45 PM
eKos, Garden, Green, Environment, DIY
EcoJustice: Scars Upon Sacred Land II: Apache Leap and BHP Billiton/Rio Tinto
Aji
10/4/2010 10:00:47 PM
EcoJustice, eKos, Apache Leap, Rio Tinto, BHP Billiton
Underwater Hawai'i - A Photo Diary with bOObies
Haole in Hawaii
10/4/2010 11:13:35 PM
photography, photos, Hawaii, marine life, eKos
eKos diaries from Sunday, October 03, 2010
Diary
Author
Time (Eastern)
Tags
AGW: Tianjin10/04-09 & 350 ppm
koNko
10/3/2010 3:43:28 PM
eKos, Environment, Global Warming, Rescued
Sunday Train: 1:36 NYC/Boston, 1:23 NYC/DC, $117b, 30yrs
BruceMcF
10/3/2010 7:57:45 PM
ekos, HSR, transportation, passenger rail, Amtrak
Gulf Waters Riddled with BP Carcinogens
rb137
10/3/2010 10:00:39 PM
Recommended, CCNR, Climate Change News Roundup, BP, climate change
Public Lands, the Solar Fast Track, and a Greener Future ... hopefully
jamess
10/3/2010 10:29:20 PM
Fast-Track, Renewable Energy Projects, Public Lands, Barack Obama, BLM

What is eKos?

The eKos project is an effort to distribute environmental content on Daily Kos to a broader audience. When a diary has the 'eKos' tag, its information is collected in a database, which is then published in eKos Earthships and the eKos Library. We also Tweet all eKos diaries using the @eKos350 account, and distribute an RSS widget for use in Daily Kos diaries and comments. Diaries listed on eKos do not necessarily represent the views of the eKos Rangers or any other participating diarist. Participation in eKos is strictly voluntary, please let us know if you do not want the eKos tag!

Tag Rules

If you want to help out with tagging, here are a few simple rules to follow:

If you see or write an eco-diary or front page story, tag it 'eKos'. and inform the diarist. Use of the tag is strictly voluntary, so always defer to the wishes of the diarist.

Fix the tag if it is wrong ('e-kos' or 'ecos' tags won't work).

Watch out for tag abuse. If someone other than the diarist removes the tag without justification, please put it back, and explain to them very politely why you did so. If there is still a disagreement, please contact us. If you see eKos tagged writing that is clearly not friendly to environmental causes, or which breaks site rules, please alert us via e-mail.

Site rules prohibit calling out other Kossacks by name or user handle in the title of a diary. Don't tag diaries whose focus is to 'call-out' or directly criticize other Kossacks or diaries in an insulting or inflammatory way. It is fine if the diary addresses a meme or argument, as long as it sticks to substantive issues.

If there are any other questions, comments, or issues, please e-mail ekos350atgmaildotcom.