Good Sunday morning everyone! I have just received my text message from my wife saying that she has arrived at work safely. Hopefully work is not very busy and they send her home earlier than usual today. I would rather have her company than the money. Unfortunately, even though she works only the one shift each week, it is money that we would not get by without.
Not to worry, I am still not at a loss for good company. My Petunia and my Boogie Man as well as the three fur butts are all running around creating mayhem, laughs, love, and good times. It would just be even better if my best friend and wife was here too.
Speaking of little people creating mayhem, last Tuesday morning I woke up and walked out of my bedroom to discover my chest freezer standing wide open and its contents thawing. The kids had been up in the middle of the night! The result was that I had to smoke 3 racks of baby back ribs and a pound of sweet italian sausage, and make a pan of lasagna. My wife is pushing for a second pan of lasagna today or tomorrow since the first is gone and we still have some ricotta left. (She will take any excuse to eat my lasagna. She's like Garfield with the stuff.)
She may get her lasagna, but I want to also cook something that I have never made before. I have no more specific idea than that, but I know that I feel like something new to my cooking experience and to my family's menu. You see, I installed a shelf in the kitchen last weekend just above the aforementioned chest freezer. Then I reclaimed a chunk of counter space by moving all of my cooking magazines and cook books to the shelf. Doing this made me feel like thumbing through a few issues in search of a new recipe. Maybe I will try and find something that I can then pack for lunches at work this week. Having something savory that can make me excited about my lunch break would probably be a pleasant treat to ease the work day doldrums. So, if anyone has any suggestions with regard to this weekend's cooking fun, please feel free to say so in the comments.
Alright, enough with the pre-jam blabbering out of me! Let's get to makin' with the tunes!!
When I opened up youtube this morning, I noticed that this one had a new comment. That was enough to earn it the opening spot in today's jam session.
String Cheese Incident performs 'Dudley's Kitchen' set to pics from this year's family trip to Charleston, S.C.

Here is a special request from my Boogie Man. He saw it on the 'my videos' page of my youtube account and had to hear it. He loves this song and the picture is of him, so here we go.

Of course now Lila (daddy's Petunia) now wants to listen to a favorite of hers as well:

Alright, enough of the reruns from the videos that I have posted to youtube. Here's something that I haven't posted before.

The sax is hitting the spot for me this morning so...

&
(shockingly)

Ok, ok, so we're back to videos from my personal stash. It's my diary series anyway, right?
Here's a more recent addition (hidden track after the long pause):

Hey, how'd this get in here! Someone around here is a foodie or something:

Back to the jams already, jeez!

Here's something with some swing to go out on. Duke Robillard sings: They Raided the Joint:

As usual we invite you to come by the comments section to share a video or just to share the company. We thank you for the time that you spend with us and hope that the shared time has enhanced your Sunday as much as it has ours.
Remember, Todd and Lila love you.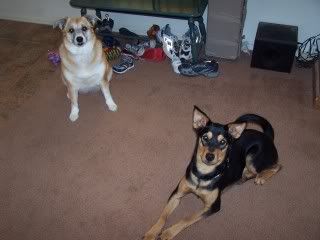 Alright one bonus video....
Did they say 'joint' in that last one?