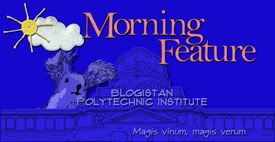 The resident faculty tried to fool us by leaving scribbled notes about the new campus conference center and their "weekly Wednesday meeting." But there is no new campus conference center, and they meet on Mondays. It seemed they were trying to keep things to themselves. And that was their clue.
More below the fold....
First our customary thanks to last week's guest lecturers. Last Tuesday, Professor of Neuroholdemology Caractacus concluded his long-running Things We Learned This Week series by discussing The Jen Ratio of Hockey Success. Alas, Professor Caractacus has become so busy learning new things each week that he will no longer have time to share things he's learned this week. We will miss his series, and hope he will continue to participate at Morning Feature and BPI when his schedule permits. Last Wednesday, Professor of Bathtublueberrywhisperology addisnana shared A Visit to Glennbeckisle and some sobering insights on Glenn Beck's success. Both were excellent discussions, and worth reading if you missed them.
This Tuesday, Professor of Topofclassclownistics JanF will slink out of BPI's state-of-the-art High Energy Meta Mojo Elucidation Detector (HEMMED) Lab wearing only her 1942 near-championship Bucky Badger t-shirt - the one with holes in all the right places - to seduce us with the offer of something new. On Wednesday, Professor of Ecoinsaninsuroscamology winterbanyan will offer some surprisingly recent history on "the rights we've always had." As always, Chef will be distributing coffee and bagels, and the Professor of Astrology Janitor will be disturbing cleaners and buffers.
Note: We have openings for Morning Feature starting next Tuesday and Wednesday. If you would like to guest host Morning Feature, please volunteer in the Tuna Can, below.

Also: Please share your stories of offline political activism in Things We Did This Week.

Reminder: Thursday and Friday Morning Features are now published only at the BPI Campus. If you haven't yet visited our Admissions Office, please do. We want to hear from you!
That leaves only the resident faculty trying to mislead us with notes about a new campus conference center and their meeting on Wednesday. They left those notes in the wine cellar library, where they spent the weekend drinking thinking on our motto of Magis vinum, magis verum ("More wine, more truth"). Then, as they do every Monday, they headed for the hot tub faculty lounge and their weekly game where the underwear goes flying planning conference. So why try to fool us?
The BPI Squirrel texted this hint on his Blewberry: "It's like the spoof letter in 2008 announcing that, to ease crowding at polling places, Republicans would now vote on Tuesdays and Democrats on Wednesdays."
While no such letter was ever sent - so far as we know - the satire cut to the heart of common TGOP efforts at vote suppression. Or as they describe it, "preventing voter fraud."
The most fraudulent thing about it is the TGOP's description itself. Before every election, they spread scary stories of past and anticipated "voter fraud." But as we'll see this week, their stories are frauds and their real agenda has nothing to do with trying to ensure that each voter is legitimately registered and casts only one ballot. They see no problem in challenging tens of thousands of legitimately registered voters to "prevent" a tiny handful of miscast ballots. In fact, that's exactly their objective: to intimidate and drive down turnout among predominantly Democratic voters.
So this week we'll explore their tactics of voter suppression, and how to stop it.
+++++
Happy Monday!
Crossposted from Blogistan Polytechnic Institute (BPICampus.com)