Take a look at this WV GOP sign, one of many all around my area. Tell me what you think. Interesting color choice, right?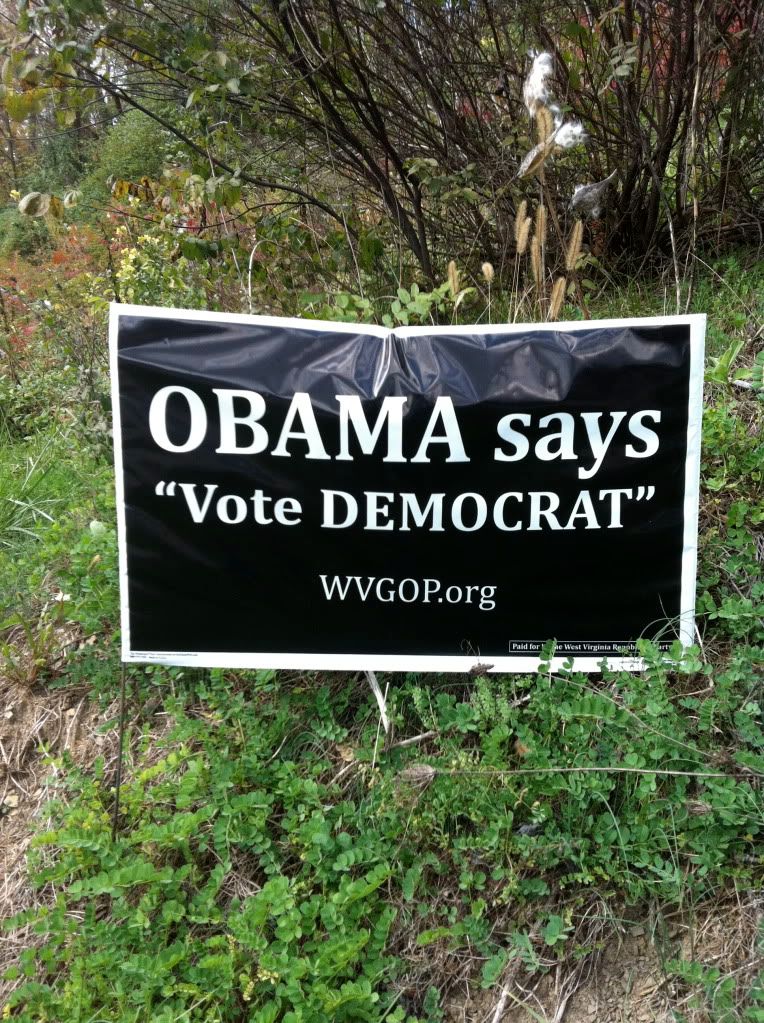 I've seen these signs all over Morgantown, West Virginia. Morgantown is the home of West Virginia University, and also happen to be the WV base of operations for John Raese's personal game of monopoly (he owns a major limestone quarry, the newspaper here, and other local media in this region of the state). This area, like other college towns, is pretty liberal when compared with the rest of the state. Heck, we even have a Kenyan restaurant. Still, I'm not too surprised that Florida's version of Mr. Burns (aka John Raese) and his GOP thugs have decided to use race as an issue. Certainly this sign was intended to emphasize that Obama is black (well, half-black but thats enough round these parts). I just feel dirty looking at it.
The race issue is real, unfortunately, and West Virginia is a prime state to push it. While I love this state dearly as my new home (and home of my wife's family), being from an area where I lived with blacks and whites alike (tidewater Virginia) I really can't understand what the big deal is.
Maybe it has something to do with the fact that West Virginia is 94.4% white. It's easy to turn some group into a scapegoat if there aren't any around to disprove your prejudices. Additionally, the factories and mines of this state have constantly pitted groups of workers against new arrivals, whether they be black or Irish, and things got ugly in the past. My wife tells stories about the coal camps her grandparents grew up in, and there were plenty of places where "the sun better not set on your black @ss" was the unofficial greeting to individuals with high melanin levels. Nevertheless, it saddens me that our education system has failed so egregiously that this tactic may just work.
Thanks for reading.