The great flyer you see after the jump will not help elect Jerry Brown -- because it and many more like it are sitting in the trunk of my car. They may never make it out to voters.
We have other flyers just like it sitting in our office across from UC Irvine. Pretty nice flyers, too. In fact, I'm driving up to West Hollywood today to pick up a couple of thousand more.
They won't help decide this election unless we have people who will volunteer to hand them out. I'm handing out as many as I can -- but I don't have enough time to reach as many voters as we'd like.
I hope that they won't stay in my trunk for long. I'd hate to see them wasted. Hey, would you like a bundle or two for lit drops or leafleting, this weekend through Election Day, in your neighborhood?
UPDATE: How to get involved? Your county Dem party (or, if in Orange County, you can contact me), phonebank through OFA or CallOuttheVote; sign up at myjerrybrown.org and you can find local events.
Here, take a look at it (and click on any image to see a larger version):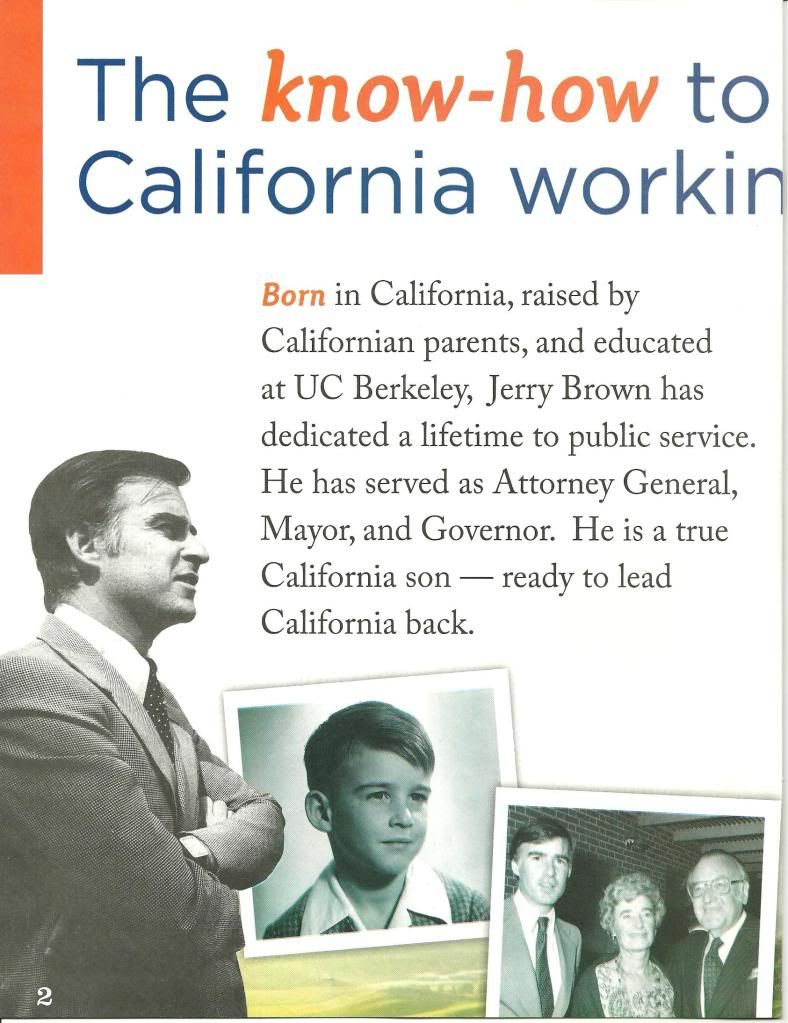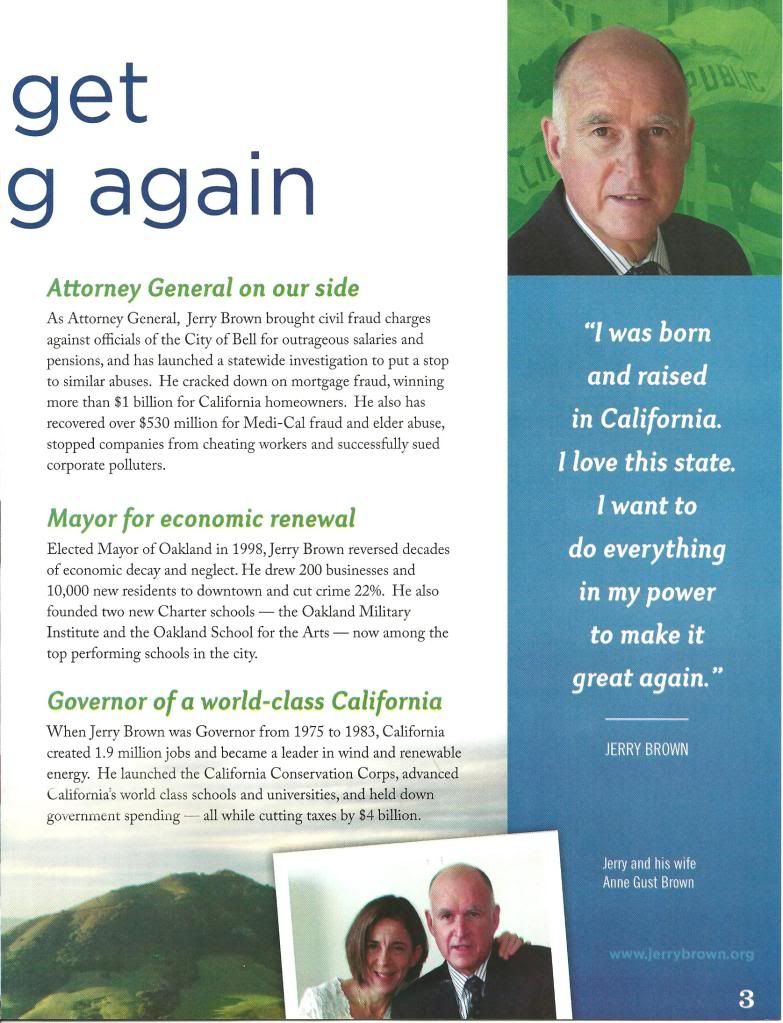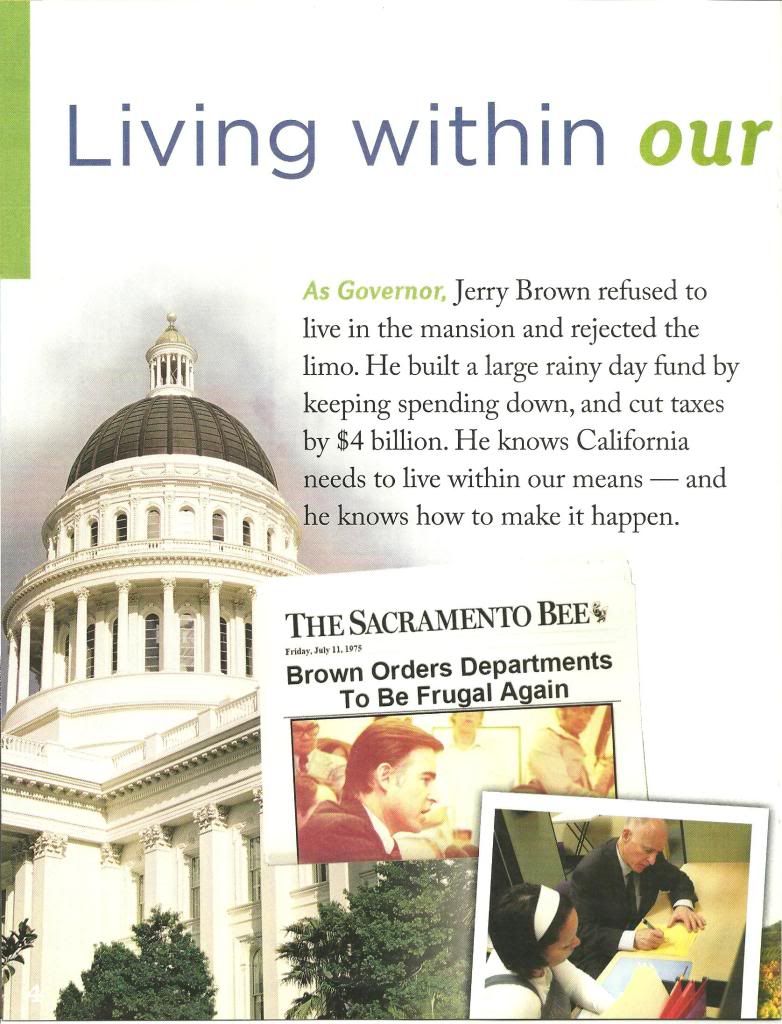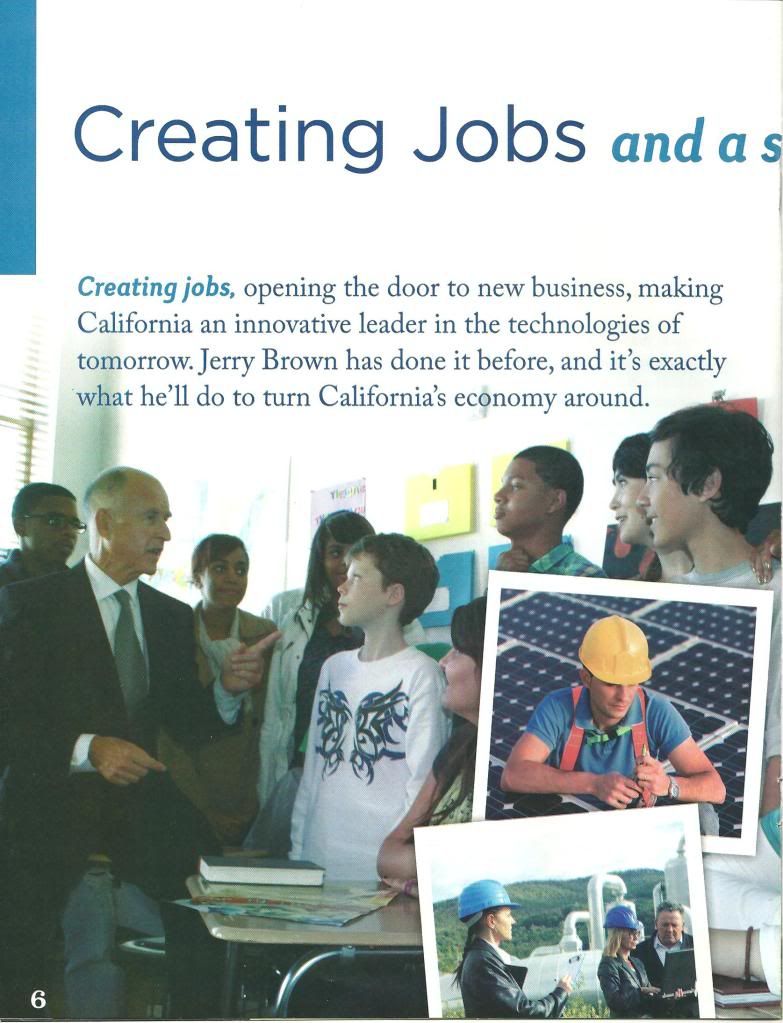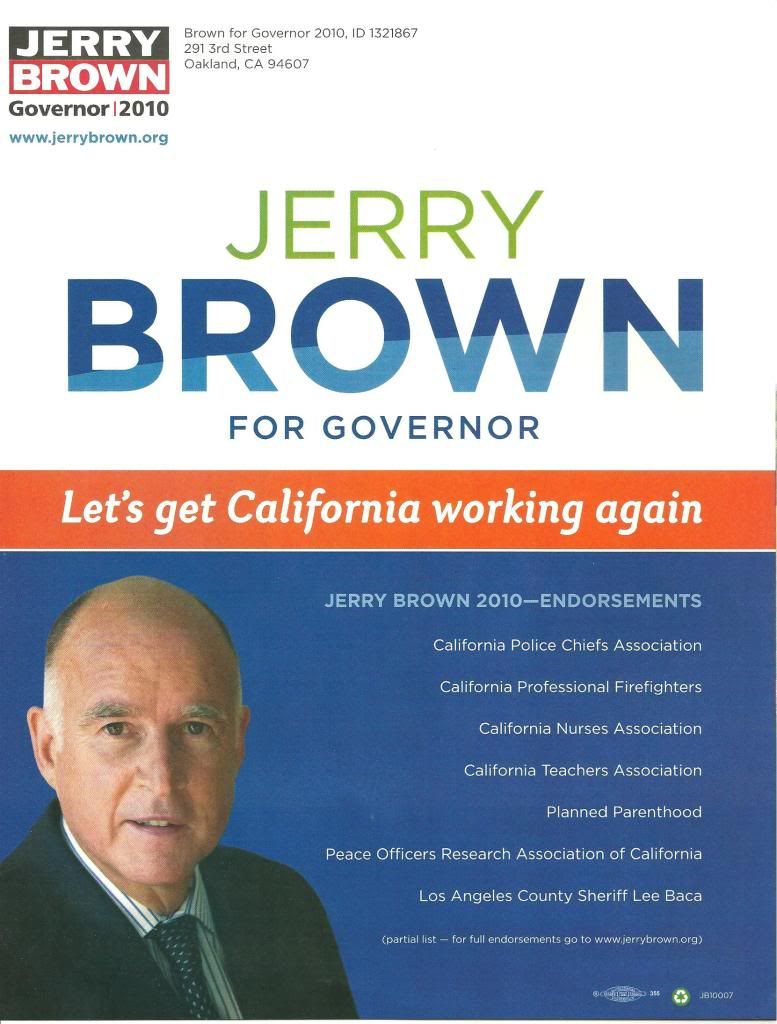 Pretty nice, isn't it? The Brown campaign has some great people doing its traditional political media. This flyer tells Jerry Brown's story in a positive way -- an approach to politics that Meg Whitman really seems to dislike. If you haven't seen the ad released today from yesterday's Women's Conference in Long Beach, take a look and you'll see what I mean.
Now, with the Brown campaign recently topping itself almost daily with ads that get called "the best I've seen this year," it may be that a humble flyer -- originally distributed as a mailer -- pales in comparison. But, alas, not everyone is on Brown's mailing list, reading diaries here on his campaign, or watching these ads when and where their presented.
Put a mailer (or let's call it a flyer) in someone's hands, or on their front porch, just before an election -- when they're making the decision about whether to turn from a registered voter to a likely/actual voter -- and you have a chance of making a difference outside of our social circle.
If you'll be at Drinking Liberally in Santa Monica tonight (at Trip, 2101 Lincoln Blvd., from 7 until whatev), I plan to come (fashionably late, given the preceding Fullerton-to-West-Hollywood run to pick things up) with a huge bunch of these flyers to distribute to anyone who will agree to distribute them where they could do some good!
If you're in Orange County, I can get you a list of houses where you can drop your literature -- even canvass door to door with it, if you're inclined. If you're in LA, Ventura, San Diego, Riverside, or San Bernardino counties, I can probably get these fliers to within an hour's or so drive of you by Friday afternoon. (Your county party can then help you choose exactly where to do the lit drop.) For every 50 houses at which you drop literature, you've upped the number of votes from that neighborhood by 2, on average. If you canvass them, and have some face-to-face interaction, it's more like increasing the turnout by 4!
Am I asking you to do this for Jerry Brown? Not entirely. In fact, at this point, not even primarily.
I'm asking you to do this for Democrats up and down the entire ballot.
As has been eloquently expressed by Markos, and by Howard Dean, Al Franken, and others in the amazing DKos GOTV project, this election -- in California and nationally -- now comes down to a simple and time-honored political game of who can get out the vote. That means calling, canvassing, leafleting, dropping literature, monitoring polls on Election Day to see which favorable voters have voted and report in about who hasn't, and more. (Blogging, not so much, but some of us can't help it!)
Taking California as an example: Jerry Brown's race is the most high profile in the state -- thanks largely to Meg Whitman's spending so much of her wealth on ads -- and right now he's doing well in the polls. (Am I convinced that his race is in the bag? No -- that disparity in ad spending is presumably matched by a disparity in spending on GOTV; the air battle is ending and the ground battle now takes center stage. Has she outspent Brown by a comparable margin on GOTV? Has she hired buses to take people to the polls? We don't know!) So, I'm optimistic but well short of overconfident.
But even if Brown were up by 30 and Whitman's approval ratings were in the single digits where they belong, I would still be pushing GOTV right now. Why? because unlikely voters who are converted into likely and actual voters for Brown will also likely support the whole Democratic ticket.
I am asking you to pass out flyers for Jerry Brown in part because your enthusiasm, your showing that this matters to you, is likely to mean more votes for Barbara Boxer. It will likely mean more voters for Kamala Harris, Gavin Newsom, and Dave Jones -- as well as excellent incumbents like Debra Bowen and John Chiang. Here in Orange County, it will help Loretta Sanchez stave off a teabagger challenger and Beth Krom take a competitive seat from birther John Campbell. It could lead to three pickups from Republicans in the State Assembly -- Melissa Fox, Phu Nguyen, and Esiquio Uballe -- that could bring us to a 2/3 Democratic majority in that body. It would probably mean more votes for the delicious filling -- Props 24 and 25 -- of the "Proposition Sandwich" and against the moldy bread -- Props 23 and 26 -- surrounding them.
I'm glad that Brown is ahead in the polls -- I wouldn't have it any other way. But the downside of such success is the prospect of complacency -- and the Democratic slate as a whole cannot afford that. We have a great slate of candidates and we need a great effort to beat their opponents.
This hefty flyer is a tool for converting probable bystanders to proudly counted voters. We know who needs to receive them. Now we just need to know who will distribute them. And, of course, if you're working through me or your county party, you can include literature for any other state-or-county-party-endorsed candidates as well. (And you should!)
I'm aiming this diary at Southern Californians, but I invite people from other parts of the state and from other states to make their own pitches here as well. Here's to our success!