Social Security Online -- Trust Fund Data
Trust Fund FAQs
What are the Social Security Trust Funds?

The Social Security Trust Funds are the Old-Age and Survivors Insurance (OASI) and the Disability Insurance (DI) Trust Funds. These funds are accounts managed by the Department of the Treasury. They serve two purposes:

(1) they provide an accounting mechanism for tracking all income to and disbursements from the trust funds, and

(2) they hold the accumulated assets. These accumulated assets provide automatic spending authority to pay benefits. The Social Security Act limits trust fund expenditures to benefits and administrative costs.

Benefits to retired workers and their families, and to families of deceased workers, are paid from the OASI Trust Fund. Benefits to disabled workers and their families are paid from the DI Trust Fund. More than 98 percent of total disbursements in 2009 were for benefit payments.

When an Insurance Company refuses to pay on a Legitimate Claim -- the injustice against the little guy is plainly obvious.
Well, Social Security is an Insurance Fund isn't it?

Our FICA Taxes are earmarked.
They are earmarked to OUR OWN Retirements!
They were never intended to pay for Defense, to pay for Schools, to pay for Roads.
Our FICA Taxes were meant to be separate from our National Budget and Debt.
They WERE intended to pay for our retirement dignity -- BY LAW!

The Impact of Social Security on the National Debt
By James D. Agresti and the Staff of Just Facts -- Sep 1, 2001
[...]
When a person borrows money, it is referred to it as "borrowing money." When the government borrows money, it is referred to "issuing bonds." The next time you run up $1,000 on your credit card, tell yourself or your spouse that you are issuing bonds. It sounds a lot better, and it may get you off the hook; at least in the short term.

For this reason, some people refer to the bonds in the Social Security Trust Fund as "worthless IOU's." . The bonds in the Trust Fund are as real as any U.S. Savings Bond that you might happen to own. The Social Security program loaned this money to the federal government and has a legal right to receive it back with interest.[29]

This can be a difficult concept to grasp, because it doesn't make sense that the federal government owes money to a federal program like Social Security. The key to keeping this straight in your head is to be aware of the following facts:

The Social Security program levies its own taxes.[30]

The finances of the Social Security program are separated by law from the rest of the federal government.[31]
What the GOPhers on the Social Security Commission are suggesting --
It's like raiding the Kids' College Fund -- you may have to do it -- but that doesn't make it right. By all means, you will restore the Fund when you can -- NOT find extra ways to CUT those Future Benefits, EVEN FURTHER!
That's what being a good parent [or national steward] is all about.

Fact Check: Has Social Security begun tapping its trust funds?
Monique Morrissey, Economic Policy Institute --Mar 19, 2010
[...]
This is simply not true. According to the Congressional Budget Office -- the source cited in the article -- Social Security will continue to run a surplus for years to come, with the combined old age and disability trust funds projected to grow from $2.5 trillion in 2009 to $3.8 trillion in 2020.
[...]
The fact that these bonds can be redeemed for cash at any time will come in handy when we do start drawing down the trust fund, which will probably begin some time after 2020. This is exactly what the trust fund is there for -- to help finance the retirement of the large Baby Boom generation.
[...]

To put this in perspective, future generations will still receive higher benefits, in inflation-adjusted terms, than retirees today because of economic growth. Nevertheless, it would be far preferable to raise revenues so promised benefits can be paid in full. This can be achieved by increasing payroll taxes a modest amount (equivalent to 0.5% of GDP) -- or better yet, by taxing earnings above $106,800, as Medicare already does. Polls show that Americans of all ages and political stripes would support a modest tax increase to preserve Social Security benefits for future generations.
But, Ooooh NOES!
There are those dreaded 2 words that strike Fears in the hearts of Politicans, of every stripe --
Tax Increase Ooooh NOES!
It makes no-never-mind that those increases are on the upper incomes.
Fear is fear. Capitulation is capitulation.

Social Security not a cause of, and not a solution to, national debt
by Jay Bookman -- Sep 7, 2010
It's not, or at least it shouldn't be, about Social Security.

Social Security is neither the cause of nor the solution to our nation's financial problems.
[...]

The facts are as follows:

With no changes in taxes or benefits, Social Security can continue to pay 100 percent of all promised benefits between now and 2036. It can do so by tapping a $2.5 trillion trust fund created precisely to cover the retirement years of the Baby Boom generation.

Beginning in 2037, and for every year thereafter, Social Security would be able to pay recipients only 76 percent of promised benefits.

. For example, raising combined SSI payroll taxes from 12.4 to 14.4 percent would cover the bill entirely. A combination of a slight payroll tax increase, applying the tax to earned income above the current tax ceiling of $106,000 and adjusting scheduled cost-of-living increases could also eliminate the gap relatively painlessly.

So where's all the National Debt panic, coming from?
Can anyone spell Faux Fiscal Hawks?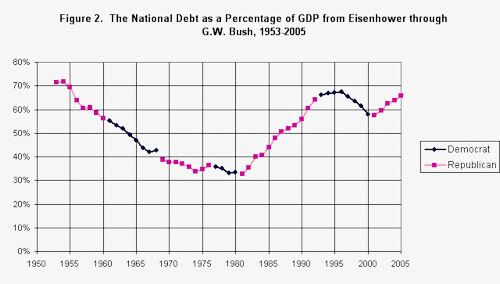 larger
Source: Economic Report of the President 2005 Table B-78

Social Security Online -- Trust Fund Data
Trust Fund FAQs
Why do some people describe the "special issue" securities held by the trust funds as worthless IOUs?

[...]
Far from being "worthless IOUs," the investments held by the trust funds are backed by the full faith and credit of the U.S. Government. The government has always repaid Social Security, with interest. The special-issue securities are, therefore, just as safe as U.S. Savings Bonds or other financial instruments of the Federal government.

If you can't trust your Govt to pay back its IOUs -- Who CAN you Trust?
People across the Nation depend on Social Security Benefits to eke out a meager living. My Mom is one. Perhaps your parents are too.
People work all their lives, "investing" in this Program -- without the choice NOT TO !

Social Security Benefits should be sacrosanct -- Untouchable!
Raise the Ceiling to include more of the rich among us, to help into pay FICA, instead.
Enough of Punishing the Poor -- with the Excesses and Greed of the Rich.
Show some Humanity. Show some Compassion already.

Enough of breaking the promises made to Workers, for generations.
Start keeping your word already, SS Commission -- and don't mess with those IOU's!
Besides, it's the Law -- it's backed by the Full Faith and Credit of the Govt --

and above all else -- It's OUR Money! (not yours, in case you forgot.)