I was inspired to create this series by former Beatle and vegetarian advocate Paul McCartney(Macca) who partnered with the Meatless Monday campaign to promote less consumption of meat. We not only discuss the advantages of a vegetarian diet we also do some cooking, share recipes and listen to great Beatle/McCartney music!
Welcome New Haven School System to the Meatless Monday Family!
Today is all about Pumpkins and the beginning of preparations for the Thanksgiving feast. To me Thanksgiving Dinner is all about the side dishes with one spectacular centerpiece dish to take the place of you know that(gobble, gobble). In my previous Thanksgiving diaries here , here, here and here I highlighted some of my favorite Thanksgiving dishes including the all-time most spectacular showstopper centerpiece The Giant Stuffed Pumpkin!.
Today I will share pumpkin recipes to last you through the Holiday Season for you, your family and your guests whether they're invited for dinner or stay for the entire season.


PUMPKIN SPICE SMOOTHIE
gotta have breakfast even during the holidays
1/2 cup pumpkin (organic canned or freshly cooked)
1 fresh banana (may be frozen if like)
3/4 cup organic low-sugar almond milk (room temperature or cold)
1 tsp cinnamon
1/4 tsp organic pure vanilla extract
Pour in the almond milk first, then add all the ingredients to the blender. Blend until smooth. Enjoy the deliciousness.
It's like liquid pumpkin pie without all the fat-- and loaded with antioxidant beta-carotene and vitamin A!
PUMPKIN PIE RISOTTO
This makes an awesome brunch during the holidays, delish with fruit salad sweet rolls and coffee serves 6
1 small pumpkin (up to 1 lb.)(you can prepare pumpkin the day before to save time preparing brunch)
3 tbsp. butter
1/2 cup sugar
2 tsp. cinnamon
3 tbsp. butter
1 granny smith apple, peeled, cored and finely chopped
1/2 cup amaretto
2 cups arborio rice
4-1/2 cups milk
3 tbsp. butter
2 tablespoons heavy cream
1/2 tsp. nutmeg
1/2 cup toasted, sliced almonds
Place whole pumpkin on a foil lined baking sheet. Bake at 350° F for about 90 minutes or until tender, turning sheet occasionally. Remove from oven. When just cool enough to handle, peel pumpkin. The peel and stem should come away easily, sort of like a roasted pepper. Remove the seeds and stringy pulp with a large spoon. Place flesh into a food processor with 3 tbsp. butter, sugar, and cinnamon, and process until smooth. Set aside. May prepare a day ahead.
In a large saucepan, heat 3 tbsp. butter over medium-high heat. Add apple. Cook until apple is just golden brown. Add rice, stirring constantly, and cook 5 minutes more, making sure rice does not brown. Add amaretto, stirring constantly, and let totally evaporate. When amaretto is evaporated, begin adding milk 1/2 cup at a time, letting each addition evaporate before adding the next addition.
After fourth addition of milk is added, begin tasting rice. Rice should be al dente when done. You need to keep tasting rice, because, depending on rice, you may or may not have to use all of the stock. When fourth addition of stock is absorbed, add pumpkin purée.
After last addition of stock is absorbed, remove from heat, and stir in butter, cream, nutmeg and almonds. Serve warm.
Note: You can add diced pears, bananas, raisins or other dried fruit or even chocolate chips to this recipe. Make sure any dried fruit has been soaked in hot water, or brandy, grand marnier, amaretto, etc. The fruit can be added with the pumpkin purée, either dried or fresh. The chocolate should be stirred in at the end.

BUTTERNUT SQUASH and BLACK BEAN CHILI in PUMPKIN BOWLS
adapted from Emily@ The Front Burner
I love mini pumpkins they are so cute! serves 3, double to serve 6
* 3 mini pumpkins
* 1 medium sweet onion, diced
* 1 tbsp olive oil
* 1 red bell pepper, diced
* 2 cloves garlic, minced
* 1 small butternut squash, cubed
* 2 cups black beans (1 lg can), drained and rinsed
* 1 cup canned diced tomatoes
* 1 tbsp chili powder (or more to taste)
* 2 tsp cumin
* 2 tsp paprika
* 4 cups vegetable broth
* Sea salt and pepper to taste
Take mini pumpkin and slice the top off about 3/4 of the way up. Scoop out insides of the pumpkin using a grapefruit spoon. This part takes a long time- about 10 minutes per pumpkin so budget your time wisely. Save and rinse the pumpkin seeds to roast them with some olive oil and salt if desired. When your pumpkin's are empty and cleaned out, brush the insides with olive oil and sprinkle on sea salt and ground pepper to your heart's content. You will be eating the pumpkin flesh so you want it to taste delicious! Now pop your pumpkins onto a baking pan and into the oven for 30 minutes. While they are roasting in the oven, make the chili. In a large pot, add the oil and turn heat to medium. Add chopped onion and minced garlic and sauté the onion for about 5 minutes or so. Reduce heat if necessary to avoid burning. Now add the chopped pepper and butternut squash. Cook for about 12-15 minutes. Now add in the drained and rinsed beans, diced tomatoes, chili powder, cumin, paprika, vegetable broth, and S & P and stir well. Simmer on low-medium for another 5 minutes. Now remove your pumpkins from the oven and fill the bowls 3/4 of the way full. Place pumpkins carefully back into the oven (again without top) and bake for another 30 minutes. Once they are cooked, turn oven off and leave pumpkins in the oven with lid on to stay warm. They will stay hot in the oven for another hour if necessary.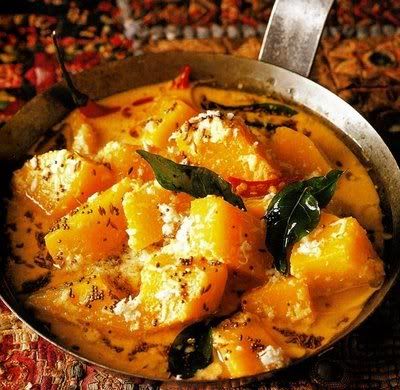 PUMPKIN, CHICKPEA and COCONUT CURRY
Jamie Oliver's contribution to our Pumpkin Extravagance!
Serves 4
1 large pumpkin, peeled, or a squash (approx. 900g), seeds removed
4cm piece of fresh ginger, peeled
A bunch of fresh coriander
Groundnut oil or olive or canola
4 garlic cloves, peeled and finely sliced
1 fresh red chilli, deseeded and finely sliced
4 shallots, peeled and finely sliced
1 tsp mustard seeds
20 curry leaves
1 tsp turmeric
1 x 400g tin chopped tomatoes
2 x 400ml tins coconut milk (I use light)
2 x 400g tins chickpeas, drained
Chop the pumpkin or squash into 3cm chunks and cut the ginger into matchsticks. Pick the coriander leaves and finely chop the stalks.
Pour a good lug of groundnut oil into a large saucepan and place on a high heat. Add the ginger, garlic, red chilli and shallots, then reduce to a medium heat.
Cook until golden, stirring occasionally, then add the mustard seeds, curry leaves, and coriander stalks and fry until the curry leaves go crispy. Add the turmeric, tomatoes and coconut milk.
Bring to the boil, then add the pumpkin and chickpeas. Reduce to a low heat, cover with a lid and simmer for 45 minutes. Check occasionally and add a splash of water if it looks a bit dry.
When the time's up, take the lid off and cook for a further 15 minutes or so until the sauce is lovely and thick. Scatter with coriander leaves and serve with rice, naan bread and chutneys and dips on the side.


VEGAN PUMPKIN RISOTTO
Serves 4-6
* 1 onion. diced
* 1 tbsp olive oil
* 2 cups arborio (risotto) rice
* 1 cup white wine
* 4 cups vegetable broth
* 1 cup canned pumpkin
* 1 tsp fresh ginger, grated or minced
* 1 tsp nutmeg
* 1 tbsp chopped fresh basil
* 1 tbsp margarine
* salt and pepper to taste
Sautee the onion in olive oil over medium heat for three to five minutes, or until soft. Add the rice. Allow to cook, stirring, for a minute or two. Slowly add the wine.
Start to add the vegetable broth, 1/2 cup at a time. Allow the moisture to cook off before adding the next 1/2 cup. Stir frequently.
Add remaining ingredients, stirring well, and cook for just a few minutes, until heated through.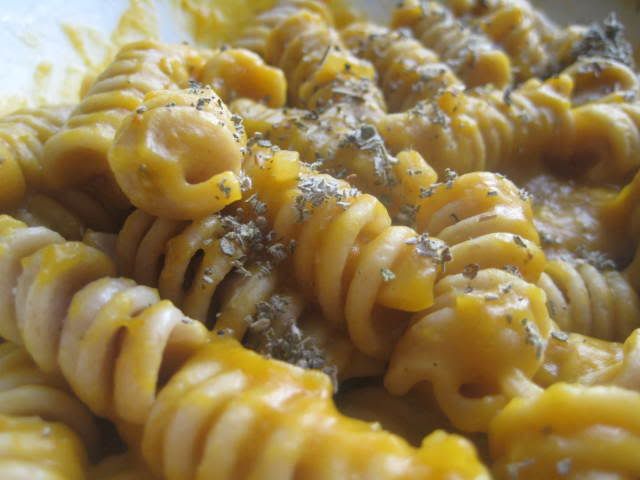 PUMPKIN and SAGE PASTA
* 3 cloves garlic, minced
* 1/2 onion, diced
* 2 tbsp olive oil
* 1/2 cup vegetable broth
* 1/2 cup soy milk
* 1 1/2 cups pumpkin, canned or pre-cooked
* 1 1/2 tsp sage (fresh, sliced into thin strips)
* salt and pepper to taste
* 1/3 cup finely chopped walnuts or pine nuts, toasted(optional)
If using fresh pumpkin, rather than canned, puree in a blender first until smooth.
In a medium-sized pot or large frying pan, sautee garlic and onion in olive oil 3-5 minutes. Reduce heat to low, and add vegetable broth, soy milk, pumpkin and sage. Stir gently to combine ingredients.
Allow to simmer until flavors are well combined, about 8-10 minutes. Add salt, pepper and walnuts or pine nuts, stirring to combine, then remove from heat.
Serve over cooked pasta 1 lb.(I use Barilla Plus for extra protein)


PUMPKIN ICE CREAM ROLL
Serves 10
3/4 cup all-purpose flour
2 teaspoons pumpkin pie spice
1 teaspoon baking powder
Dash salt
3 eggs
1 cup sugar
2/3 cup pumpkin
Confectioners' sugar
1 quart butter pecan ice cream
softened Whipped cream
Toasted chopped pecans, optional
In a small bowl, combine flour, pumpkin pie spice, baking powder and salt. In a bowl, beat eggs at high speed for 5 minutes or until pale yellow. Gradually beat in sugar. Stir in pumpkin. Fold in dry ingredients. Line a 15-in. x 10-in. x 1-in. baking pan with greased and floured waxed paper. Pour batter into pan; bake at 375° for 15 minutes. Turn cake out onto a linen towel sprinkled with confectioners' sugar. Peel off paper; roll up cake with towel. Cool on a wire rack. Unroll cake onto a baking sheet. Spread softened ice cream to within 1 in. of edges. Roll up cake again, without the towel. Cover and freeze. To serve, let stand a few minutes at room temperature before slicing. If desired, dust cake with confectioners' sugar and top with the whipped cream and pecans. Yield: 10 servings.
If Cooking for Two: Wrap cake roll in heavy-duty aluminum foil an slice as needed. Cake will keep for about 1 month.
"I Am The Walrus" "pretty little policemen in a row The Beatles

"Cold Turkey" John Lennon

What have you all been cooking? Planned your Thanksgiving menu yet? Next week I'll continue with holiday recipes. Please share your recipes and fave Beatle/McCartney music here!