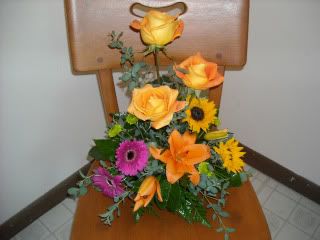 Welcome to a celebration of the life of Kris Froland, our exmearden, who was taken from us too soon. She desired no funeral – only a celebration in the Spring when her ashes will be sprinkled in the wide outdoors, and this memorial here, in the place on the internet where her voice will always live in her written works – and there are no walls to a "room" that is as big as we need it to be.
We gather to share stories and memories and to tell how she touched us, what that means going forward. Missing Kris, we come here to be with each other.

Kris Froland at NN08, photo by navajo
Parthenia (Rev. Marilyn Richards) will speak to us now:
We have lost a well known diarist and dear Kossack, exmearden. A featured writer on DailyKos, exmearden died on November 26, at the young age of 52 from cancer.

We come seeking connection. We have stories to share, questions to ask, consolation to be found and discoveries to make or read in the comments. And, we have a huge vibrant electric web of community that spans our Mother Earth, supporting each other.

Our vibrant cyberbody of online friends and relations exists as surely as friendship does "in real life." Exmearden's diaries themselves were proof of this connection. She took us on her cancer journey in her diaries. Marveling at life, exmearden wrote: "Normalcy is such a fine, divine thing, if we can just appreciate it when we have it." Exmearden spoke of the power of our online connections when she credited Sara's quilt with extending her life. The Love found in those words and stitches created a true comforter. The outpouring of our love sustained her. For Love is not particular about whether you use a keyboard or how you sign your name. Love is concerned that you are kind, good, grateful and caring. What is important is that you speak the good reciprocal love. And now, it is time for us to speak and let the love flow.

Exmearden seemed to seek an experience of being vitally alive, so that her experience in this material world resonated with her innermost being, her essential self. From this essential self, she wrote beautiful diaries that gave this website an inspiring emotional and spiritual depth. Many, many people responded to that depth; and as we will see below, wrote lovingly about their memories of her.

Photos by Kris Froland, set to music of Fauré by slksfca
Our first eulogy is from Susan G:
Much will rightly be said about Kris' phenomenal writing and her indomitable spirit throughout her illness in the days and weeks ahead. And Lord knows, they will be missed.

But the lack I will most sorely feel, I think, is her love of things, as things — large, small, quirkily in-between. Throughout her writing here at DailyKos, it seems you couldn't make it through even the shortest of her writings without stumbling across her fascination with objects, the physical world (scent, feel, shape and heft), the memories and meanings even the most ordinary of items would evoke.

From 2007:

There's a strange kind of grief that I felt yesterday as I walked through the local Goodwill store with my daughter, searching for vintage clothes on which she could practice sewing techniques and redesign. As I came across the aisles and bins of books, I saw dusty bottom shelves filled with now-obsolete Encyclopedia Britannicas and World Book encyclopedias. Funny that. It was an element of time I never thought I'd miss; when I was a kid, the encyclopedia salesmen were persistent and often irritating...

It's a strange kind of grief, ill-defined and somewhat unsettling, to grieve for a set of marketing-focused books, made for a newly minted, educated, ownership American society, post WWII.

And from 2006, on her love — her aching, physical love for her books:

My books are beings to me. I sometimes slowly and visually caress the leather and cloth covers with my eyes, trace old gold leaf scroll with my fingertips, grab the spines on the shelf and pull them partway out as if to reassure myself that they are still sitting there whole, with the pages inside intact. This isn't really a materially-based love affair; it's a sensory one. I have read most of them, but not all of them. I carry the conceit, and I know the arrogance of it, that I own a small area of the author as I read their written words.

And she dove into the meaning of objects for other people, what they evoked — memory, promise, hope, regret — forever using the physical world we're all grounded in, our unique experiences and things, to try to bridge the gap between our own consciousness and those of others. From 2007:

How carefully that flag is folded. How carefully, tenderly, quietly proferred to hands that do not want to reach out, do not want to hold this flag, do not want to have to receive this flag, cannot grasp why a flag is offered.

How does one absorb the meaning behind a folded flag that will never fly again, never feel the breeze again, never raise to touch the sky again. How carefully do three flag points hold the heartfelt, heart-hurt meaning of every death and every sacrifice gone before, happening now?

I could go on and on, example after example, but I won't. I just urge you — read. Read her treasure trove here of thought, feeling, musing, goofiness, melancholy. Her reach and grasp were wide, deep and pure, looking clear-eyed at the nature of things and what they mean.

From the heavens and beloved estuaries to wooden chests to houses, from Cyd Charisse's legs to the sheer physical discomfort of being crammed into a too-small apartment with too many people, she was amazingly, vitally aware of the wonder and the mystery of the large, the small and the ordinary.

Oh, people. Already I miss her so.

She was alive. She was awake. She lived, fully human and immersed both in the minutiae and the boundless glory of the world. And lucky for us, she left a record here, for us to return to and re-enter over the years. I've found myself returning to one passage of hers in particular in the past few days, one she wrote when she found herself resisting going through a box of her mother's keepsakes after she'd died. Like most of her writing, it was grounded in both the emotional and the sensual, and serves as a fitting closing for our community as we celebrate her life and grieve her loss, unwilling quite yet to let her go, to finish the sentence she was forming:

Curiously, it's the lingering scent of my mother's perfume that startles me the most. I've started to open the box...and I stop. I thought I was over this initial phase, five years gone by so fast.

So strange what the wafting of perfume can do to the rest of the brain's senses.

How do you deal with the remainder of life from your loved ones? Or are you like me. I think I am resisting the end of the sentence that finishes the story.
Readings from Rev. Marilyn Richards:
To see a world in a grain of sand,
And a heaven in a wild flower,
Hold infinity in the palm of your hand,
And eternity in an hour.
by William Blake (in the beginning of "Augeries of Innocence")

"We are not snuffed out at death
but absorbed into a greater flame."
Anne Morrow Lindbergh
Here are my words for Kris:
I first encountered Kris Froland's bright light as it was reflected in the eyes of so many people who adored her. It was in the comments to Dem in the Heart of Texas' diary in The Grieving Room — the one in which Kris' cancer diagnosis was announced. There was a communal wail of shock and pain upon hearing it. And I proposed the first Community Quilt on DailyKos — for Kris.

It was my privilege to meet her on the phone during the time I made her quilt — and, like everyone who has known her, was deeply impressed by her courage and good humor in the face of a very difficult situation. It was typical of her enormous heart that she wanted to share the quilting project — and so some of what was collected for Kris' quilt went to make a quilt for MsSpentyouth... And so it went, this way of sharing community support in fabric had become a going concern. Kris supported it — and was not shy about saying that she felt the loving words on her quilt had prolonged her life. When she said this publicly, emphatically at Netroots Nation, I thought I would fall to the floor.


exmearden's quilt, with 186 messages from her friends

I didn't know Kris for a long period of time — you might say our spirits brushed by each other in a busy blog. But I knew her. And I will never forget the gift of loving support that she gave to me. It's flowering now with The Community Quilt Project — something that would never have happened without Kris Froland.

The lesson I take from my knowing Kris and her gifts to me is that every little goodness matters. When we act from our hearts, ripples of really good stuff go out. It isn't necessary to know what exactly will result — but we can be confident that something will. And it will delight us.

I told Kris in Las Vegas and I will say it again, I love you, Kris. Thank you.
A reading from Rev. Richards:
Love Lives On
Those we love remain with us
For love itself lives on....
Cherished memories never fade
Because one loved is gone.
Those we love can never be
More than a thought apart....
For as long as there is memory,
They live on in our hearts.
Mary Alice Ramish
Dem in the Heart of Texas provides a music selection and then speaks:
Evening Hymn, by Henry Purcell (performed by Chanticleer)

Now that the sun hath veiled his light,
and bid the world goodnight.
To the soft bed my body I dispose;
but where shall my soul repose?

Dear God, even in thy arms,
and can there be any so sweet security?
Then to thy rest, O my soul,
and singing, praise the mercy that prolongs thy days.
Alleluja.

I "met" Kris as exmearden here on DailyKos in the spring of 2007, when we connected over our shared struggles with the grief of losing loved ones to cancer. At the genesis of our weekly grief diary, The Grieving Room, her sister Sharon's death became Kris's muse; she churned out diary after diary for the series — tiny masterpieces that never failed to get under the skin. I was drawn immediately to her beautiful, lyrical expressivity, and her almost uncanny way of peeling off the layers of grief in her quest to process it — something of which she had much more experience than I did.

I could go on and on about how her diaries comforted me, but it is better to let Kris teach all of us now about our own grief:

From her first TGR diary, Paso Doble:

Death is such a personal, peculiar thing, isn't it? With all our science and skills, this passing small moment is pushed from behind by the last fleeting draws of breath. The future after one's death is compressed only by our lack of imagination in comprehending what lies beyond.

It's said that grief is natural. That there are healing elements to grief that a human needs to experience to move beyond to the next step after loss – loss of anything, whether it's death of a loved one, loss of employment and comfortable lifestyle, loss of a familiar environment, end of a relationship. There is nothing that feels natural in the interior hollowness of grief, those echoes from a heart too numb for despair.

There is nothing natural in seeing another person's death of dreams unfulfilled. When you grieve, you pull that shroud to yourself. Perhaps that is what is natural, the weight of that transposition of what could have been onto what can still be.

From her second TGR diary:

In my mind, all forms of grief are complicated and meaningful. Grief implies that you had at least more than a moment of passing care, a bit more tolerance, perhaps a previously unplumbed wealth of deep emotion and feeling for what was lost, who was lost. Wrap your hands and your heart around your grief and don't reject it. If you have a way into grief, you can find a way out of grief. And you can find value in the grace of caring and memory.

From her TGR diary The Bedroom:

I've let these weeks go by and I've let people say to me "you're handling this so well." I will tell you this. Pshaw. There is no "good" way to handle the tide of grief and loss — and sometimes you don't recognize it as it washes over you. Grief ebbs out with the current, but you turn your back and there are waves that will wash in. I think there is no high ground, no safe refuge, no future time safe from grief, no matter how you insulate and think you've got the tide figured out. There are certain high tides that wash over the breaktide of any shore.

From her TGR diary Betrayal:

There is a hole that seems like it cannot be filled. There are words that will never be said the first time, for the last time. There are looks that will not be shared. There is no reason to be angry anymore, to hate anymore, to argue anymore. No reason to buy that porcelain elephant for Christmas as a gift. No reason to look at ties in the men's department. You feel a thread dangling now, from your heart, from your mind. There is no tug on the other end, no tightening of the binding tie.

There are no more years to grow. To grow older. To grow up. To grow more lovely, more handsome, more funny, more profound. Older. No more eyes to see a new grandchild, a hand to smooth the furrows from your worried forehead. Where are the arms in whose circle you stood, the embrace that told you of love?

There is reason to grieve and there is reason to understand that, yes, it is a betrayal. But it is life that brings us to this and life that takes us forward. We trapeze artists have amazing resilience. The bars swing above the high wire and we balance each other as we move to the next ring. The net grows smaller; it is in need of repair.

We learn, as we practice this art of life, to pinpoint our landings. At least I think we do. We can.

Finally, in March of last year, Kris wrote of the physical pain she had been experiencing since the previous December, in the TGR diary she called The Old Ways. That diary includes this quiet statement about her parents:

And then he died at 51; my mother was 52.
At fifty her bones ached. By 52, her heart was broken.

This past August, just after she turned 52 herself, and just two weeks after she sailed through her heart surgery, Kris and I had the pleasure of a long, happy afternoon together. That day, she spoke frankly of how she had lived the last year so as to have no regrets. She had worked out her finances, she spent quality time with her girls and her grandson, she saw to it that they and her woozles were cared for, she went out and connected with people and lived her life. She had no illusions, but neither was she giving up.

::

I love you, Kris, and I thank you for sharing the essence of yourself with us. I will remember you all the days of my life, whatever their number.

In addition to the diaries quoted above, Kris wrote the following diaries for our grief series: Memorial Day, The Unquiet, Dads, The end of the sentence, Who wants to live forever?, What wasn't done, This coat, this ring of life, Whistling down the wind, Ebb and tide, the fringe of consciousness, Unknown memories. I will treasure each one, always.
Readings from Rev. Richards:
Ecclesiastes
Qoh.3
[1] For everything there is a season, and a time for every matter under heaven:
[2] a time to be born, and a time to die;
a time to plant, and a time to pluck up what is planted;
[3] a time to kill, and a time to heal;
a time to break down, and a time to build up;
[4] a time to weep, and a time to laugh;
a time to mourn, and a time to dance;
[5] a time to cast away stones, and a time to gather stones together

Dried lavender sprigs
Sustain continuing scent —
Death does not take all.
by David A. Reinstein, LCSW
Nurse Kelley speaks:
Having scoured my mind for what I want to say about Kris tonight — rejecting one thought after another — I turned the question around. I asked myself, what would Kris say if she could be here?

She would say something like this, I believe:

Thank you for your love and good wishes during my illness. Please know that I return your love and affection tenfold.

If you want to honor me, start writing. Write from your hearts. You don't become a good writer by wishing you were better at it; you become a good writer by writing. We need your words now, more than ever. Find something you're passionate about, open a journal or a new diary, and put down whatever comes.

Be kind to each other. Disagree, but don't be disagreeable.

Open your hearts to new experiences and find joy in what you have. The past is done, the future is unknown ... all you have for sure is this one day. Savor it.

Don't make DailyKos — or the internet in general — your whole life. Get outside, have some fun, kick some ass, and make a difference.

The Dash Poem
by Linda Ellis

I read of a man who stood to speak
At the funeral of a friend 

He referred to the dates on her tombstone 

From the beginning to the end

He noted that first came her date of her birth 

And spoke the following date with tears, 

But he said what mattered most of all 

Was the dash between those years

For that dash represents all the time 

That she spent alive on earth. 

And now only those who loved her 

Know what that little line is worth.

For it matters not how much we own; 

The cars, the house, the cash, 

What matters is how we live and love 

And how we spend our dash.

So think about this long and hard. 

Are there things you'd like to change? 

For you never know how much time is left, 

That can still be rearranged.

If we could just slow down enough 

To consider what's true and real 

And always try to understand 

The way other people feel.

And be less quick to anger, 

And show appreciation more 

And love the people in our lives 

Like we've never loved before.

If we treat each other with respect, 

And more often wear a smile 

Remembering that this special dash 

Might only last a little while.

So, when your eulogy is being read 

With your life's actions to rehash 

Would you be proud of the things they say 

About how you spent your dash?
A reading from Rev. Richards:
When you were born, you cried
and the world rejoiced.
Live your life
so that when you die,
the world cries and you rejoice.

White Elk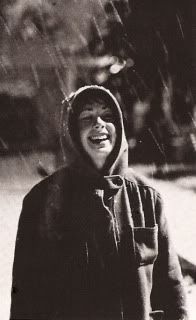 Kris in the snow, 1978 (courtesy of Willamette University Yearbook and Linda DeLacy.)
Michael, Kris' dearest friend speaks:
"IT'S SNOWING!"

Snow falling can have a magical effect on the human soul. Not everyone gets as excited as an eight-year-old kid when they see the white stuff falling, but there are many adults who do. I am one of those. Kris was too.

The possibility of snowflakes coming down would send us into a foray of "Is it snowing yet?", "Have you got any?", "I saw one!", or even "Argh... I wish it would hurry up!"

And sometimes, they would actually begin to fall. This started a whole different set of exclamations: "It's snowing here!", "I've got at least two inches!" (Well, that was always wishful thinking; it was usually just an inch), "It's a whiteout!" (Another wish, except for the blizzard of December 2008 which really did bring whiteout conditions to the Seattle area for three days straight – no lie.)

The news of an arctic front heading from either Alaska or Canada was the same to us as the news of school's closing early or not opening at all to a kid. Or, news that gas was going to sell for $1.95 a gallon. We knew that arctic fronts meant COLD weather, and if, just if, a moist system was heading our way as well, we'd get snow. Yea, baby!

Beginning a week before Thanksgiving, we had heard the forecasts: Snow was likely the Sunday before Thanksgiving, maybe even Monday.

After I texted Kris at 10am, I took a picture of the snow falling in my backyard and sent it to Kris. She finally replied, "I hope it comes here." Her brother Larry was in town with his wife Cathy to visit Kris, and I knew they were headed to Kris' house shortly. I gave them a call to beware of the weather. Larry said it wasn't snowing at their hotel, but they'd watch out. I hit the road to see Kris.

On the drive south, the snow was falling at a good pace but not really sticking. About halfway, the snow let up. But about an hour after I arrived at the house, the snow made its appearance in Kirkland, where Kris lives. I went to tell Kris, who was sitting up in bed. She was able to look in her mirrored closet doors, and see out the window on the opposite side of the room. And her face lit up. You know the look, you've all seen the pictures. Yes, that smile.

Kris decided she wanted to come out to the living room. No, better yet, go out and sit in the snow. We got her into the wheelchair and bundled her up good. Topped her off with "The Quilt." Yes, The Quilt you all made for her. (If you didn't know, The Quilt went with her everywhere; the hospital, to sit on the deck, to sit in the living room, on the plane when she flew to Houston both times, everywhere. She loved it, truthfully.) Then I rolled her onto the deck where she sat while the snow fell, me just being there with her.

Friends and family came to visit that day, and for about two hours Kris sat on the deck, with the snow falling around us.

I wrote a note to Nurse Kelley while I was keeping Kris company. When told of Kris sitting in the snow, Kelley wrote me back that she wanted pictures! Oh man, I should have been taking them. Because, naturally, as I read Kelley's reply the snow stopped falling.

Kris became tired so I wheeled her back in. We but her back to bed, and I said my goodbyes for the day.

That night, Fate put forth its fickle finger. An arctic front began its journey to Seattle. And the snow came with it, with a vengeance.

Monday evening, Kris made a decision that will remain with me for the rest of my life. She decided she wanted to go to the hospital. This was a complete surprise to me, as Kris had always been adamant that she would die at home, not a hospital. She saw her Mother pass away in a hospital, and she didn't want that. She wanted to be at home. And now she changed her mind. I was, frankly, stunned. But having agreed to do whatever she asked, I called 911 for an ambulance. There was no other way she would get to the hospital.

After an adventure that included Kris' first ride in an ambulance, slick roadways, and a police cruiser separating traffic like Moses parting the Red Sea, we got to the hospital. A 20 minute ride that took over an hour. Ugh.

At the ER, Kris wanted fluids drained from her abdomen. The doctors hesitated, as Kris' blood pressure wasn't very stable. Knowing that cardiac arrest was possible, she convinced the doctors to make the tap. Kris had a way at talking people into things. She rarely failed.

At this point, we had a moment together and I had another moment I won't forget. I asked her if she was ready. And she told me yes, she was. I knew she was.

The tap was done and naturally she survived. And felt better. I had gone out for a cigarette during the procedure, and yes, it was snowing. And cold. Very cold.

When I returned, Kris was about to be admitted. I couldn't take anymore – it was 3:30am – and the kids were also ready to go home. On the drive back, the snow stopped falling.

Tuesday saw temps below 10 degrees at my house, and a nasty cold had hit me. I called Kris in the morning and she sounded good. Better than the previous two days. The tap had helped her, for the moment.

Wednesday was a challenge. A palliative care doctor at the hospital called me in the morning to tell me Kris had requested the antibiotics she had been on should be stopped. This told the docs she was ready to end life-sustaining measures. He advised we come to the hospital, to be with her. I rallied her daughters and then headed to the hospital. Kris became very sensitive to outside stimulation, such as people conversing in her room or even gently touching her. She was looking tired, and sore. The snow outside hadn't melted much, as it was still very cold, in the 20's.

Late Wednesday night, Thursday morning actually, she woke up and wanted a cigarette. She convinced Kyra and Katie, two of her daughters, to take her to the smoking deck. They did, and the three sat and talked a bit. Kris talked of her dog Porkman. She claimed to have a connection with Porkie, which I'm sure she did. There is more to this story, but that has to wait. There was snow on that deck, and it was cold. Very cold.

Thursday, we had some warming. The snow was melting a bit. Kris rested most of the day, and when she spoke, it was of odd thoughts and incoherent messages. I know that stage, I knew it would be soon. But her musings made some sense. Earlier in the week, Kris spoke of the big oil problem in Houston. Hm. That Porky and JoJo – her Pomeranian I adopted this past week – were worried. Another "Hm."

Tony and I took Thanksgiving dinner to the hospital, as all three daughters had been keeping vigil at the hospital since Wednesday. My cold was worse, and according to hospital rules, they didn't even want me there. So I didn't go into Kris' room. She was sleeping the whole time I was there, though, so I know she was comfortable. Around 10pm, Tony and I packed up the leftovers, left the pumpkin pie for the kids, and we headed home.

Friday morning, around 8:30am, I woke up. The dogs needed to go outside. So I trundled downstairs, let the dogs outside, and my phone rang. I could barely here Kylie on the other end. She couldn't hear me, so I hung up, waited a moment, and called her back.

"She's gone, Mike." Kylie was quietly sobbing.

As I drove to the hospital, I realized the snow was melted, gone silently away. How incredible was that? The snow came and told Kris, "Are you ready? Let's begin this last journey." With police lights and ambulance strobes, she was carried to her last resting place. She went through some tough moments the last few days, but the nurses kept her comfortable with modern medicine. And then, quietly, restfully, calmly, the snow melted and Kris was gone.
Closing prayer from Rev. Richards adapted from "Bless Our Courage" by Rev. Meg Bowman:
Prayer
Great Spirit of "the heart that does not die."
who does cross the pages of our computer screens
with loving care,
usher exmearden into her next adventure.

May the best of her find rest in us today,
for her legacy to us, is the importance of our caring.

May we remember to speak the good things that we think.
It would delight her so.

May we be honest, loving, funny and forthright
It would delight her so.

May we recognize injustice,
even when it does not apply to us
It would delight her so.

May our experience in this world,
resonate with our innermost being
It would delight her so.

And, may we be touched by the "heart that does not die."
It would delight her so.

What else would delight her? Please make your kind comments below, and remember to be gentle for her family and close friends are reading this diary.
Please share your memories of Kris and celebrate her light in the comments below. We'll continue to meet here and in The Grieving Room, the regular, Monday night diary series that Kris and Dem in the Heart of Texas founded — and that continues to serve all who mourn someone.
Gifts in Kris Froland's memory may be made to the American Cancer Society.
Special Thanks

Parthenia (Rev. Marilyn Richards)
slksfsca (music selections)
Ooooh/shakti (flowers)
navajo (photo of Kris)
Otteray Scribe (bagpipe music selection)