Yecch! Saw this at bing.com and couldn't resist sharing it here tonight,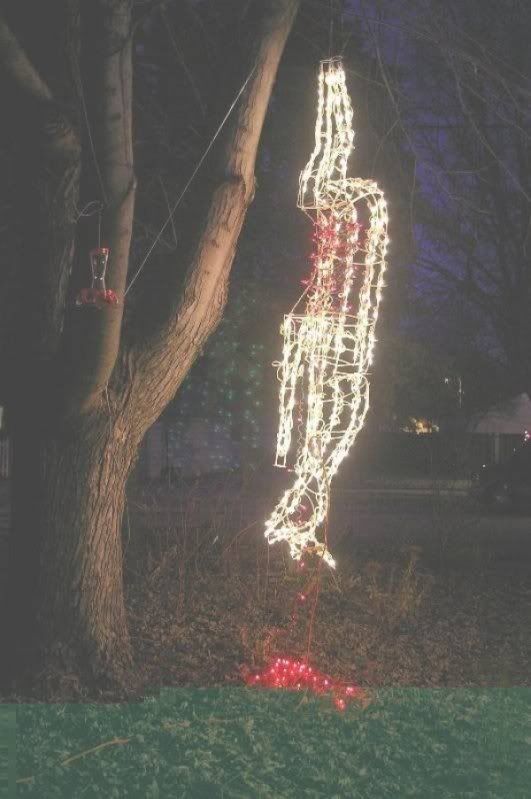 I bet Sarah Palin has one of these in her yard. Heh. Or matching ones on either side of the driveway.
I've got a bunch of miscellaneous stuff tonight from my online rambling today.
That first photo is titled 'Redneck Yard Decoration' - does anyone know anything about the photo or location? Tell us in a comment below. Isn't that special.
~~~~~
Next up (channeling Jeckylnhyde) two great cartoons by Pulitzer-winner Joel Pett (Lexington KY Herald-Leader) to keep us in a Christmasy mood.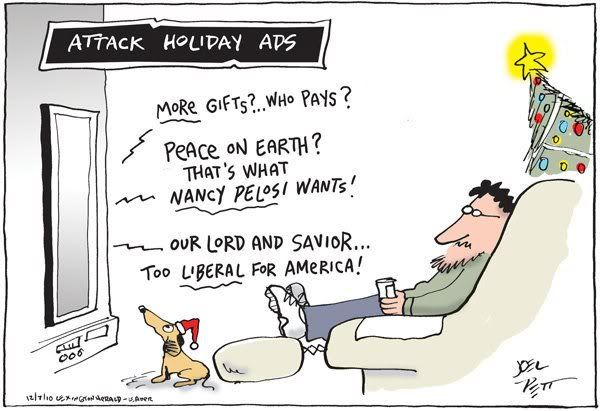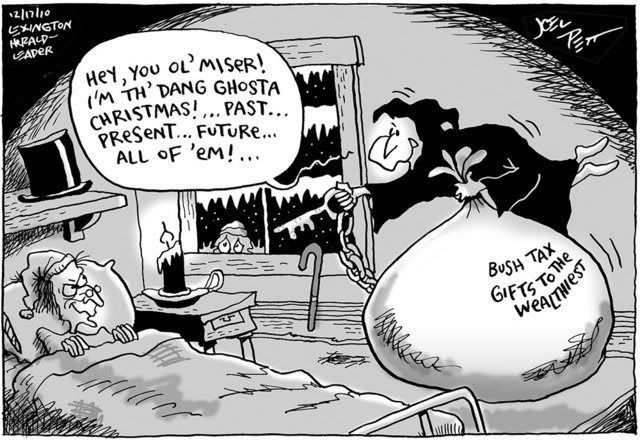 I found both at Joel's Facebook page - go over and 'like' him. You'll be glad you did.
~~~~~
A few hours ago, the Guardian claimed an exclusive look at "unseen police documents" and also that they 'provide the first complete account of the allegations against the WikiLeaks founder.' It's an interesting read but will only make the politics more murky, I fear. And the facts, for that matter. It's a textbook case of 'He said, She said' and another 'He said, She Said' and then 'She told the other She' who told yet another She at a party and then They told someone else who texted it to yet another 'witness'. Whew - it will wear you out!
The Assange story has, naturally, attracted would-be entrepreneurs. The headline at Mother Jones reads: Need a WikiLeaks Condom? Maxipad? Dog Sweater?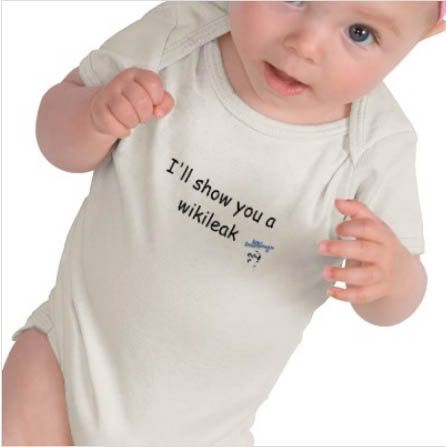 Taking it to the e-streets are people on Zazzle, an e-commerce site where anyone can design and create items, like mugs, t-shirts, and totebags, for retail. Of the 36 billion items on Zazzle, there are now over 1,000 WikiLeaks-related wares. The products range from the somewhat expected, "I need to take a WikiLeak" t-shirt to your not-so-typical WikiLeaks ribbed doggie tank top. Also in the roster are skateboards, newborn onesies, iPhone skins, and iPad cases...
~~~~~
Truthout is reporting: "Former President George H.W. Bush and ex-Secretary of State James Baker were part of a negotiating team that convinced Nigerian government officials to drop bribery charges against Dick Cheney and Halliburton, the oil services firm he led prior to becoming vice president, "
Bush and Baker reportedly participated in conference call discussions with senior Nigerian government officials, including the country's attorney general, Mohammed Adoke, last weekend on behalf of Cheney in an attempt to work out a settlement. Halliburton executives also participated in the talks.
Double Yecch!
~~~~~
MSNBC has a story up about the 141 inmates who walked out of prison today in Mexico: They left by the front door, which points to complicity of the prison guards,
MONTERREY, Mexico — A state government official said Friday a final count found that 141 inmates had escaped a prison near the U.S. border — and that the prison director had vanished as well.

The prisoners broke out of a jail on the outskirts of Nuevo Laredo across from Laredo, Texas, in the early hours of Friday.
And of course, most of them were being held for drug offenses, proving that the cartels are bolder than ever.
~~~~~
Bookmark this good read for later. The Glory of the Rails by Tony Judt in the New York Review of Books. Here's a small sample:
Railway tracks were purpose-built: nothing else could run on them—and trains could run on nothing else. And because they could only be routed and constructed at certain gradients, on limited curves, and unimpeded by interference from obstacles like forests, boulders, crops, and cows, railways demanded—and were everywhere accorded—powers and authority over men and nature alike: rights of way, of property, of possession, and of destruction that were (and remain) wholly unprecedented in peacetime. Communities that accommodated themselves to the railway typically prospered. Towns and villages that made a show of opposition either lost the struggle; or else, if they succeeded in preventing or postponing a line, a bridge, or a station in their midst, got left behind: expenditure, travelers, goods, and markets all bypassed them and went elsewhere.

The conquest of space led inexorably to the reorganization of time. Even the modest speeds of early trains—between twenty and thirty-five miles per hour—were beyond the wildest imaginings of all but a handful of engineers. Most travelers and observers reasonably assumed not only that the railway had revolutionized spatial relations and the possibilities of communication, but also that—moving at unprecedented velocity and with no impediments to heed their advance—trains were extraordinarily dangerous. As indeed they were. Signaling, communication, and braking systems were always one step behind the steady increase in power and speed of the engines: until well into the later twentieth century trains were better at moving than stopping. This being so, it was vital to keep them at a safe distance from one another and to know at all times where they were. And thus—from technical considerations and for reasons of safety as much as commerce, convenience, or publicity—was born the railway timetable.

It is hard today to convey the significance and implications of the timetable, which first appeared in the early 1840s: for the organization of the railways themselves, of course, but also for the daily lives of everyone else. The pre-modern world was space-bound; its modern successor, time-bound. The transition took place in the middle decades of the nineteenth century and with remarkable speed, accompanied by the ubiquitous station clock: on prominent, specially constructed towers at all major stations, inside every station booking hall, on platforms, and (in the pocket form) in the possession of railway employees. Everything that came after—the establishment of nationally and internationally agreed time zones; factory time clocks; the ubiquity of the wristwatch; time schedules for buses, ferries, and planes, for radio and television programs; school timetables; and much else—merely followed suit. ...
Of course, I'm a history junkie - finding this today felt like an early gift!
~~~~~
Friday Night Tiabbi-watch! Great short essay Bernie Sanders Puts Barack Obama to Shame

... to put into context what Bernie did on the floor of the Senate last week, standing up for eight hours and 37 minutes to make a case that the hideous deal that Barack Obama cut with the Republicans to extend the Bush tax cuts was an outrage to the very qualities that matter most to this politician, common decency and common sense. While everyone else in Washington was debating the political efficacy of the deal – the Hill actually published a piece talking cheerfully about how CEOs found a "new friend" in Obama, while the New York Times shamelessly ran a front-page "analysis" talking up the deal's supposed benefits to the middle class and the political benefits from same that Obama would enjoy – Sanders blew all of that off and just looked at the deal's moral implications. Which are these: this tax deal, frankly and unequivocally, is the result of a relatively small group of already-filthy rich people successfully lobbying an even smaller group of morally spineless politicians to shift an ever-bigger share of society's burdens to the lower and (what's left of the) middle classes. This is people who already have lots of shit just demanding more shit, for the sheer rotten sake of it.
~~~~~
Finally, we need to save this. Getting a Head Start on the 2012 Presidential-Debate Drinking Games by Juli Weiner at Vanity Fair:
To wit: so far there are five scheduled debates: ABC News and WMUR-TV's Republican-primary debate in New Hampshire, the CNN–WMUR-TV–New Hampshire Union Leader primary debate, NBC News and Politico's Republican-primary debate at the Reagan Presidential Library, Fox News and the South Carolina Republican Party's debate, and, as of today, the widely necessary CNN/Tea Party Express debate. "The Tea Party movement is a fascinating, diverse, grassroots force," deadpanned Sam Feist, CNN's political director. He added, "Undecided voters turn to CNN to educate themselves during election cycles, so it is a natural fit for CNN to provide a platform for the diverse perspectives within the Republican Party, including those of the Tea Party."

Tampa, Florida, the global cradle of the hard-core death-metal persuasion, will host the debate, as well as the cycle's Republican National Convention. As Mother Jones observes, there are many problems intrinsic to the unholy CNN–Tea Party Express partnership. "CNN, which promotes itself as a mainstream and straight-news outfit, is officially hooking up with an outfit that's been accused of astro-turfing and of cashing in on the Tea Party movement. And this group clearly has a bias toward Palin, who might be one of the participants in the debate." On the other hand, imagine the fun to be had in creating a corresponding drinking game ...
• A shot every time someone insists, "Don't tread on me!"
• A shot every time someone wearing a Panama hat with tea bags stapled to it yells at a respected journalist.
• A shot every time someone on Medicaid lambastes "big-government death-panels."
• A shot every time someone receiving Social Security criticizes "government handouts."
• A shot every time a sign bearing a racial slur is misspelled.
~~~~~
ON TO TOP COMMENTS! Finally! I'd almost forgotten why we're here.
Obligatory Sponsor's message, sardonyx-style;
I thank those who took time today to transport their favorites to the Top Comments mailbox ..., and for doing so by the 9:30pm Eastern Time deadline. The address of our mailbox for top comments submissions remains:


TopComments AT gmail DOT com
(change " AT " to "@" and " DOT " to ".")

Anyone can send great comments to our address. Be sure to include the direct link to a comment—the URL—which is available from that comment's date/time; we need that to find your choice. Please always include your Daily Kos user name in the body of your message, so we can credit you properly. If you send a writeup with the link, we are able to include that, too, though we reserve the right to edit; if you don't do a writeup, we will.
From ericlewis0:
Diogenes2008 has a winner... Have to say it
~~~~~
From mehitabel9 :
This comment Answers to your questions. by Tarheel Dem is Awesome.
~~~~~~
From Missys Brother (aka GUG):
When I mentioned that I had seen the Tony Award for Best Play "God of Carnage" at the theatre last night, jayden visited the theatre's web site and commented back with their quote about the play. The quote may better describe Daily Kos lately than the play.
~~~~~~
From NearlyNormal:
Great comment in a very fine diary.To the black commenter by ranger995,
~~~~~~
From bronte17:
FishOutofWater raises concerns about being part of larger diverse group of informed progressives (at DK4) and rserven has a simple response when you have a message to spread in Homeless for the Holidays by rserven.

And jamess asks a very simple question, What happened to the Bailout Funds in the diary CEO Hides From Revealing What Company Did With Bailout Money by PaulVA.
~~~~~~
My own picks - just a few.
Obama has a lock on the 2012 nomination by Sandino made me laugh, then cry. Too true...

This cartoon posted by JekyllnHyde also made me want to cry. From Just After the 2008 Election

This comment suggests that the pootie-cat is doomed. every time I hear someone say that the repubs by KnotIookin.

A good comment on being sidelined. Or not. I was a NTL in FL by mdmslle .

I have a serious blog-crush on Dallasdoc. Read Can't imagine why they'd bother (re: labor going to meet up with Obama) and add him to your crush-roll!
~~~~~~
TOP COMMENTS - TOP MOJO LISTS, tonight courtesy of bronte17
Top Mojo excluding search-identifiable tip jars, first diary comments, Cheers and Jeers, and Mojo Friday:
1) Authoritarianism enforces inequality by FishOutofWater — 156
2) What's Ahead in the Next Two Years by JekyllnHyde — 153
3) I hope they throw down the gauntlet by Dallasdoc — 128
4) Yep, It Was as Foreseeable 15 Months Ago As by Gooserock — 128
5) The Ones Who Didn't Forget by JekyllnHyde — 127
6) I thought Obama would negotiate a deal... by APA Guy — 124
7) From Just After the 2008 Election by JekyllnHyde — 106
8) And now by HamptonRoadsProgressive — 99
9) All of you who have worked so hard deserve credit by FishOutofWater — 97
10) oh Crap! by FishOutofWater — 92
11) You were right though... by MediaFreeze — 91
12) Apology accepted by Adept2u — 90
13) Their wealth is stolen, not earned. by pawtucketpat — 89
14) Mexico bought them from Israel, by cotterperson — 89
15) I like the "riding the purity unicorn over their by Superskepticalman — 89
16) Americans talk about Jesus & but by FishOutofWater — 88
17) Thanks, Michael. by Musket Man — 84
18) Robert Reich is seriously talking about building by Renee — 81
19) "WE" did....... by RantNRaven — 81
20) Others have said this is a by slinkerwink — 80
21) One of the Things by JekyllnHyde — 79
22) I Hate All Progressives by JekyllnHyde — 79
23) You can count on Trumpka... by Enterik — 78
24) And the "excuse me, I need to go weep for by Superskepticalman — 78
25) He didn't negotiate a deal--he accepted terms by RFK Lives — 77
26) Well ... just taking the steep-slope part ... by jrooth — 75
27) What is really tragic to me by LeftHandedMan — 73
28) "You're a racist." by maxschell — 73
29) We used to have these buzzing us by mahakali overdrive — 70
30) The curse of the Teabagger parents: by Pluto — 68
Top Mojo with No Exclusions:
1) Tip Jar by irmaly — 398
2) Tip Jar by Michael Moore — 382
3) No. Really. by Pluto — 366
4) Tip Jar by msblucow — 351
5) Tip Jar by bobswern — 329
6) Tip Jar by Clarknt67 — 323
7) Tip Jar by Adept2u — 278
8) Tip Jar by Eclectablog — 242
9) Tip Jar by TomP — 205
10) The Dalai Lama urges climate action by FishOutofWater — 172
11) Authoritarianism enforces inequality by FishOutofWater — 156
12) What's Ahead in the Next Two Years by JekyllnHyde — 154
13) Tip Jar by BluePlatypus — 139
14) I hope they throw down the gauntlet by Dallasdoc — 128
15) Yep, It Was as Foreseeable 15 Months Ago As by Gooserock — 128
16) The Ones Who Didn't Forget by JekyllnHyde — 127
17) I thought Obama would negotiate a deal... by APA Guy — 124
18) Thank you all for listening. by rexymeteorite — 118
19) From Just After the 2008 Election by JekyllnHyde — 106
20) And now by HamptonRoadsProgressive — 99
21) Scritchie Jar by triciawyse — 99
22) All of you who have worked so hard deserve credit by FishOutofWater — 97
23) oh Crap! by FishOutofWater — 92
24) You were right though... by MediaFreeze — 92
25) Apology accepted by Adept2u — 91
26) Mexico bought them from Israel, by cotterperson — 89
27) Their wealth is stolen, not earned. by pawtucketpat — 89
28) Tip Jar by webranding — 89
29) I like the "riding the purity unicorn over their by Superskepticalman — 89
30) Americans talk about Jesus & but by FishOutofWater — 88
~~~~~
One last Pett for the road - something to think about when the credit card bills start rolling in: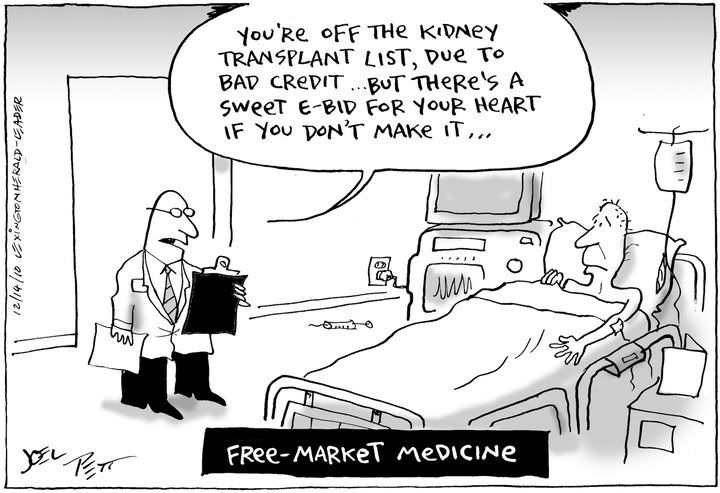 Always the mountains,
va dare