In this weekly series we have been discussing the benefits of a vegetarian diet including: better health, animal rights, global food crisis, food safety, frugal living and the immense contribution of meat production to climate change/global warming/water and land depletion.
If all americans went meatless one day per week we would save:
100 billion gallons of water, enough to supply all the homes in New England for almost 4 months;

1.5 billion pounds of crops otherwise fed to livestock, enough to feed the state of New Mexico for more than a year;

70 million gallons of gas -- enough to fuel all the cars of Canada and Mexico combined with plenty to spare;

3 million acres of land, an area more than twice the size of Delaware;

and we would prevent:

33 tons of antibiotics use

4.5 million tons of animal excrement;

Almost 7 tons of ammonia emissions, a major air pollutant.
I was inspired to create this series by former Beatle and vegetarian advocate Paul McCartney who partnered with the Meatless Monday campaign to promote less consumption of meat. We not only discuss the many benefits of eating less meat we also do some cooking, share recipes and listen to great Beatle/McCartney music!
Many thanks to front pager Laura Clawson for her shout out and excellent diary Meatless Monday and mitigation. The Meatless Monday campaign continues to gather support around the world
In the past few weeks I have spent some time in Miami Shores, Fl visiting with family. Miami Shores is a lovely area outside of Miami with a small town feel and beautifully maintained homes built originally in the 1920s-1940s. But just outside of Miami Shores one can feel the bustle that is Miami Miami has many of the 'big city' attractions including a vibrant truck food scene and it was delicious fun! The trucks have twitter followers who follow them around their stops around the city. I attended a Tuesday night gathering that had the feel of a carnival but with fantastic food!
The truck food scene has exploded around the country due to the economic uncertainty of restaurant ownership. A food truck gives its owner flexibility and a much lower overhead than the upkeep on a standard restaurant.
Some pics of food trucks from around the US: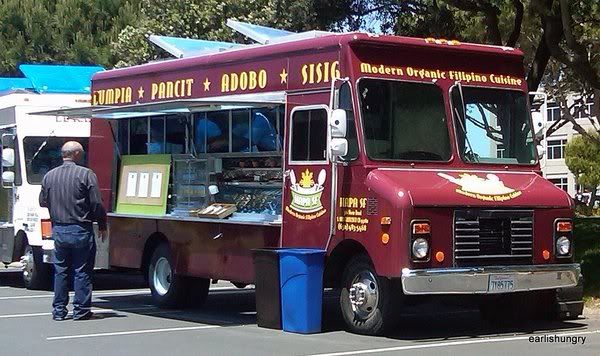 And on to the food! What I liked was the quality of the ingredients which made up for the somewhat limited selections. From the Cheese truck...

GRILLED CAPRESE with BUFFALO MOZZARELLA, HEIRLOOM TOMATOES and FRESH BASIL
You know what to do...just take the best quality moz, tomatoes, basil and bread and grill with olive oil. yummy!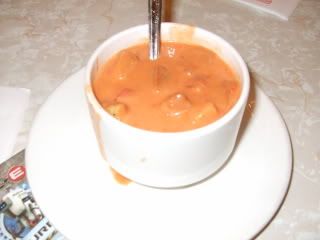 TOMATO BISQUE
The cheese truck had this fantastic soup which was perfect with the grilled cheese
1 Tbs. olive oil
1 small onion, chopped (1/2 cup)
3 cloves garlic, minced (1 Tbs.)
2 28-oz. cans Muir Glen Organic Fire Roasted Diced Tomatoes
2 tsp. sugar
1 tsp. balsamic or sherry vinegar
1 tsp. dried basil
1 bay leaf
2 1/2 cups low-sodium vegetable broth
1/3 cup half-and-half or soy creamer
1/4 cup chopped fresh basil, for garnish
Heat oil in saucepan over medium heat. Add onion and garlic; cook 5 minutes. Add tomatoes, sugar, vinegar, basil, bay leaf, and broth. Cover, and simmer 10 minutes. Remove bay leaf.
Purée soup in blender or food processor until smooth. Strain through fine mesh strainer into saucepan; return to simmer. Remove from heat, and stir in half-and-half. Season with salt and pepper, if desired. Garnish with basil.
THAI BASIL CURRY VEGETABLES
The varied selection at the truck meetup meant that everyone in your group could choose a different ethnic cuisine!
Curry Paste
1 cup firmly packed Thai basil leaves
2 medium shallots, coarsely chopped
1/4 cup firmly packed cilantro leaves
2 Tbs. fresh mint leaves
1 Tbs. Thai green chile paste
1 Tbs. grated fresh ginger
1 Tbs. agave nectar
2 cloves garlic, peeled
Vegetables
2 Tbs. canola oil
1 lb. eggplant, cut into 1-inch pieces (4 cups)
1 lb. zucchini, cut into 1-inch pieces (3 cups)
2 red bell peppers, cut into 1-inch pieces (2 cups)
3/4 cup light coconut milk
3/4 cup low-sodium vegetable broth
or use any veggies you have on hand
Curry Paste:
Place all ingredients in blender or food processor, and pulse until smooth paste forms, adding up to 3 Tbs. water if necessary.
To make Vegetables:
Heat oil in large Dutch oven over medium-high heat. Add eggplant, zucchini, and bell peppers, and sauté 5 to 7 minutes, or until vegetables begin to soften. Add Curry Paste and cook 3 to 4 minutes, stirring often. Add coconut milk and broth and bring to a simmer. Cover, reduce heat to medium-low, and simmer 15 to 20 minutes, or until vegetables are tender, stirring occasionally. Season with salt and pepper, and serve with rice, if desired.


GRILLED PORTOBELLOS TACOS with SALSA VERDE
mexican too!
Marinade:
1/3 cup canola oil
3 Tbs. balsamic vinegar
1 tsp. black pepper
Tacos
6 large portobello mushroom caps
6 6-inch soft corn tortillas
2 avocados, sliced
2 cups chopped tomatoes
3 cups shredded cabbage
sour cream, optional or use vegan
Salsa Verde
4 tomatillos, chopped (or 1 cup canned)
1 large green bell pepper or poblano chile, roughly chopped
1 large bunch fresh cilantro, leaves only
1 medium onion, chopped
3 cloves garlic
3 tsp. organic sugar or agave nectar
1 1/4 tsp. canola oil
1 tsp. pepper
1/2 tsp. salt
Preheat grill or grill pan to high heat. To make Marinade: combine all ingredients in small bowl.
To make Tacos:
Brush mushroom caps with marinade. Grill mushrooms 3 to 5 minutes per side. Cool until easy to handle, then slice into strips.
To make Salsa Verde:
Purée all ingredients in food processor 1 minute, or until smooth. Pour salsa over mushroom strips, and let stand 5 to 10 minutes.
Lightly warm tortillas 15 seconds per side in skillet or on griddle. Fill tortillas with sliced mushrooms, avocado slices, tomatoes, and cabbage. Top each taco with sour cream, if using..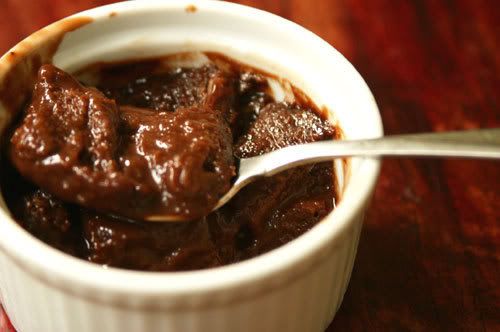 CHOCOLATE BREAD PUDDING
Dessert trucks were a main attraction!
1 (12-inch) piece day-old baguette, cut into 1/3-inch slices, then slices halved crosswise (4 cups)
3 cups half-and-half
1/2 cup sugar
1/8 teaspoon salt
10 oz fine-quality bittersweet chocolate (not unsweetened), chopped
6 large eggs
1 teaspoon vanilla
2 tablespoons unsalted butter, cut into bits
Accompaniment: unsweetened whipped cream
Generously butter a 2 1/2- to 3-quart soufflé dish. Put bread in dish.
Heat half-and-half, sugar, and salt in a 2-quart saucepan over moderate heat, stirring, until sugar is dissolved and mixture is hot but not boiling. Remove from heat and add chocolate, then let stand 2 minutes. Whisk until smooth. Lightly beat eggs together in a large bowl and slowly add chocolate mixture, whisking until combined. Stir in vanilla. Pour mixture over bread and let soak at room temperature, pressing bread down occasionally, 1 hour.
Put oven rack in middle position and preheat oven to 325°F.
Dot top of pudding with butter bits. Bake in a hot water bath until edge is set but center still trembles slightly, 45 minutes to 1 hour. Cool pudding to warm in dish on a rack. (Pudding will continue to set as it cools.)
"Why Don't We Do It In The Road" The Beatles

"Baby You Can Drive My Car" The Beatles

What have you all been cooking? Please share your recipes and fave Beatle/McCartney music here.