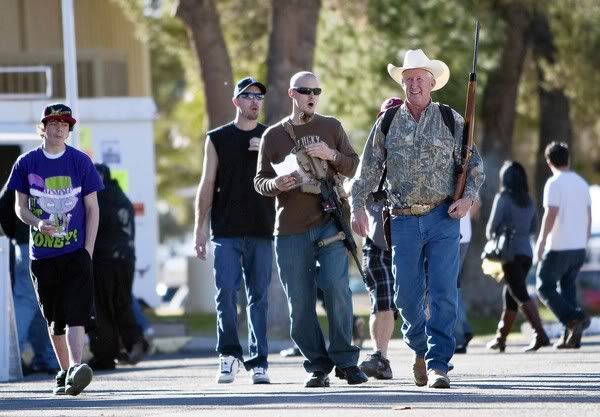 (photo credit: Gina Ferazzi)
Gun show continues as scheduled
LA Times, 1/16
Some gun control advocates have said that holding a gun show so soon after a mass shooting was inappropriate and insensitive. They contend that stricter laws on purchases of guns and ammunition would help prevent shooting rampages.

But even as Tucson continued to mourn, and shooting victims were commemorated at the crime scene Saturday, Arizona's love affair with guns continued unabated 13 miles away. Buyers bought Glock 19s priced at $499 and 31-round magazines for $21.99.
The year is young, but so far I vote that "Best Photo, 2011."
(addenda) Maybe this is one of those things where we need photo captions. What is going on in that photo?
More addenda:
Hundreds shop up at Gun Show just one week after tragic shooting
From Kgun9, "On Your Side."
Templeton said, "We were impacted as everyone else was and saddened by the tragedy that happened a week ago this Saturday, but that was really not about lawful gun ownership, in our opinion. It was about a madman who had an agenda and who committed unspeakable acts of mayhem and violence."

When asked if he felt it was inappropriate to hold the gun show so early after the shooting, Templeton told KGUN 9, "We considered that and wondered if it would be but these folks that come to this gun show are regulars who come four or five times a year, and this is about exercising second amendment freedoms and individual gun rights, it's not about uhh, a person who takes the law into his own hands and does the kinds of things that Jerrod Loughner allegedly did."

As for the increase in gun sales since the shooting, Templeton said, "I don't think it's a response as much to the tragic incident, as it is to the fact that people are concerned about their gun rights."
Also Of Interest: (update)
Arizona Shootings Trigger Surge in Glock Sales Amid Fear of Ban
Bloomberg, 1/11
Greg Wolff, the owner of two Arizona gun shops, told his manager to get ready for a stampede of new customers after a Glock-wielding gunman killed six people at a Tucson shopping center on Jan. 8.

Wolff was right. Instead of hurting sales, the massacre had the $499 semi-automatic pistols -- popular with police, sport shooters and gangsters -- flying out the doors of his Glockmeister stores in Mesa and Phoenix.

"We're at double our volume over what we usually do," Wolff said two days after the shooting spree that also left 14 wounded, including Democratic Representative Gabrielle Giffords, who remains in critical condition.
Glockmeister. Wow. That's so special.