INTRO & PART 2 explored Republican Governor Rick Snyder's Administration and Agenda for Michigan by the Snyder Team and ideas on "Reinventing Michigan".
In Part 3 and 4 of this multi-part series the leadership styles influencing Rick Snyder with a focus on former Governor William (Bill) Milliken, Michigan's most prominent living Republican Moderate, will be examined. The following as well as relationships between Snyder (comparisons with John Engler) and Milliken Model are analyzed: 1) Who's Milliken? 2) Milliken Leadership Model, and 3) Milliken Endorsement of Rick Snyder and more.
He ain't Engler, maybe a Milliken?
William G. Milliken (center) and Rick Snyder (right) pictured at an event arranged by Detroit PR man, Berg Muirhead (left).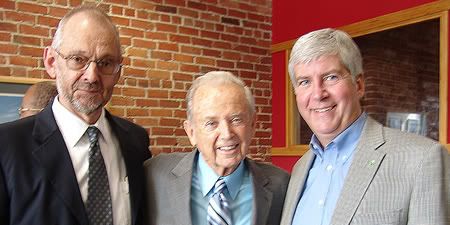 PART 3 Milliken Leadership Model Continues...
Caption continues...
Muirhead and Snyder were both supporters and co-signers of original reports, along with Mark Murray and Doug Rothwell, of the Business Leaders for Michigan, both leading members of Snyder Transition Team, produced by the Center for Michigan. This Ann Arbor-based "think-and-do tank" was founded by Phil Power and a number of prominent moderates including Republicans, Democrats and Independents at a Summit / Conference (largest of its kind in Michigan "since the Great Depression") of over 430 Michigan policy and economics experts in 2006.
Cross-posted from Blogging for Michigan.

PART 1 Introduction to Nerd–Centric Politics and Michinomics 101
PART 2 - Translating the Snyder Strategy: MGT 101 (Delayed a couple days)
RELATED: Rick Snyder Transition Team Profiles HERE
RELATED: Snyder Transition Challenges and Analysis now posted HERE.
RELATED: Rick Snyder Transition Hits Snag and Will Snyder Toe-the-line?
CURRENT LDR 203
GOP Candidate for Governor of Michigan Rick Snyder, July 22, 2010:
"Working across partisan and political divides, was able to build consensus and ensure that the democratic process worked on behalf of citizens. I have campaigned to offer a fresh style of leadership in Lansing that embodies that tone. As governor, I would focus on results, not politics."
From former Governor Milliken's First State of the State speech January 9, 1969:
"It is my greatest hope that this administration will be known for its compassion, its idealism, its candor and its toughness in the pursuit of public ends."
Michigan's Moderate
William G. Milliken was the 44th Governor of Michigan (1969-1983), the longest serving governor in Michigan history. He also was the Lt. Governor (1965-1969) under George Romney, and like his father and grandfather, started his political career in the Michigan State Senate.
He Served in US Air Force in WW II surviving 50 missions (many in Italy) where he had to 'bail-out' three times and received the Purple Heart as a waist - gunner in B-24 Bombers, a majority of which were built at Willow Run in Ypsilanti, Michigan, then the part of the "Arsenal of Democracy".
'Bill' Milliken is now 88 year old and spends most of his time at his Traverse City home on the street, like many Michigan public buildings and infrastructure, bears his name "Milliken Drive".
Milliken is probably best known for his political career as a 'passionate moderate' and his centrist approach to politics. His grandparents were life-long "Milliken Republicans", and he has described his father as a 'liberal progressive' Republican. In discussing politics he often uses the verbiage 'so-called Moderate' when referring to positions viewed as being toward the center of the American political spectrum, and prefers to talk "freely and openly and constructively" about specific issues over ideology, if specific actions or policies are "right" or "wrong", rather than categorizing.
Some of Milliken's notable 'accomplishments' as Governor (in no particular order) of Michigan include:
Environment Protection Act of 1970 and numerous environmental policies such as the Bottle Deposit and Water Protection laws based on a comprehensive 20-point environment strategy
Consumer Protection Act of 1976 (not the Michigan Seed Law on labeling of 1965)
Public School Funding restructuring proposals and initiatives
Reforms in Public Education and Higher Learning to improve performance and participation
Preoccupied and concerned about Poverty and treatment of the poor or disadvantaged
Urban Development and early 'urban sprawl' programs across Michigan and Detroit
Supporter of "Open Housing", now called "Fair Housing" programs and legislation
Tax Relief and Cuts, including the largest Property Tax Program in the country at the time
Simplification of Michigan Business Taxes in the Single Business Tax (SBT - created by Gov George Romney(R))
Economic Development initiatives including offices in Japan and Europe, and promotion to attract 'high-technology' research and development, particularly new 'computer' companies to Michigan
Reduction of 'excessive' Workers Compensation Costs
Supporter of "Women's Rights" issues
Reduction of Government spending in what was called the "Age of Limitations"
More policy details covered in PART 4 Applications of the Milliken Model for Legislating LDR 204.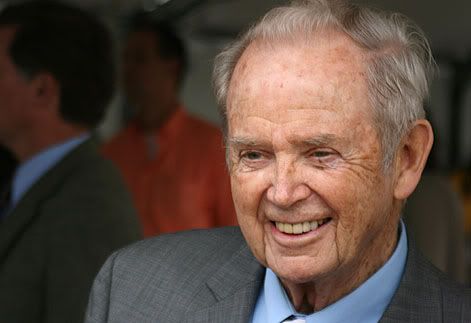 Milliken Perspective on the Role of Government in Society:
"Good government is good politics."

"I believe government serves an important and necessary purpose, and can be a positive influence in the lives of men and women."

– William Milliken Former Michigan Republican Governor
A young Bill Milliken became Governor of Michigan, when his predecessor, a moderate Republican former Governor George Romney, father of Mitt Romney, stepped down to become Republican Richard Nixon's Secretary of Housing and Urban Development (HUD) at the end of 1968. At the time many thought that Milliken was overshadowed by Romney and was 'not in charge' of his own Republican Party, a challenge some observe is also faced by Rick Snyder.
More on George Romney and other Michigan historically moderate Republicans in PART 5 - Return of the Michigan Moderate Age? SOC 305
Unlike Snyder, who will enjoy (or not) the fact that all four branches and elected sate-wide positions are currently under Republican control, Milliken had to deal with a mostly with an opposition that held Democratic majorities in both houses of the Michigan State Legislature - only 6 years of Milliken's 14 years a governor – were when Republicans held a narrow majority in the Michigan State Senate.
More details and comparisons with Rick Snyder on Polices and Legislation in PART 4 - Applications of the Milliken Model for Legislating LDR 204
Milliken Faced Michigan Worst Recession Since the Great Depression
"Since I have been governor, there have been national recessions. But Michigan has not been hurt as much as it hurts now."

– Milliken's Television Address to Citizens of Michigan, March 10, 1982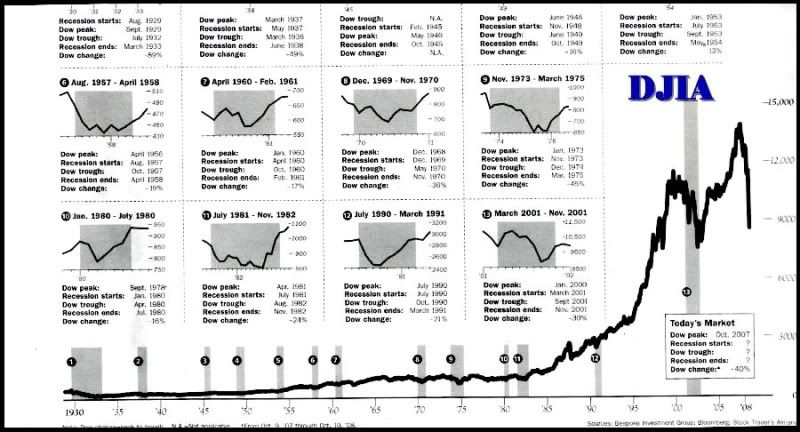 The recession of 1981 through 1982 was a tough one for Michigan and in particular automotive employment, which drove the State even more than it does today. In 1982, US automotive sales the lowest in 32 years for automotive sales since 1950, that was back then.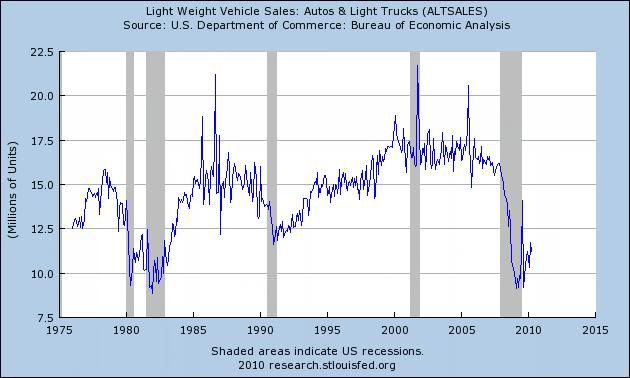 More recently, in 2009 was the lowest in 28 years, the lowest ever being in 1982. In 1983, we came back, but as one automotive old-timer puts it, 2008 through 2010+ is much different:
"I thought things were bad when I left, and that was 30 years ago. Now that's the good old days. The problems are systemic and endemic, and have been for 40 years. We sold our soul to the car business, and rode the gravy train for a few decades. We were the top of the world. Even our Republicans were good."

"This isn't 1983. GM, Ford, and Chrysler aren't walking through the door, turning on the lights, and starting up the line again. The plants are gone. The jobs are gone. There're no lines to start up."
More on Automotive and Manufacturing issues in PART 4.
Breaking Away from Conservative Take Over of the GOP
More Like the Fathers, Not the Sons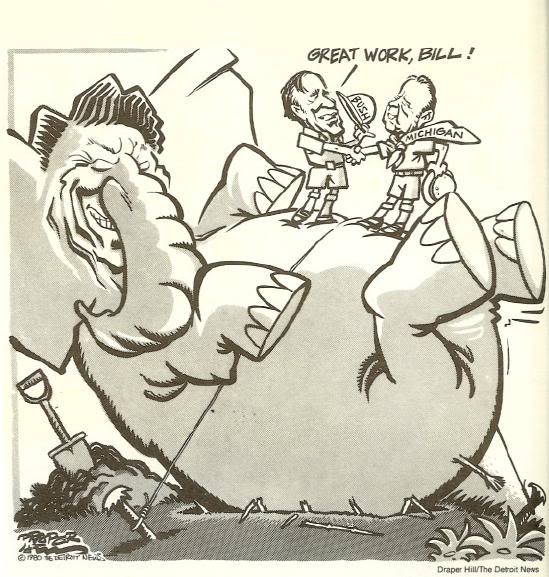 In 1980, Milliken supported the presidential candidacy of George H.W. Bush (41), who was considered a leader in the national Moderate Republican "Mainstream" Movement at the time, in Bush's run against Ronald Reagan in the 1980 Republican Primary in which Bush (41) defeated Reagan in Michigan.
Again in 2004, like many remaining moderate Republicans, he broke ranks with George W. Bush (43) whose policies "didn't connect with moderate Republicans on a wide range of issues" and supported the opposition. Notably, in 2006 Milliken did not officially endorse Republican challenger to Jennifer Granholm, a man who was the husband of former Michigan Republican Party Chairwoman, Betsy (Prince) DeVos, Amway heir and wealthy businessman, Dick DeVos in his self-financed bid for Michigan Governor.
In 2008, Milliken, along with other (remaining) Michigan Republican moderates, endorsed John McCain in the Republican Presidential Primary, however 'backed off' from McCain as the final GOP presidential candidate stating "he is not the McCain I endorsed". In addition to disagreeing with McCain's position on the War in Iraq and selection of Sarah Palin as a running mate, Milliken also added the following to explain his change in support of John McCain direction within the National Republican Party:
"I'm disappointed in the tenor and the personal attacks on the part of the McCain campaign, when he ought to be talking about the issues."

"Increasingly, the [Republican] party is moving toward rigidity, and I don't like that. I think Gerald Ford would hold generally the same view I'm holding on the direction of the Republican Party."
Milliken did not support Mitt Romney, son of his gubernatorial predecessor George Romney either in the 2008 National Republican Party Primary. He described his thinking on the son of his old political ally to old-timer political reporter David Broder:
"[Mitt Romney] has switched positions quite regularly"

"He has become much more conservative than his father ever was. I doubt [Mitt Romney's] father would approve his hard swing to the right."
More on Gerald Ford, George Romney, and other Michigan Republican Moderates in Michigan History in PART 5.
Milliken Model for Leadership
Service Dedicated to the Public Interest
When asked '?' in a WKAR interview in June 2006, Milliken responded:
"Well, I suppose one of them has to be [1] endurance. It is a physically and mentally demanding kind of a profession. One of the other important qualities that I think an elected public official must have in order to be successful is a [2] willingness to expend political capital for the sake of achieving a goal which is in the public interest, to pay the price politically. And if a politician is not willing to pay that price, is not willing to say, "This is something I will not, I will not compromise on", then that politician is not worthy of his or her salt."

(break)

"... I think to be successful as governor, one has to be willing to pay the price of [3] studying and understanding the issues. To be willing to do the scholarship and the training and the exercise in understanding what is at issue and what the requirement is to be the master of a subject. That is not to say that one can master every subject, but to do the homework. Those three elements are essential, in my opinion for success."
And Milliken adds "Politics be damned...Do the right thing":
"Life as governor is filled with political risks. And to the extent that a governor is willing, for the sake of principle, to take those risks, then it is important that those risks be taken and there comes a time when one has to say, "Politics be damned. I will do the right thing and I will do it now."
Snyder Adopts the Milliken Model?
Leadership Style: Snyder adopts Milliken Model over Engler's Mania (Revolution)
The applause had hardly died down following Snyder's State of the State Speech before the same old party ideologues on the Republican Right started their regiment of reshaping of Rick Snyder. They know they have to make Snyder Tow-Their-Line.
One particularly articulate voice out of the ether in a discussion at the Center for Michigan, Director John Bellow's analysis on "How the GOP did it" appeared right after the November 2010 election:
"[Snyder Optimists] and others in the media applaud the Governor-elect's behavior, when it looks like he is more and more morphing into an Engler and not a Milliken.

Many of you seldom agreed with Governor Engler and his policies, so why now do you applaud the new Governor who seems to be heading in an even more right wing approach to governing. Michigan was a moderate state until the Engler transformation of the Republican Party. Engler did to Michigan what Gingrich did to Washington, and the policies and actions of both have led to the political gridlock that we have today in Lansing and Washington.

So as it appears that the Governor-elect is moving to an Engler method of governing, why do you think that this is progress?

Do you really want Lansing to continue down the road away from the collaboration that occurred under the Millken administration? Days when then Governor Millken called the Democratic and Republican leaders, then called the Quadrant, to his office, and started the meeting by saying "This is the problem. How do we come together to solve it?"
[emphasis added]
After outlining what Rick Snyder should do with a long list recalling what John Engler did as governor, and just before Snyder's SOS speech, GOP pollster, Steve Mitchell (a GOP pollster) wrote in the Detroit News wrote:
"So, how can Snyder duplicate Engler's success?"

"First, [Snyder] has to forge strong relationships with Senate Majority Leader Randy Richardville, House Speaker Jase Bolger and the other members of the legislature. Snyder has already begun that process. He is meetings [SIC] individually with key House and Senate leaders on a regular basis and in small groups with other legislators."
Snyder is clearly not following John Engler's path, this is classic Bill Milliken.
It was Milliken, who had regularly scheduled bipartisan and opposition meetings.
Engler's election by the Michigan GOP as the State Senate Majority leader starting in 1985, was the start of "my party" OR the "party of "NO" politics in Michigan, its latest rendition being the two government shut-down orchestrated by Mike Who? (what's that guy's name again, forgot already).
Under Engler's leadership, the Michigan Republican Party started the GOP reign of exclusion, particularly of 'moderates', then called "Mainstream Republicans" that held any views contrary to Engler's. This process got into full 'night of the long knives' style political hooliganism in 1990-92, with the onset of term limits, which has, in the last cycle, eventually eliminated even those who used term limits to get elected and has done much to destroy much of Michigan's "institutional memory".
Revisiting John Engler's tenure the editors of the Traverse City Record-Eagle render this look back in a 2007 Editorial entitled "Engler's manipulations still cast a long shadow":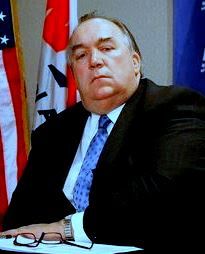 "Like a recurring case of Montezuma's Revenge, Michigan can't rid itself of John Engler.

Gone - but unfortunately not forgotten - from state government for four years, Engler is now a lobbyist for the nation's major manufacturers and pops up frequently clinging to the coattails of Republican power brokers in Washington.

After wreaking havoc on the state's budget, environment, human services and open government as governor for 12 years, Engler finally left Lansing, thankfully concluding his career on the public payroll, his only previous source of employment throughout his adult life.

Known best for his and , Engler did more to politicize public affairs at all levels in Michigan than any other politician in recent memory. Even members of his own Republican Party bitterly complained — privately, of course — about Big John. Many were not unhappy in the slightest when he packed his bags for private sector paychecks and corporate boardrooms.

His scowling specter, though, returned on two fronts in recent days, sadly reminding us of the bad old days when Engler ran roughshod over anyone and everyone who had the temerity to oppose him."
Evidence of John Engler's more recent meddling attempts into Snyder's affairs continues to surface. One such example is provided by Tim Skubick, who is listening very closely to all things Snyder, concerned itself with Michigan's broken Child Foster Care system and Snyder's pick of Maura Corrigan for Director of the Michigan Department of Human Services. Corrigan was a sitting Michigan Supreme Court Justice, who was appointed earlier by Engler to the Michigan Court of Appeals:
"...a couple of weeks ago as [Snyder] introduced his new welfare director whose top priority was to clean up the children's foster care system.

The media never reported that deep behind the scenes, former Gov. John Engler was leaning on the new governor to change his mind. Mr. Snyder wanted to appoint a sitting State Supreme Court justice to the post but Engler made it clear he opposed it. His judgment was based on the politics of the appointment itself."

(break)

"Governor Snyder felt the heat and deflected it and that's where the revealing statement came into view. Asked about his decision to stick with Corrigan, [Snyder] gave a peek at who he really is: "We have selected children over politics."
The fact is that most of Michigan's current policies and practices, and therefore Michigan's worries, have Engler's fingerprints all over them.
Since Engler's ascendency as the Michigan State Senate Majority Leader in 1985, , against Michigan Democrats for years, not just the recent Granholm Administration.
If Michigan is in a sorry state of affairs currently, it is because Michigan is now continues to be in actuality "the State of John Engler," and his allies- who crafted it and have made it that way.
Engler had a style that said, I do what I think best, let the pieces fall where they may. Political power was everything to him. Michelle Engler once labeled John, 'a policy Wonk,' and his entire life is a battleground and he was his own version of Napoleon, the benevolent dictator. As for the issues and troubles of Michigan's citizens?... well that's just their problem.
Snyder's team have set some high goals to 'reinvent Michigan'.
'Michiganders' now live in a 'today' that was yesterday's 'future', shaped and restricted by the Englerism in our 'past'. Blaming former Governor Granholm for everything, while a very convenient political tactic, is just plain dishonest thinking, and some of Snyder's Team are young and unfamiliar with all the "Engler Revolution" history. If they study these lessons, they just might discover some of this for themselves.
Asked by Tim Skubick in 2006 to reflect on how Engler left the governor's office Milliken politely responded:
Milliken: "I think John Engler did not deliberately leave Michigan in a state of heavy debt and deficits, but the fact is that when he left office, that was the inevitable result of the state of the economy and some of the polices he followed.

One of the goals of John Engler, and it had it political side as well, was to cut taxes. And he attempted to cut taxes and the result was that when he ended his term with the taxes having been cut and other policy decisions made, the inevitable result was a state that was in a .

But was it a deliberate thing on his part? No, I don't think so."
Milliken Endorsement of Rick Snyder
The nerd kid that volunteered on Bill's 2nd reelection campaign
This is Bill Milliken, former Republican Governor of Michigan, in his early endorsement of Rick Snyder, who worked on Milliken's second reelection campaign as a teenager, on July 22, 2010:
"I believe Rick Snyder can help end the bitterness and ugliness that has become too prevalent in our political dialogue today. I have every confidence he will work closely with both parties in the Legislature to develop effective public policy and innovative solutions to the problems which confront us. He will seek to bring people together in a common cause, not to drive them apart for short-term political gain.

"I also have found Rick Snyder to be someone who believes it is more important to listen than to talk. He will be open to new ideas and suggestions, no matter where they originate."
One reaction to the Milliken endorsement of Snyder was noted by Dave Alexander in "Michigan needs to unite behind new governor":
"Let's hope Snyder's admiration of and endorsement by former Republican Gov. William Milliken means Snyder will govern as pragmatic centrist, shedding blind ideology in favor of doing whatever it takes to get the job done. Snyder realizes that his very GOP nomination in the August primary was a direct result of a coalition of moderate Republicans, independents and crossover Democrats.

In his election night victory speech, Michigan's governor-elect gave the first signal that it might be a different day in Lansing.

"We've gotten caught up too much in a win-lose attitude," Snyder said in downtown Detroit. "It shows up in partisanship, in geography and ethnic issues. It is time to stop being divisive and start being inclusive as we win together."
Note: A lot more on the historical background of Michigan Moderates in PART 4 and PART 5 - Return of the Michigan Moderate Progressive Age? SOC 305
RECOMMENDED: Milliken Interview with Glen Arbor Sun, September 21, 2010
Currently you are reading PART 3 - Applications of the Milliken Model for Leadership LDR 203
NEXT UP...
PART 4 - Applications of the Milliken Model for Legislating LDR 204
Building on Part 3 above, Part 4 continues the examination and lessons that can be taken from Bill Milliken as well as more comparisons to Rick Snyder-style approaches within Nerd-Centric Politics. The focus will be on legislating and the Milliken Legislative Model: Republican Party, Bipartisan Relationships and Consensus-based Legislation on practical and often pragmatic solutions to solve specific issues. Also includes more on Milliken's views on failed gubernatorial candidate Dick DeVos, the end of the Michigan Moderate Era starting with John Engler and the switch over of many Michigan Republicans like Saul Anuzis, in "Gone are the Moderates".
PART 1 Introduction to Nerd–Centric Politics and Michinomics 101
PART 2 - Translating the Snyder Strategy: MGT 101
Administrative Note on Part 2: Good News, Bad News, Great News... first – No, , it's not up yet. - Part 2 is will be delayed a couple days. - Adding Part 7 and for better readability and continuity Part 2 is being revised to better assist readers in understanding the basics and terminology of Snyder's Nerd-Centric Politics (all that business stuff) and PART 7 will pull together ALL the connections and ALL the topics covered in the Series.
PART 5 - Return of the Michigan Moderate Age? SOC 305
PART 6 - How the Right will Resist / Fight Nerd-centric Politics GOP 101
PART 7 - Capstone Course on Nerd-Centric Politics NCP Seminar
RELATED: Michigan's CEO Elect Rick Snyder's Appointments Unabridged Profiles
RELATED: Rick Snyder Transition Team Profiles HERE
RELATED: Snyder Transition Challenges and Analysis now posted HERE.
RELATED: Rick Snyder Transition Hits Snag and Will Snyder Toe-the-line?
Permission granted by the authors to repost as you see fit, it's a free Country, well sort of.