I read a lot of fear in the comments about DK4.
For those who haven't tried it out yet, or are thinking of taking a powder... read on, and think again.
Please.
Many pictures to follow.
Procede to view the Visual Guide to DK4 for Dummies, premier edition.
DK4 looks different. I imagine that you have heard that before. Yes, it does.
COMPARISON OF THE FRONT PAGE FROM DK3 TO DK4:
DK3 Front Page:





DK4 Front Page: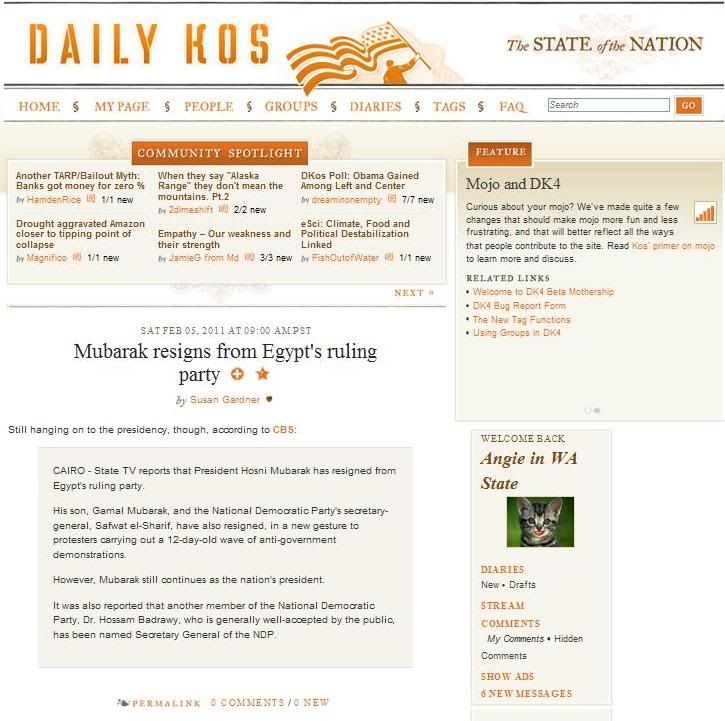 Now, even though there is a difference betwen them, let's look at how to find what YOU WANT on the new version...


Want to see the Rec List RECENT DIARIES LIST from the DK3 DK4 Front Page (FP)?

OK, but it's (get used to it) a little bit different... it's been pre-troll-checked by at least ONE TRUSTED USER before it can get on the list. That is the between the DK3 and DK4 Rec List RECENT DIARIES LIST.


Go here to find it on the FP: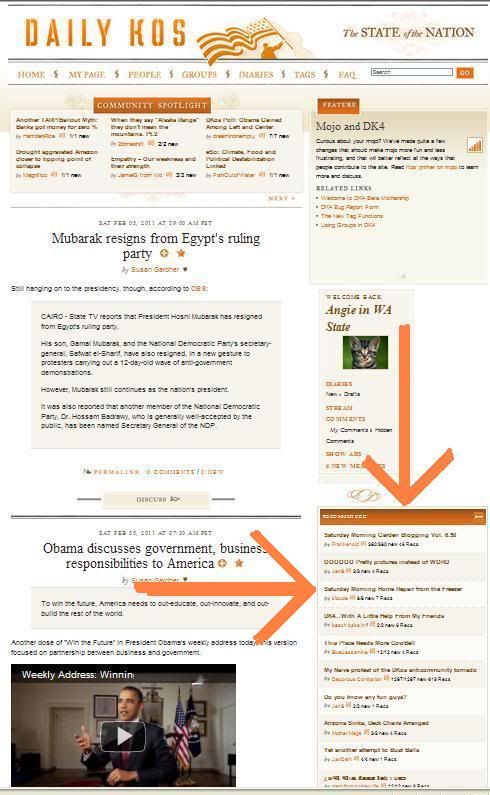 Want to see your new and improved Profile/UID homepage?



FIRST - This is what you are used to seeing on your Profile Page:





Now for the difference...

Go to the Front Page and click on your own UID/dKos Name in the fancy-schmancy new Welcome Back Feature Box here: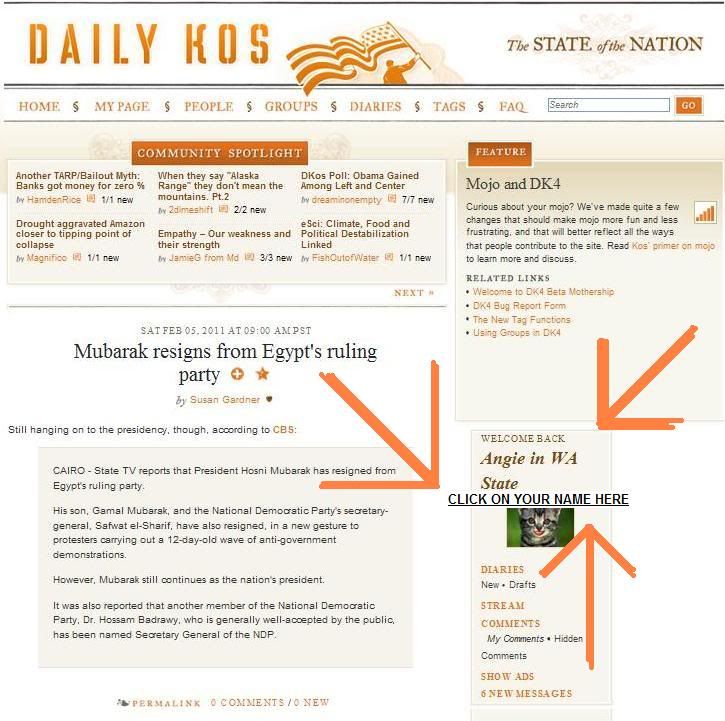 And you'll see this:

Just take a look at all the great new stuff on this page:
Date you joined DailyKos.
Mojo Meter
Groups you have Joined (write diaries in)
Your Twitter ID (if you have one and a link to it)
How many diaries you have published
How many comments you have posted
Your most recommended diary
How often you write diaries
How often you post comments
How many diaries you have Recommended
How many Kossacks are Following You
Your personalized Rec List (MY STREAM)
My Groups
My Messages (in-house messaging!)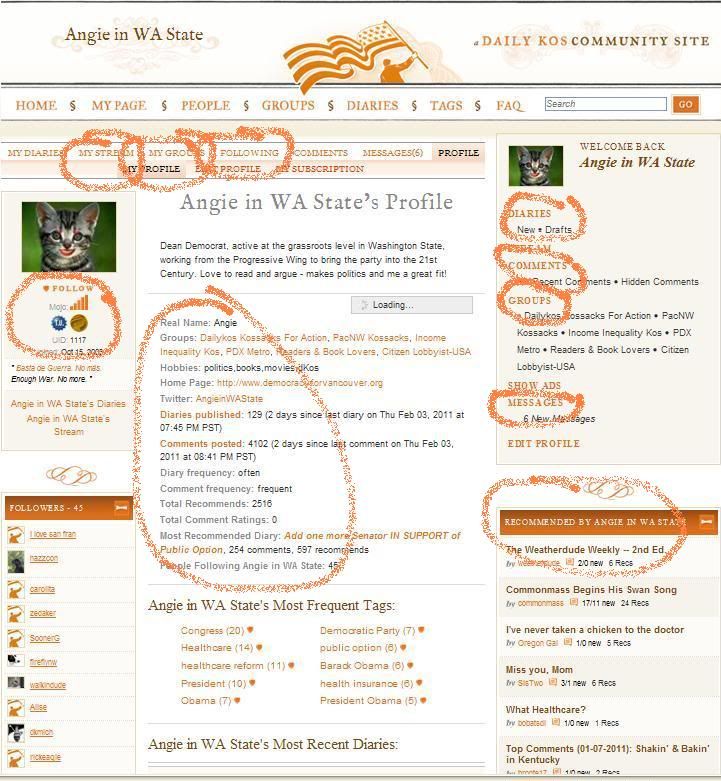 This alone makes the new version of Daily Kos worthwhile to me! I hope looking at these screenshots give you some idea of just why markos is soooooo very excited to get the conversion done with.


I'll be posting additional screenshot laden diaries the rest of the week, delving deeping into what is possible on the new site.


I know that dial-up users will find this diary unmanagable - for you, I am sorry, but there was no way to produce the images in a scalable size which would load fast and still remain clear enough for diary purposes.
:(



I hope that this visual guide is helpful to those who haven't yet taken the plunge - and those who have dipped a toe or two in the pool and got a shock and now aren't sure if the new version is something they can handle...
because I'd hate to see a great community lose members because the landlord decided to put a new coat of paint on the old Clubhouse, which is a pretty good analogy for what this upgrade amounts to.
There are new features, the site looks different and how we work together as a community may change (but only in a GOOD way, better organization is a GOOD thing!) - but NONE of those things should make a bit of difference in how you feel about this community or whether or not you continue to participate in it.
No matter how pale the shade, this is and always will be Orange Territory
UPDATE
D'oh. I cleverly forgot to include a link to BetaSite:
http://www.dailykosbeta.com
AND
Per Markos, in a number of diaries over the past few days, the set-in-concrete (unless the world ends first) date for the start Great Conversion
is THIS COMING FRIDAY, FEBRUARY 11, 2011 *** see UPDATE IV for a more current timeframe...
The skuttlebutt is that it MAY take as long as two to three complete days. So, NO dKos on next Friday, and likely not on Saturday morning, and possibly not on Sunday...
see ya tomorrow for PART II!
UPDATE II
h/t (hat tip) to Patriot Daily News Clearinghouse - for the d'oh moment when he reminded me that some of you might read "Rec List" and think I meant RECOMMENDED LIST when I really meant RECENT DIARIES LIST. (fix'd now).
UPDATE III
I think this comment, by tmo, might be interesting to all:
2 to 3 days = 48 to 72 hours - where to go?

It's going to be rough.:) Congress Matters is one good replacement. Maybe folks should suggest additional meeting spots for DK refugees to gather?

Atrios' blog Eschaton was a traditional meet-up spot in the past for folks to gather whenever DK had a rare outage. However, while I have a lot of affection for that blog for its history as a "godfather" to Daily Kos, there's just not much going on there.

IMHO some good replacements for the duration and just to get out more would be Booman Tribune, where BooMan (who also posts on DK as BooMan23) hosts an excellent leftist anti-torture-oriented blog; Suburban Guerrilla, where Suzie Madrak hosts an excellent leftist feminist blog; and Pandagon, where Ezra Klein got his start waaaaaaay back in the day and where Amanda Marcotte hosts another excellent leftist feminist blog.
UPDATE IV
Per this comment, by kos, on the Timing of the Great Outage:
Awesome diary!
But quick correction -- the changeover begins late Friday night, PT. I'm talking like 11 p.m. or midnight. So DK3 will still be around all of Friday for the right-side of America, and will be around for all of Friday except for an hour or less for the left side.

Saturday, expect us to be down all day, but we should be back up that evening.

by kos on Sat Feb 05, 2011 at 01:22:49 PM PST
[Thnx markos, for reading and the update on the Great Outage.]