With the centennial of St Ronnie upon us, there has been a great push from the conservatives to pine for the good 'ol days of Reagan.
I loved the 80's in many ways, the music and the clothes, and the pink hair.
Yes, I had pink hair. And I wore the new wave clothes, and it was all great fun. There are probably pictures of me stored away in photo albums in parts of Japan, because the Japanese tourists visiting my city used to stop me and ask to have their pictures taken with me. SEE THE WEIRD CANADIAN GIRL! She looks like Cyndi Lauper! This was before a lot of today's amime characters who look even more outlandish than I ever did.
Reagan was not one of my happier memories of the 80's however. Here in Canada, for many of us and many people in the rest of the world, it was one of those head scratching oddities. An actor, (and not a good one even) so phony, so far to the right..... Voted in as president of the US.....Twice. (Head scratching to be repeated again, with the twice elected GW Bush.)
The AIDS epidemic, the WAR ON DRUGS, Acid Rain denial, the forerunner of the climate change deniers....
That belief in the Lazy Fairy Dust.....(laissez-faire)
Firing all the Air Traffic controllers....In an awe inspiring evil double cross that absolutely gives Reagan supporters cold shivers of delight....
He wrote this letter to the head of the Air Traffic controllers union in order to gain support before the election:
Dear Mr. Poli:
I have been briefed by members of my staff as to the deplorable state of our nation's air traffic control system. They have told me that too few people working unreasonable hours with obsolete equipment has placed the nation's air travelers in unwarranted danger. In an area so clearly related to public safety the Carter administration has failed to act responsibly.
You can rest assured that if I am elected President, I will take whatever steps are necessary to provide our air traffic controllers with the most modern equipment available and to adjust staff levels and work days so that they are commensurate with achieving a maximum degree of public safety....
I pledge to you that my administration will work very closely with you to bring about a spirit of cooperation between the President and the air traffic controllers.
Sincerely,
Ronald Reagan
But we know that Reagan was all about Union busting, and his actual actions set the tone for the downfall of organized labour, that continues on to this day.....
The federal dreadnought turned all its big guns on the hapless strikers. PATCO leaders were hauled off to jail for ignoring court injunctions against a strike. The Justice Department proceeded with indictments against 75 controllers. Federal judges levied fines amounting to $1 million a day against the union while the strike lasted. Over 11,000 strikers received their pink slips, while 1,200 went back to work within a week's time. Morale among the strikers was shaky. "I thought Reagan was bluffing," lamented one controller. In October the Federal Labor Relations Authority decertified PATCO.
Reagan was not an honourable person by most standards, but he played one in the movies.
Igniting the culture wars that continue today. That was Reagan. But in an odd way, he was all talk and no walk. This was just red meat for the base. In his typical hypocritical fashion....
Reagan's contributions to the culture wars of the 1980s were largely rhetorical and symbolic. Although he published a book in 1983 about his staunch opposition to abortion (overlooking the fact that he had legalized abortion in California as governor in the late 1960s), he never sought a constitutional ban on abortion. In fact, Reagan began the odd practice of speaking to anti-abortion rallies by phone instead of in person - a custom continued by subsequent Republican presidents. He also advocated prayer in public schools in speeches, but never in legislation.
30 years on we have an emboldened religious right that uses the specter of St Ronnie on a regular basis. They have the same memory lapses that Reagan had during the Iran/Contra affair, so they made up their own narrative.
To show he was not a racist, some of his fans give him credit for signing the Martin Luther King holiday into existence, glossing over or omitting that that only came about because of a massive veto-proof majority in the house of Representatives. He opposed it.
Reagan also vetoed the imposition of sanctions on the apartheid regime in South Africa. Congress overrode that veto, too.
With so much fanfare Conservatives have revised the actual historical account of the Reagan years, much of it to do with the real economics and the tax hikesplaced on regular Americans. Fiction replaces fact after it goes around the block a few times.
The historical record is being twisted into the Version that we have been seeing a lot of....: St Ronnie. Like a textbook in Texas, it is so easy to make the things we do not like, go away. (love this title,
Texas Textbook MASSACRE: 'Ultraconservatives' Approve Radical Changes To State Education Curriculum)
In Britain in the 1980's and early 1990's a show called Spitting Image lampooned and satirized the political world of the time. Surprisingly, this is closer to the Reagan I remember.

In this clip, Ronald Reagan hires four new advisers that just also happen to be the Four Horsemen of the Apocalypse, a major point he just happens to miss due to being busy with other things like... Mr. Potato Head.
A cartoon map that was bang on with regards to Reagan's thinking, (In my opinion) and at the time it was considered "humour".
Now, it looks like the stuff coming out of many Republicans and Faux newz.
Life imitates art sometimes, but in the last 10 years they overlap and blur. It almost seems as though some are getting their ideas from past "jokes".
We have seen purity balls and abstinence only education emerge into the "mainstream" discourse instead of just remaining on the fringes where they used to (and should still) be.
At one time this was satire.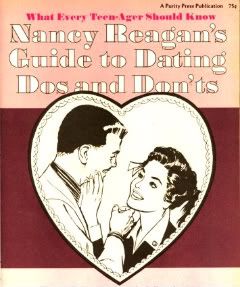 It was just so deliciously ludicrous!
Now it looks like an outline for a "sex education" course in some US schools. My apologies to those Texans who live in the reality based community, but your state is a breeding ground for the misinformation and revisionism I am talking about......
Do not be surprised if Onion articles don't inspire some Conservative opinion or Urban Legends. It has happened before....
Reaganomics Finally Trickles Down To Area Man
Twenty-six years after Ronald Reagan first set his controversial fiscal policies into motion, the deceased president's massive tax cuts for the ultrarich at last trickled all the way down to deliver their bounty, in the form of a $10 bonus, to Hazelwood, MO car-wash attendant Frank Kellener.
Happy Birthday to St. Ronald Reagan. In about 50 years with the help of the media it will become "common knowledge" that Reagan developed the Internets, and single-handedly tore down the Berlin wall with his bare hands. It was not the result of political changes in that part of the world. Nope.
Who knows what other miracles he will have wrought. Just think as you spend your Ronnie money, in the (renamed)great Reagan state, that that extra $10 bucks in your pocket? You owe it all to the Gipper.