Not that this is any big secret today but it's "officially official" :
Keith Olbermann to Host Major New Nightly Primetime News and Commentary Show on Current TV
You can tell me how much not a diary this is below.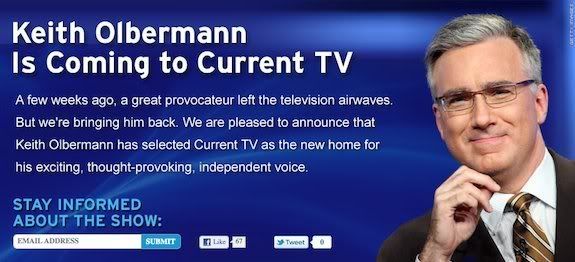 Keith Olbermann, the acclaimed broadcaster and writer whose verbal pyrotechnics and moral passion have outraged, informed, and dazzled viewers of "Countdown With Keith Olbermann" for the past eight years, is bringing his slashing wit, analytical eye, and distinctive commentary to Current Media, the Emmy® and Peabody Award-winning TV and digital media company that was founded in 2005 by Al Gore and Joel Hyatt and is now distributed in more than 75 million households around the world. The news was announced today in New York.

In addition to executive producing and hosting a new nightly primetime news and commentary show, Keith Olbermann will also serve as the company's Chief News Officer and will have an equity stake in Current Media.

The new show will air weeknights in primetime beginning later in 2011.
I'm using up my one a day allowance before we enter the final frontier of DK4...where no kossack ( OK I hate that term) has gone before. I didn't use "BREAKING".
FYI...Here's Current TV's channel lineup on the major carriers:
Direct TV: 358
Dish Network: 196
Comcast: 107 or 125
Time Warner: 103 or 142
Thanks to sable in the comments, Keith's tweet:
Greetings from Keith Olbermann, Chief News Officer of Current Media! And awayyyyyy we go! #FOK
Keith's Media Release:
Nothing is more vital to a free America than a free media, and nothing is more vital to my concept of a free media than news produced independently of corporate interference. In Current Media, Al Gore and Joel Hyatt have created the model truth-seeking entity. The opportunity to partner with Al, Joel and Mark Rosenthal makes this the most exciting venture in my career. - Current Media press release quoting Keith Olbermann
Olbermann and Al Gore...Bill O's gonna burst his falafel.
Benintn says this in the comments:
Time for the Teabaggers to Meet the #FOKers.
h/t again to sable: How Keith got around the no-compete clause from WSJ
But, as part of his roughly $7 million settlement with MSNBC, the anchor signed a non-compete agreement that keeps him off rival television networks for a set period of time, at least several months. Three people familiar with the matter said the non-compete applies only to specific competitors in cable news and broadcast news–not including Current Media.