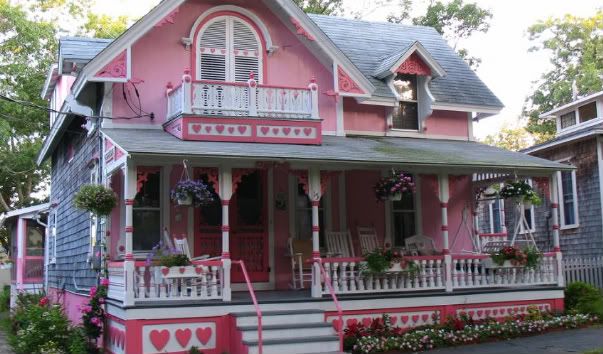 Happy Valentines Day!
We're all decked out here at the Pink Clubhouse.
I found this photo via Pixdaus as I looked for one to use as our avatar. But decided it might be a bit too gaudy, um cute.
boran2 suggested the Cape May house that we are currently using. What do you think?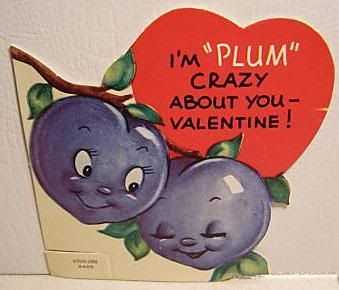 As a kid I loved St. Valentines Day. Decorating an old shoe box with paper heart cutouts. Then picking out each Valentine that seemed to suit each one of my classmmates.
One year I found out that a boy named Timmy liked me. I thought yuck, not only does a boy like me, but one that's a real stinker. So I gave Timmy a Valentine with a skunk on it. He got the message.
There are several legends about St. Valentines Day.
Probably the most popular is the Romantic Legend where St. Valentine was persecuted as a Christian, imprisoned and fell in love with the jailor's daughter.
The first recorded association of Valentine's Day with romantic love is

Parlement of Foules (1382) by Geoffrey Chaucer[18] Chaucer wrote:

For this was on seynt Volantynys day
Whan euery bryd comyth there to chese his make.

["For this was Saint Valentine's Day, when every bird cometh there to choose his mate."]
In the news:
Michelle Obama: Laughter is good for marriage Valentine's restaurant reservations top last year.

Scientists develop a hydrogen peroxide probe based on Firefly luciferin.

A 7-year-old German shepherd named Basco receives a new form of stem-cell therapy.

Adam Sandler and Jennifer Aniston's romantic comedy barely beats Bieber at the box office.
1849 – In New York City, James Knox Polk becomes the first serving President of the United States to have his photograph taken.

1855 – Texas is linked by telegraph to the rest of the United States, with the completion of a connection between New Orleans and Marshall, Texas.

1876 – Alexander Graham Bell applies for a patent for the telephone, as does Elisha Gray.

1899 – Voting machines are approved by the U.S. Congress for use in federal elections.

1920 – The League of Women Voters is founded in Chicago, Illinois.

1929 – Saint Valentine's Day massacre: Seven people, six of them gangster rivals of Al Capone's gang, are murdered in Chicago, Illinois.
Happy Birthday:

Meg Tilly (born February 14, 1960) is a Canadian-American actress, Broadway stage dancer and writer.

Gregory Oliver Hines (February 14, 1946 – August 9, 2003) was an American actor, singer, dancer and choreographer.

Carl Bernstein (born February 14, 1944) is an American journalist who, at The Washington Post, teamed up with Bob Woodward; the two did the majority of the most important news reporting on the Watergate scandal.

Florence Agnes Henderson is an American actress and singer, best known for playing the role of Carol Brady in the television program The Brady Bunch.

(FamousBirthdays/Wikipedia.)
ZOMG! There's a naked man on the Pink Clubhouse lawn!
Oh, wait it's just Dave.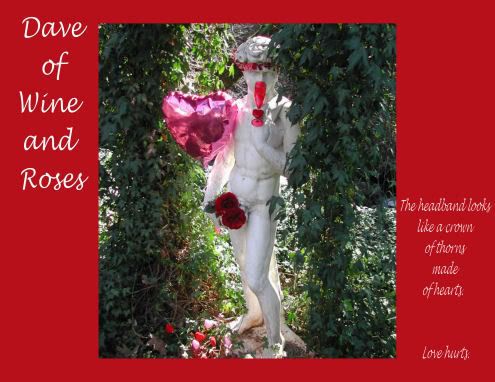 Actually it's a very Special Valentine from our very own jotterbug smileycreek who is on vacation and sent this to us.
Thank you smileycreek and Happy Valentines Day!
Pink Clubhouse House Keeping:
Yesterday we encountered some bugs. Hopefully today there will be less.
A new one that didn't appear in the beta testing is that messages are being sent to the wrong place. As Group Admin I am receiving messages that belong to other Groups. It has been reported.
There is about 75 messages for me to go through and I will attempt to answer our Group messages. Most are your invite acceptance replies.
Thought you all would enjoy knowing that Meteor Blades has joined our Group while Kos has declined to join but is following:
I appreciate the invite, but I don't have time to be in any position of leadership over any other group. In fact, running Daily Kos has become such a huge administrative job that I barely have time to write for the front page anymore. I have dreams of someday having the time to write directly for other groups, but not until my job gets a little less hectic.

I will, however, follow your group. Thanks! markos
As we go forward with the Group I hope that you all will consider posting a morning diary for our morning gathering place. I am all about sharing!
If anyone is intersted and would like to volunteer, let me know. It's open for dicussion. Is there enough interest for a schedule?
And one more thing: Welcome to the Pink Clubhouse Group everyone!