Coal companies are busy courting Congress, again. Two important amendments are coming up for a vote, please call your Representative and tell them to oppose Amendments 109 and 216. The phone number for Congress is 202-224-3121.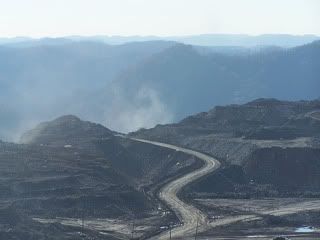 I called my newly elected Republican Representative's office this morning and was treated quite rudely by his staff person. I told the aide to please let Rep. Fleischmann know that I am one of his constituents and am opposed to changing the protections in place for our rivers and streams from mountain top removal, and I hope he will oppose Amendments 109 & 216.
While I was talking instead of listening to me, his aide began talking to someone else in the office. I was furious and said "Are you even listening to me? I am one of Chuck's constituents." He then stated, oh..."what's your name and address?" I had already told him my name when I called but repeated it again. If this is how constituents are treated by Chuck Fleischmann's office, he might not see a lengthy career as a Congressman. This would be wonderful to me since Fleischmann spent $700,000 of his own money to win the primary nomination.
So, please call your Representative and let your voice be heard. If they are rude to you, please tell your story about them to everyone you meet. People need to know how arrogant, insular and mean our elected officials can be once in office.
Here is more background on the Congressional amendments to de-fund the EPA, from I Love Mountains
Amendment 109 -- Would remove the EPA's ability to evaluate mountaintop removal permits and would reverse all of the actions taken by the administration over the past two years to safeguard Appalachian streams and communities.
Amendment 216 -- Would remove EPA's ability to veto "dredge and fill" permits that do not meet Clean Water Act standards. The Spruce No. 1 Mine permit was the first time the EPA used this authority in relation to a mountaintop removal site.