Have a question about the new DK4 Groups feature? You are not alone. This diary hopes to help with that, and answers a few basic questions to get you started.
Do I join a group, or should I follow a group?
Following
Most often people will simply follow a group. That way, anything written by the group, or republished to the group will show up in your Stream page, and you won't miss diaries on the subjects that interest you. You can comment in the diaries and participate and contribute to the discussion just like you did at DK3.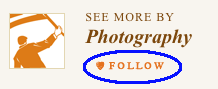 You don't have to follow any group. You can take your chances and hope you notice a diary in the recent diaries list, but following puts it on your Stream page.
To follow a group, click the heart by a group name, and you're following.
Joining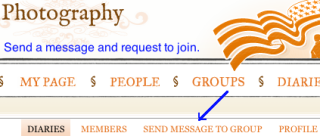 If you want more involvement, and want to write diaries for the group, you will want to join. To join a group, go to the Group's page, find the "Send Message to Group" link in the menu and let them know you would like to join.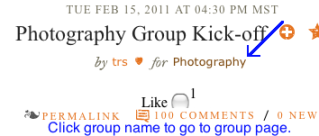 A good time to go to a Group page is when you are reading a diary by that group and like it. Below the title of the diary is a link to the group page.
Most groups will send an invitation if they think you care about the subject and would be a good writer addition to the group. You then would receive a new message from the group with a link to click to accept or decline. Once you click accept, you'll be presented with a message box to write an optional reply. Whatever you write, after you click send, that's it. You're now a member of the group!
If a group turns you down, don't let it get to you. Everyone is new at this and experimenting. Maybe they just aren't ready yet. You can still comment in their diaries as a regular, wonderful Kossack and make them sorry you're not writing for them.
Important: If you join a group, you still need to follow the group in order for the group diaries to show up in your stream. Some Kossacks have requested that joining cause an automatic following, but currently Kos prefers that it stay the way it is. He wants it to be consistent that you have to purposely follow anything you want to show up in your stream. And, there are Kossacks who prefer not to have diaries from groups they've joined in their Stream. This way it is an opt-in, rather than a forced opt-out.
Group Roles
The Group Founder or another Admin in the group decides group roles and who does what. The Group Founder and maybe a few other Admins invite, change member responsibilities, delete things and otherwise manage the group. There are Editors who can go into draft dairies and review or help out. And, there are
Members
Contributors who can write diaries and put them in the queue for publishing.
Different groups may establish their own traditions, standards, and local rules, so you will want to learn if any of your groups have guidelines.
When you accept an invitation to a group, you start out in the Member Contributor role. Right now the different membership levels are as follows. The titles are being looked at and may change.
BlogAdmin: Permission to add and remove users, and set roles for users; permission to edit the group description and profile page; plus, permission to do all that an Editor can do.
BlogEditor: Permission to post diaries to the group, permission to see diaries queued for the group, permission to edit diaries queued or published to the group blog; and permission to read private messages sent to the group.
Update: The Member role name has been changed to Contributor. I like it better, don't you?
Member Contributor: Permission to post diaries to the group queue only. This user can see his own diary in the queue, but not all diaries queued for the group. A Member Contributor would add a diary to the publishing queue, and an Editor or Admin would determine when it publishes. A Member Contributor cannot read private messages sent to the group. However, a Member Contributor can read all messages in a group message thread that he initiates.
Invited: The user has been sent an invitation by private message but cannot participate until the invitation has been accepted.
If you think you want to participate and write for a group, you might join, remain a Member Contributor, and see how it goes. You can always ask for more responsibility later.
Here is a 30 second video showing one easy way to either Join or Follow a Group from a group page sidebar. Thank you to mem from somerville for the video.



If you are still not sure, take a try at it. You can remove yourself from any group you have joined with the click of an X, and you can unfollow a group just as easily.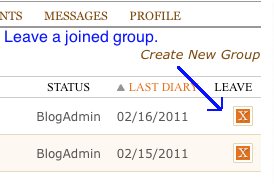 To leave a group you have joined
To see the groups you have joined, and to leave a group you have joined, go to My Page, then select My Groups in the menu. You will see a panel that shows your groups, what your role is in each group, the date of each group's last diary, and finally an orange X. Click the X to leave a group you have joined.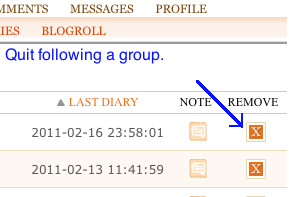 To remove a group you are following
A similar panel is on the page listing the groups you are following. Go to My Page, then click Following in the menu, then Groups in the submenu. Be sure to find Groups under Following. You see the orange X to remove a group from ones you follow and diaries by that group will no longer go to your Stream. You can also remove a group from your Following list by clicking the heart by the group name again.



At this stage, we should all be experimenting and just checking it out!
Have fun everybody. Try it; you'll probably like it!
Coming soon: How to create your own group.
KosBusters! is a group of DK4 beta testers who decided to continue bug hunting and feature testing now that DK4 is the official platform of Daily Kos.


In addition to locating bugs and testing newly released features, we plan to post informational diaries—such as this one—to aid everyone in using and navigating the site. If you have any questions, we are happy to answer them as best we know how. We are not currently accepting new members.