Editor's note: I tried to publish this earlier and I don't know what I am doing wrong, but it still hasn't published- under my drafts it says this is "in the queue", whatever the hell that means. So, I am trying to publish this diary again.
I had so many different ideas for my first diary here in the new building, DK4- I have one I started before the move that still needs my attention, I joined Weight Loss Kos and have about 6 diary ideas for that and I am working up my courage to write a diary about my father's death and sister's illness (that may actually take a little longer). I never expected to write about Republicans, tea baggers and racism in my family room on a Wednesday night! Head on down to the lower level and I will explain my wild, crazy, horrible night.......
My husband and I have been doing a little remodeling here and there over the past year. Our biggest project was my "dream kitchen"; well, my dream kitchen in this house is still a galley kitchen because that's how this house was designed, but by all that is Rachel Ray and Paula Dean holy, I wanted new cupboards, new flooring, new appliances and I got everything on my wish list! Ask my husband, a happy wife = happy life! Or at least a wife who stops bitching about wanting a new kitchen. Over the past several months, I have been Suzy Homemaker whenever I can; some weeks I am able to cook every night, some weeks I am lucky to open the brand new fridge once- it just depends on the C.O.D.(crisis of the day) About 5 weeks ago, I noticed that there was a gap between the soffit and the top cupboards; funny, that wasn't there when we finished the kitchen! In fact, we had to work to get the end cabinet to fit and thought we were going to have to cut the cabinet base to get it to fit.
So, that's the back story (alright, I know, it wasn't the CliffsNotes version, but hopefully you get the picture).
Beantown dad- "We have a problem with our house settling, that is very clear".
Me- "FIX IT!!!!!!!!!!!!!!!! It looks like my dream kitchen is going to be sitting in the crawl space in another week!!"
Beantown dad- "You are going to have to call someone 'cause this is way beyond my scope of expertise!" Translation- I have no effing clue what to do and your kitchen is going to fall into the crawl space!
As luck would have it, there was a home show at a local mall this past weekend and I actually came across a "professional"- cue the dramatic music, Da Da Duh!!!!! I spoke with the gentleman, looked at the pictures, told him about our problem and scheduled an appointment for yesterday at 6:00pm. Right on time, there was a knock on the door and in comes my knight in shining armor. Down into the crawl space he goes; all the while, he is talking with my husband and me. He's funny, he seems knowledgeable, he's got a camera and he's snapping pictures while under my house so he can show us the problem we have. This gentleman lives nearby, his 2 of his kids are the same ages as our 2 children, they attend a local high school, we really have a lot in common! After all the inspecting was done, we head to our family room for the bad news. As Mr. Professional is plugging in his computer and hooking up the camera, he looks up and spots my Barack Obama yard sign (I have it prominently displayed in the family room, along with my Hope snow globe and, well you get the picture) I live in a rural setting in Ohio- I think I am one of 3 Democrats within a 5 mile radius of my home! Mr. Professional asks "So are you a Barack Obama fan?"
Beantown dad lowers his head- by the tone Mr. Professional's voice, he knows this isn't going to end well. My husband, as much as I love him, is not able to stand by his convictions regarding politics when he feels pressure. You see, he works in the health care field and on a daily basis hears the physicians and administrators rail against Obamacare. In order to keep his job (and this is no exaggeration) he keeps his head down and mouth shut and refuses to talk politics. He needs to keep his job to support our family. I, on the other hand, have no problem speaking to my convictions as a proud Democrat. I smiled at Mr. Professional and said "why yes, I voted for our President! Is that a problem?" The gentleman looked at my husband and winked- kind of like "watch this, buddy, I got your back" and proceeded to tell a story about going to Times Square last Thanksgiving with his family. In a store nearby, they had Barack Obama bobble heads and he purchased one. He said that he and his partner, office workers and employees have had an absolute ball with this thing since he brought it back- they have hung it in a noose from the ceiling fan, cut up watermelon and put the figure in the middle and snapped pictures- you name it, they have defiled the little figurine every way imaginable! It was the best $7 bucks he ever spent! He even had the pictures on his laptop- did I want to see the hilarious pictures before we got to problems in our crawl space?
I stood up, looked down at my husband, looked at Mr. Professional and started to shake. I called my 2 kids in the room. Mr. Professional looked a little confused but still had that ridiculous, shit-eating grin on his face- ha ha what a joke! My son and daughter came in and told them to take a seat. I looked at this jackass and asked him if he considered himself a Republican? A tea party member? Still smiling he shook his head in the affirmative and said "Hell yeah, is there anything else? It's not like I would be a dumb-o-crat! I want to keep my money I make- I don't want to have to give it to some asshole who won't work!" At this point, I turned to both of my kids. I didn't want them to think that this was OK; both my husband and I are trying to teach our kids right and wrong and if I let this idiot keep talking, if we considered doing business with someone who was so blatantly racist, what would that teach my kids? What lesson would they take away from this. So, I took a few steps over to stand in front of this jackass. I picked up his computer off the table where he had set it to show us the crawl space pictures. I quietly closed it, pulled the cord out of the power strip on the floor and handed it to him. The smile started to fade and Mr. Professional looked at me like I had lost my mind. "You need to pack your things and leave our home. You are not welcome here and we will not be doing business with you now or ever. Your ignorance and your racism is disgusting! I won't even thank you for coming- you wasted your time here." He sputtered and stuttered, looked at my husband and said that he hadn't even told us what the problem was! I told him I didn't care and looked at my kids sitting on the couch. I smiled at them and wanted them to see that I didn't just talk about doing the right thing- when it came down to it, no matter what, it is important to live by your convictions. Mr. Professional stormed out of our house mumbling and muttering the whole way about "n**ger lovers and damn democrats".
I looked at my husband and my kids. I had never kicked anyone out of my house before- I had never thought I would be faced with a situation like this. I felt good when it was over. My husband and I talked to our kids about what happened. We went into my sagging kitchen and cooked scrambled eggs and sausage, talking the entire time about right and wrong. Everything was going well, we ended up laughing and just enjoying our evening with our 2 teenagers when suddenly, out of nowhere, my son said "So, what is wrong with the floor and how come our kitchen is sinking?" Shit!! Guess I will be spending my day looking for someone to fix our problem- I just know that I won't be calling Mr. Professional- ever again!
Obligatory Note of Thanks: Thanks for the Rec list! In the comments, so many people have given me props for doing the right thing. I want you all to know that this was really a no-brainer. Racism, no matter what form, has never been and will never be OK. In fact, any form of bigotry is out of bounds. I stood up because of people like you- this community and the people in it give me hope that we can make a difference! It may be one person at a time, but if we stick together, we can truly make this a better world! OK, enough mush.... now I would like to thank the great and wonderful Kos, the academy, my mom, my first grade teacher, my - No, don't start playing the music!! I am not done with my speech yet! =) Thanks guys!
Here's a picture. Some of you were asking to see what I am talking about with the settling problem- sorry about the size! I can't figure out how to resize the darn thing. I also posted a picture in the comments.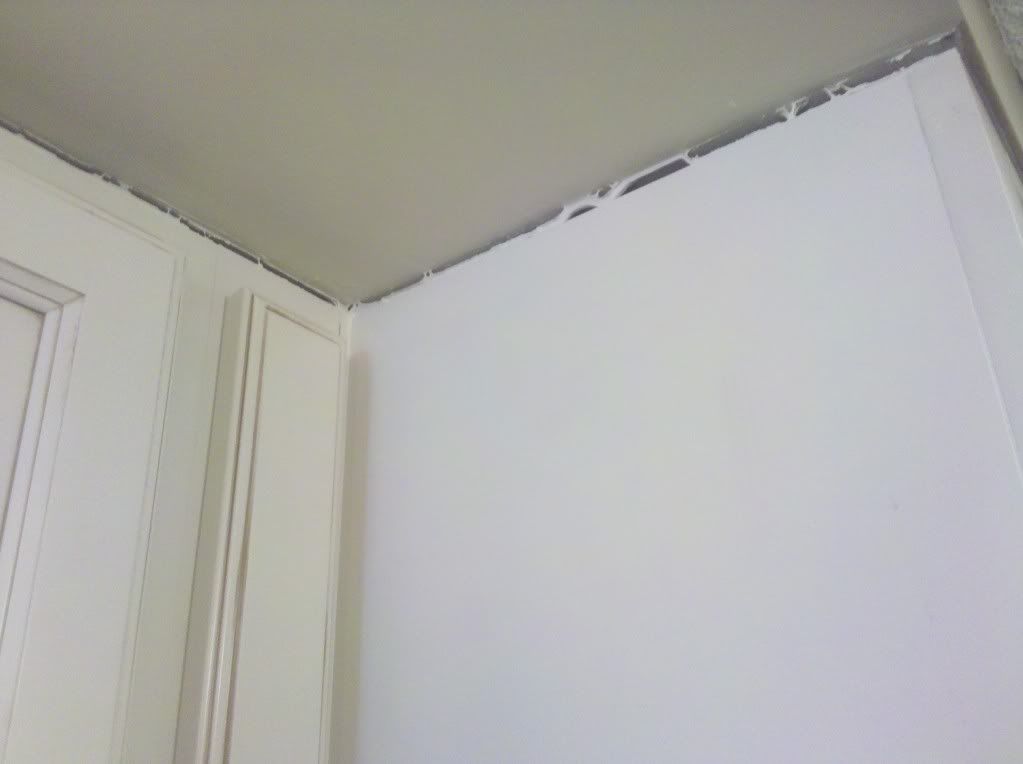 2nd update/edit: I want everyone to know that I have tried multiple times to Rec all the wonderful comments below, but something's still buggy here in DKos-land because I continue to get "Failed" messages when I try. I will continue to try later today. I am off to my daughter's choir contest =) Also, many have asked to see more pictures of the kitchen and I will try to get something up yet this weekend so that you all can see a) The most beautiful kitchen in the world (even if I am a bit biased) and b) More of what we are calling the settling problem.