You may not realize it America, but our union and non-union states are at WAR.
Dengre had an AMAZING diary the other day illustrating some maps that show how there seems to be an interesting correlation between states that once owned slaves and states that don't allow unions.
In case you need a refresher: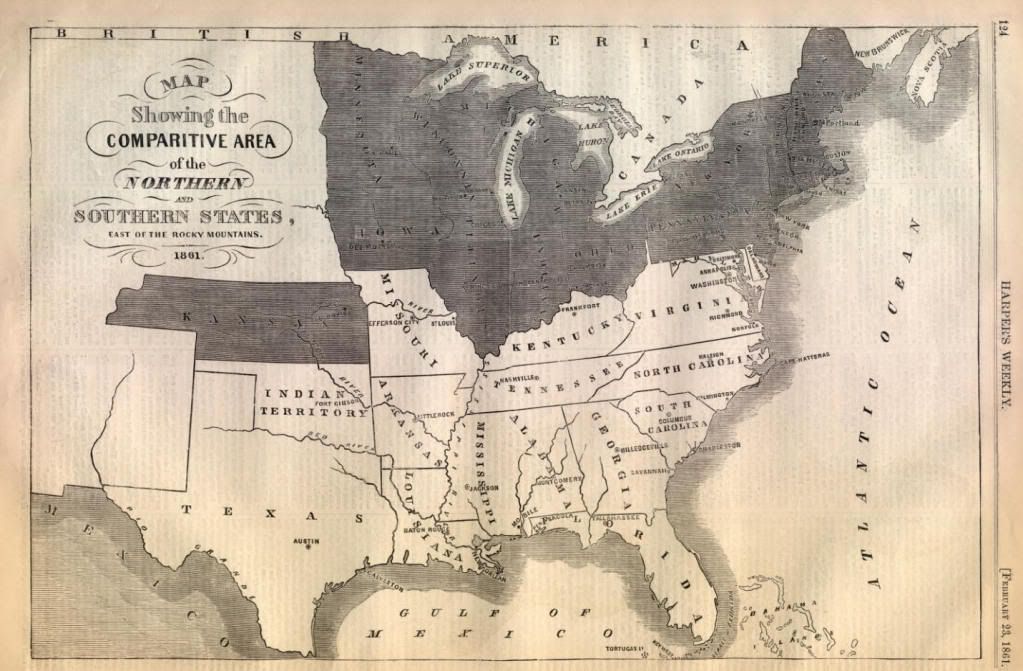 Coincidence? I don't think so.
What people fail to realize when looking back on the Civil War is that ending slavery in the United States was not just a moral issue, it was also our country establishing its very first minimum wage.
And with Republican governors in the Midwest union states attempting to impose Right To Work For Less bills upon our people, they are perpetrating on us Northerners a WAR OF SOUTHERN AGGRESSION. This is a war on our very Midwestern way of life.
The Civil War was about the moral issue of slavery, absolutely, but it was also about the simple economic unfairness of one person stealing another person's labor from them.
Abraham Lincoln understood this. His opposition to slavery wasn't just about the necessity to free black people from slavery. Because a country that had slave black laborers didn't pay very much more to its "free" white laborers.
That's why he had this platform: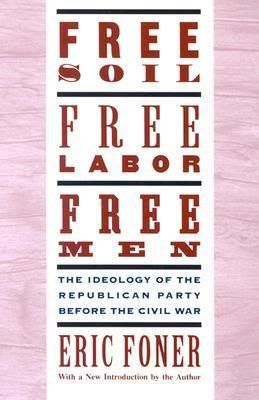 Union supporters also understand that the right to work for less bills do nothing for overall prosperity but simply allow companies to push down wages more and more. The facts bear this out.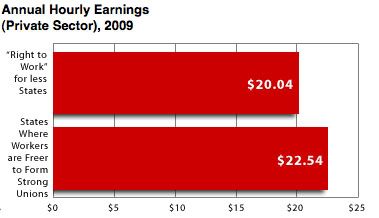 He also understood the relationship that workers had in the overall economy and developed an economic policy that FAVORED WORKERS OVER BANKS.
Lincoln spelled out his underlying republican philosophy, and shot his barbs at the aristocratic bankers, in his Annual Address to Congress, Dec. 3, 1861:
"Labor is prior to, and independent of, capital. Capital is only the fruit of labor, and could never have existed if labor had not first existed. Labor is the superior of capital, and deserves much the higher consideration. Capital has its rights, which are as worthy of protection as any other rights. Nor is it denied that there is, and probably always will be, a relation between labor and capital, producing mutual benefits. The error is in assuming that the whole labor of the community exists within that relation. .... In most of the southern States, a majority of the whole people of all colors are neither slaves nor masters; while in the northern a large majority are neither hirers nor hired....

"Many independent men everywhere in these States, a few years back in their lives, were hired laborers. The prudent, penniless beginner in the world, labors for wages awhile, saves a surplus with which to buy tools or land for himself; then labors on his own account another while, and at length hires another new beginner to help him. This is the just, and generous, and prosperous system, which opens the way to all-gives hope to all, and consequent energy, and progress, and improvement of condition to all. No men living are more worthy to be trusted than those who toil up from poverty -- none less inclined to take, or touch, aught that they have not honestly earned. Let them beware of surrendering a political power which they already possess, and which, if surrendered, will surely be used to close the door of advancement against such as they, and to fix new disabilities and burdens upon them, till all of liberty shall be lost .... "

I truly believe this fight for unions in this country is not just a fight for teachers or steel workers or any other brother or sister. It's a fight for the very soul of our country in a political culture dominated by Fox News propaganda and unlimited corporate cash flooding our elections and diluting our democratic freedoms.
As Lincoln could have said today using much of his speech from 1858...
"A house divided against itself cannot stand."

I believe this government cannot endure, permanently half slave (anti-union) and half free (union).

I do not expect the Union to be dissolved -- I do not expect the house to fall -- but I do expect it will cease to be divided.

It will become all one thing or all the other.

[...]

Let any one who doubts, carefully contemplate that now almost complete legal combination -- piece of machinery so to speak -- compounded of the Nebraska (Reagonomics) doctrine, and the Dred Scott (Citizens United) decision. Let him consider not only what work the machinery is adapted to do, and how well adapted; but also, let him study the history of its construction, and trace, if he can, or rather fail, if he can, to trace the evidence of design and concert of action, among its chief architects, from the beginning.

For me, it's interesting just how much symmetry we have here.
The union supports the Union. Those who support the Union are seeking refuge in the Land of Lincoln.
Because even if we have our Chicago and Springfield politicians to give us a black eye, at our heart, we Illinoisans and all Midwesterners know:
Amid the broad green plains that nourish our land,
For honest Labor and for Learning we stand,
-Illinois Loyalty

Make no mistake, folks. The Midwest's labor and learning is absolutely in jeopardy right now thanks to Republican attacks on collective bargaining. Our Big Ten universities are collectively the best group of public research universities in the country and provide the best education to the greatest amount of students who attend public universities. Yet Republicans want us Midwesterners to emulate the South? We can't let them!
The Midwest has been under attack the last 30 years of Reaganomics destroying our manufacturing industries, the very same industries that allowed us to defeat the Southerners in the Civil War. For some reason, we seem to finally be waking up to that. It's why all of us in the Midwest voted for Obama in 2008. And it's why we're standing up for our unions now.
So it's interesting that now, all across the country, young people are learning the words to Solidarity Forever.
((youtube wephpersgJo))
They are singing it to the tune of the Union's theme, the Battle Hymn of the Republic.
((youtube /p5mmFPyDK_8))
They are trampling through the vineyard where the grapes of wrath are stored, as working class folks had to do in another tough economic time.
((youtube yer4L1Uhayc))
Meanwhile, some Southerners this month have been celebrating the 150th anniversary of the inauguration of Jefferson Davis as the president of the Confederacy and the state of Mississippi wants to establish a license plate to honor the founder of the KKK?
Meanwhile, Republicans push the same policies (nullification, no labor rights, low and uncollected taxes for the rich, unfettered trade with foreign countries, opposition to infrastucture, opposition to industry-nurturing, opposition to public education) that made the Confederacy a failure... as I previously wrote about in A civilization gone with the wind.
Meanwhile, the Republican Party worships a man who began the Republican's obsession with "state's rights" in a speech in Philadelphia, Mississippi and has cultivated a bizarre and undeserved idolization from much of the public.
The question is how our president, who announced his bid for the presidency at the site of the "House Divided" speech, will handle this War of Southern Aggression on our Northern way of life. I hope he looks to Lincoln.