It didn't feel like Florida. It was cold and wet, the temperature about freezing and a light snow was falling on a gray Massachusetts Sunday morning as I went out to my car for the 90-mile drive to Boston. The weather conditions being what they were, I wasn't feeling too much like making the trip. But I told myself that the tomato pickers of the Coalition of Immokalee Workers whose rally I was heading out for spend endless hours often under much worse conditions to put food on our plates. This one was for the workers. Besides, if even me, the guy who lives for political action, wasn't feeling too motivated, didn't that mean that the CIW would need every possible diehard leftie out there for them on such a miserable day?
So I trundled out to the car, and up onto the Pike. Despite the weather conditions, I made pretty good time. Traffic on the Pike was light, apparently the weather had cleared the roads of the proverbial Sunday drivers. Though I had the Psychedelic Furs in the CD player, the view through the windshield was strictly James Taylor, "The first of December was covered with snow, and so was the Turnpike from Stockbridge to Boston." Because I can't deal driving the cowpaths of the Hub, I did my usual and pulled off the Pike and parked out at Riverside station. The opening rally was at Copley Square, so the Green Line train would take me right to it.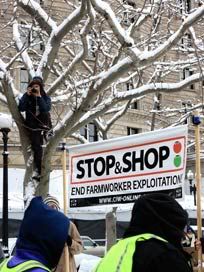 When I got out of the Copley T station 20 minutes before the rally was scheduled to begin, it was a depressing vista. A few small knots of people standing around, a couple of lonely looking banners imploring Stop & Shop to accept the Fair Food principles, in an otherwise empty square, attendees outnumbered by the cold puddles of slushy water. I gritted my teeth. This is why I had to be here.
Through 15 years of diligent, disciplined, and relentless organizing, the CIW have brought most of the major players in the US tomato industry to accept their basic package of principles, a strict code of conduct, a cooperative complaint resolution system, a participatory health and safety program, and a worker-to-worker education process, and an increase in pay of one penny a pound over the rates that existed in 1980. After a decade of combined community/labor campaigns, fast food chains such as Taco Bell and McDonalds, industrial food service companies like Aramark and Sodexo, even the Florida Tomato Growers Exchange have all accepted the CIW principles. Now there is only one last bastion of resistance, but it is the proverbial "800-pound gorilla". The CIW explains:
By leveraging its high-volume purchasing power, the U.S. supermarket industry plays an active role in farmworker exploitation.

Publix, Ahold [Stop & Shop], Kroger and Trader Joe's all pack a very heavy punch when it comes to their market power in the produce industry. And with great power comes great responsibility -- both for the poverty and brutal working conditions from which they have profited for so many years, and for the work of reforming farm labor conditions in their supply chains that lies ahead.

With the four largest fast-food companies (McDonald's, Yum Brands, Burger King, and Subway) and three largest foodservice providers (Compass Group, Aramark, and Sodexo) having signed Fair Food agreements with the CIW, the focus now falls squarely on the $550 billion supermarket industry. And with the exception of Whole Foods, the natural food leader that signed an agreement with the CIW nearly two years ago, it's time now for the major grocery chains to step up and bring their considerable purchasing power to the plate.
And then the first of what were to be wave after wave of full-fledged contingents arrived, this one identified by their signs and banners as the Jewish Labor Committee. And then the Unitarian Social Justice Committee, and then the Metrowest Casa Trabajador, and young people of all races and all smiles in bunches, and then two large buses, which perked up the bored cop who'd drawn the detail for the rally. And off the buses came unmistakably the Coalition members, identifiable not only by their various gear with the CIW logo, but their large, colorful and well-executed homemade signs mostly featuring brightly colored tomato-based logos. As a few CIW members took to the stage setting up microphones, an entire marching band, (the Second Line Social Aid and Pleasure Society Brass Band) trombones, saxophones, drums and clarinets strutted into the square. And more young people. And older people, and middle aged people, two guys in Machinists Union jackets. Even Abe Lincoln was there! Well, OK, somebody dressed up like Abe Lincoln. Presumably , since he was carrying a "One Penny More" sign it was a reference to Lincoln being on the penny, but given the CIW's successful efforts to fight modern-day slavery, the Lincoln connection had a deeper undertone as well. The cop must have radioed for help as suddenly several cruisers arrived. Clearly this was going to be bigger than what the police had anticipated. (As it turned out, reaching a final total of 900, it was bigger than what the organizers had dared to hope!)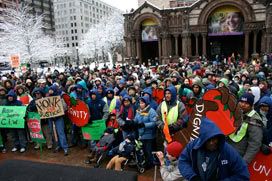 And then the first evidence of the detailed precision with which the CIW organize began to manifest themselves. pairs of young people began to circulate through the crowd, putting small green stickers on each of us in attendance so that they could get a count. In doing so, every single member of the crowd was personally spoken to, individually thanked for attending, our email addresses collected. The personal touch of good old-fashioned retail organizing at its best. By the time the proceedings actually got underway, myself and a neighbor in the crowd, an older woman who was preparing an internet radio broadcast of the event, agreed there were about 400-500 in attendance...and more people continued to stream in.
Latin American music started to stream over the loudspeakers as CIW members started sound checking the microphones, and some of us started dancing to the music to keep warm as still more people poured into the square. The recorded music coming over the loudspeakers was replaced by live music performed by CIW workers, singing and playing small guitar-like instruments, gently ratcheting up the intensity, as the crowd began to bubble with the excitement of its own, as we had to keep packing closer and closer together to accommodate our own growing numbers. Chants started breaking out spontaneously from groups in the crowd, back and forth call and response, some in English, some in Spanish, some in both. The crowd was quickly becoming much more than spectators, even more than supporters; participants in the fullest sense. It was clear that the CIW members and their Student/Farmworker Alliance allies were actively encouraging this process, the spontaneous actions of the crowd met every time with the smiles, nods and applause of CIW and S/FA members. The light snow continued to fall, it continued to be cold and wet, and I don't think any of us noticed anymore.
Finally, the proceedings got underway. The usual ecumenical invocation smoothly transitioned into the political speeches with a dynamic statement from a vibrant young woman representing the Presbyterian Church.
Over the past 35 years, I've participated in hundreds of public political events. Sometimes you just know when people are doing things right, even when they are things you've never seen done before. And there were a couple of those for me at the CIW Boston rally. From being an entertainer as a sideline myself, I long ago learned that one of the most effective techniques to build enthusiasm in your audience is to give them more than they expect. The CIW organizing of the event did that time and again. A great example: there was no pre-rally publicity that any well-known figures would be speaking. But after the invocation, we heard from Josh Viertel of Slow Food USA, and after him, the next speaker was none other than Frances Moore Lappe. Even better, those speeches were enthusiastic, dynamic, on-topic, and best of all, short and to the point.
The longest speech of the rally was probably no more than seven minutes, by Lucas Benitez of the CIW. He's a remarkable speaker with a subtle charisma, and his effectiveness is stunning. I don't speak Spanish, I only know a few words of street Spanish, and those mostly aren't nice ones. I had an amazing experience while Lucas spoke; while he had a translator, I didn't need her, he was speaking in Spanish but I understood every word he said. In fact I even realized when she's mistranslated certain phrases (she translated it as "the Northeast", but I'm sure he said "New England".)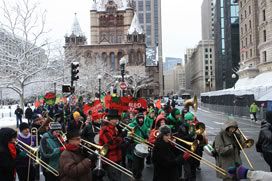 And then it was time to March, about a mile and a half along Huntington Avenue from Copley Square to the Stop & Shop at Brigham Circle. We were led by a sound truck, with the marching band carefully placed about midway in the body, as we stepped off into the street, snowflakes flurrying around us, the band broke out into the upbeat Italian partisan classic, "Bella Ciao", chants surged up and down the line of marchers which extended over three to four city blocks.
One of the surest signs that a march is effective, the one I gauge a march by, is the response of passersby. Are they supportive or hostile? Are they silent? Do they show physical and give verbal indications of support? Best of all, do some join? In this march, every single one of those indicators pegged the positive end of the meter. large numbers of people along the route stopped, watched, cheered, waved, gave thumbs up.
Best of all, the whole length of the march route, our numbers grew. When I saw the positive reaction the march was getting, I started encouraging positive looking spectators to join us, and i feel safe in taking credit for getting no fewer than six people to join us myself. Overall I wold guess somewhere in the area of 100 more joined us by the time we reached Stop & Shop.
Once we were at Stop & Shop, there were so many of us that we had to split into three separate pickets. The store is on a corner so we picketed along the sidewalks on both sides, but there were so many of us we had to have about a third of us (including the band) circling on the sidewalk on the other side of one of the streets. The support from the citizens was amazing, cars, trucks and buses honking their horns and showing thumbs up, and thumbs were the ONLY digits I saw raised in our direction.
I think I may have been the first person to spot these two, sitting inside a coffee shop next door to Stop & Shop.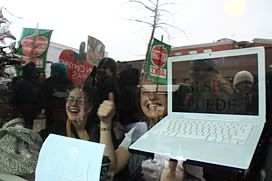 On the laptop, they had in big bold block letters "Si Se Puede!" which they kept waving to us as we circled outside. When they had finished their coffee and snack, they then came outside and joined us. I know I drew some laughs from my fellow picketers when I realized I had on my key ring a Stop & Shop "loyalty card" tag, which I then tore up to the great amusement of my fellow picketers. (Yes, I then properly disposed of it in a waste receptacle, and if you thought otherwise, shame on you.)
At the end of a tiring but exhilerating afternoon of action on behalf of some of America's most essential and most exploited workers, we left Stop & Shop with a final defiant chant: "We'll be back! We'll be back! We'll be back!"
_____________________________________
Here are some videos from the event, first the official CIW video, and then a piece of raw video posted by an individual:
And yes, I am in one of those videos, but I'm not saying which one or where!
__________________________
La Lucha Continua: Tampa, FL Friday March 4 and Saturday March 5.