I sent this to the excellent, though not particularly well-followed blog Thrift Store Nightmares, this evening. Still, I knew well that where I really should go to ask this burning question was here...Daily Kos...this blog with its accompaniment of fine, wise, astute, and otherwise impressive people who are most likely to present a proper cohort to try to determine just what the heck this thing is.
This item was acquired by an acquaintance in Las Cruces. It is made from one solid piece of wood. The jaunty, bulging blue band is not augmented with any substance, it is painted directly on the wood. The external surface below the blue band has been carved decoratively into a pattern with diamonds, and carved smoothly above the band. Scratches in the top part have more blue paint rubbed into them.
It is 9 & 1/2 inches tall, 5 & 3/4" in diameter at the top, and 6 & 1/4" in diameter at the bottom.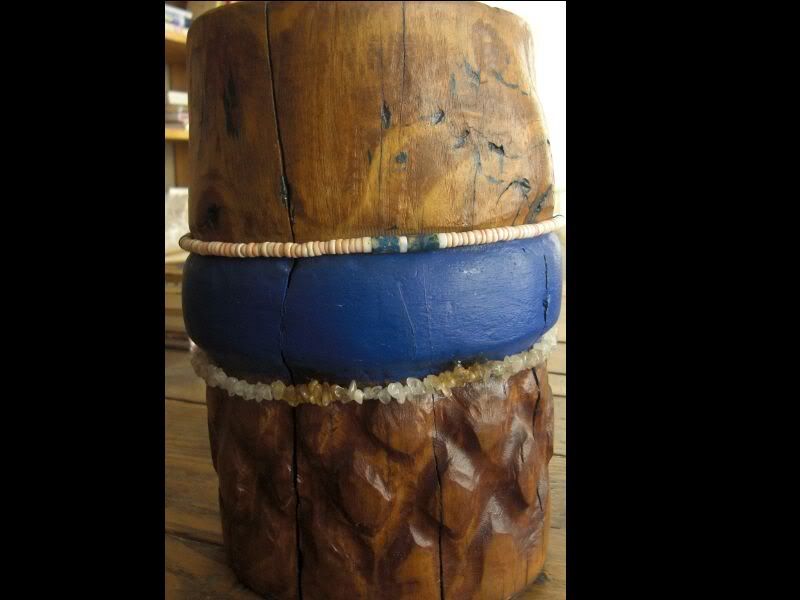 It has two delicate necklace accents. One, made of quartz beads, is strikingly highlighted by glue stains, where it has been affixed to the wood. The other, of heishi and turquoise, is not affixed and may not be original to this piece. There is no way to tell.
The entire piece has been drilled vertically through the center. The top half has had the wood hollowed out to about half an inch thick, and has been filled with a plaster mold with angled pencil-sized holes drilled in it, with careful and almost symmetrical precision.
In the middle of the center longitudinal hole, a flanged aluminum ring is inset.
At the bottom of the center hole is loosely inserted a plastic screw such as one finds at the bottom of a toilet tank (only a little smaller). There is no threading at the bottom for the screw, only rough wood lining the center hole, though it fits quite neatly.
The bottom of this piece has a thin protective rubber mat glued onto it, presumably to keep it from scratching any surface it might come into contact with. The mat is cut to accommodate a half-inch semicircular groove that has been cut into the bottom from the outer edge to the center hole.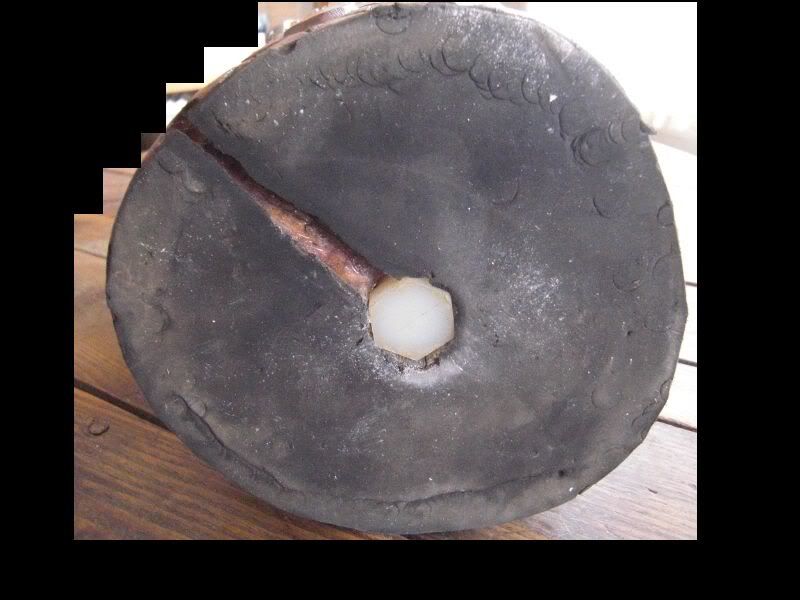 The rubber mat has many circular indentations pressed into it from an unknown object or objects, about the size you would get if you pressed the empty casing of a pencil eraser against it many times.
This piece is signed. The artist is "JAM34." "34" may represent a date.
I leave it to you, gentle readers, to conjecture further. I have a few ideas as to the original function of this item, but none of them can get past both the plug and the groove.
Have at it.