The Fok News DKOS Group publishes a nightly diary summary of Keith's opinion blog Fok News.

I miss watching Keith the most right after an earthquake happens in our political landscape. Thanks to his Fok News commentary, we can now read his special comment the next day.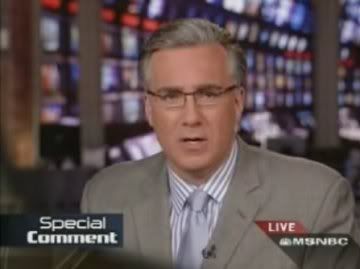 Keith is short and to the point.
1. Republicans in Wisconsin are toast

"Wisconsin Republicans and their Corporate Puppeteers tonight guaranteed themselves an unprecedented and disastrous recall next January."


2. Not only that.. the Republicans have blown their cover.
More over, they also guaranteed themselves that any cloak of stealth under which they have operated in their attacks on teachers, firefighters, policemen, unions, and the settled law of collective bargaining, has been stripped away.,If you pass a supposedly urgent œbudget repair bill with key budget components cut from it, you forfeit the fiction that you are doing anything remedial, anything essential, anything except a naked power grab on behalf of corporations who will get the money stolen from organized labor " civic or private.

3. ...And Republicans have done it with insult and trickery

when you deny the minority the right to participate in the outcome whether by compromise or protest, you cut through the cacophony of political-speak in this country and you transmit your sneering indifference towards democracy to ordinary citizens who do not normally pay attention.
The right wing will claim victory and hardworking public servants will suffer harm. We will have to endure their victory dance in the end zone after Republicans have scored what they think is a touchdown.
"Governor Scott Walker, the cross-eyed Koch-sucker, will make inchoate sounds of celebration, like a seal with a rack of horns before it. The Right will claim victory."

4. The fate of the Republican party is sealed and the payback is not going to be pretty.
But the Republicans have overplayed their hand in a way that seems startling even for them, and they shall inherit the proverbial wind. They have taken another step, neither to be retraced nor erased, towards their political suicide " an event that cannot come a minute to soon for the real America of fairness, the sanctity of a contract, rules, and equal opportunity.
I have a question for Jim Demint of Obama's Waterloo fame.
("If we're able to stop Obama on this, it will be his Waterloo. It will break him.") .
Is Wisconsin the real Republican Waterloo?
E.D,. Kain in Forbes Magazine wites:
And now conservatives have chosen public-sector workers and teachers as their hill to die on. They have followed the most radical voices in the party and the movement, and elected Scott Walker, Rick Scott, and various other Tea Party candidates. Heavily funded by big campaign donors like the Koch brothers and other corporate interests, the Republican party has made a concerted effort across the country to take on unions, public pensions, and social services for the poor.
The healthcare debate gave Republicans a chance to capture the narrative, spin the entire debate into one about fiscal ruin and deficits. Now Scott Walker has given progressives their chance. This is the Democrats chance to recapture that narrative, to turn the discussion back to the dignity of the middle class, to the importance of policies that do not simply push power and capital ever upward. This is the Republican's Waterloo.
Republicans have chosen a chilly and extended battlefield, far removed from their fortress of conservative economic talking points. Perhaps Stalingrad is the more appropriate battlefield turning point analogy.