Tonight, we remember three Patriots who gave their all for our country. Two were Soldiers and one was a Marine:
Staff Sgt. Mark C. Wells, 31, of San Jose, California
Cpl. Jordan R. Stanton, 20, of Rancho Santa Margarita, California
Pfc. Kalin Christopher Lee Johnson, 19, of Lexington, South Carolina
Since 2001, there have been 1495 American troops killed in Afghanistan. Since 2003, there have been 4439 American troops killed in Operation Iraqi Freedom and 17 killed in Operation New Dawn. Please take a moment to honor their sacrifice.
Please bear in mind that these diaries are read by friends and family of the service members chronicled here. May all of our remembrances be full of compassion rather than politics.
He will miss the birth of his daughter
Staff Sgt. Mark C. Wells, 31, of San Jose, Calif., died March 5 in Helmand province, Afghanistan, of wounds suffered when insurgents attacked his unit with an improvised explosive device. He was assigned to the 45th Sustainment Brigade, 8th Theater Sustainment Command, Schofield Barracks, Hawaii.
Staff Sgt. Mark Wells was a lover of the great outdoors from scuba diving to rock climbing. The most important thing in his life was his family. His father, Burl Wells, said that Mark met his wife Danielle when she was with the Navy. They were both stationed in Hawaii and married there. After Wells deployed to Afghanistan, she moved back to Arizona to be near her family.
His father also described his son as adventurous and fearless. SSgt. Wells worked as a technician in the EOD (Explosive Ordnance Disposal) team. This is one of the most dangerous fields in the Army and was featured in the Academy Award winning movie "The Hurt Locker". His work saved many lives.
"He would say, 'Dad, I know it's dangerous. Just know that I love what I'm doing,'" his father said by phone yesterday from Dover Air Force Base, Del., where he and his wife, Sharon, awaited the arrival of their son's body.
He also loved everything Irish from Guinness beer to corned beef and cabbage to the bagpipes. A bagpipe player himself, Wells was called upon to play for fallen soldiers in Iraq, his father said. His family plans on having a bagpipe player at his funeral.
Wells is survived by his parents, Burl and Sharon Wells, and his sisters Angeline Jesse, Sheila Blue and Shannon McCarn. He also leaves behind his wife and a two year old son, Finnegan. His wife Danielle is eight months pregnant with a daughter. Wells' father, told the Honolulu Star Advertiser in a tearful telephone interview: "It so breaks my heart. Mark was an unbelievable father. That little boy loves him so much, and that little girl who is coming won't get to know her daddy."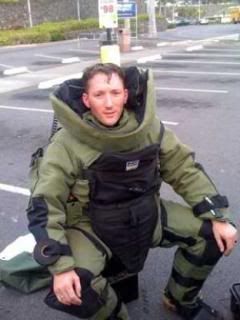 Rest in Peace, Staff Sgt. Mark Wells.
Tears instead of a wedding day

Cpl. Jordan R. Stanton, 20, of Rancho Santa Margarita, Calif., died March 4 while conducting combat operations in Helmand province, Afghanistan. He was assigned to the 2nd Reconnaissance Battalion, 2nd Marine Division, II Marine Expeditionary Force, Camp Lejeune, N.C.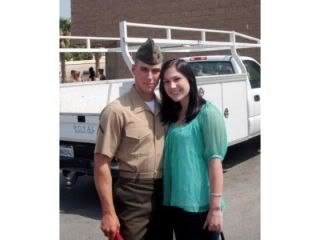 Cpl. Jordan Stanton with his fiance, Julie, after U.S.M.C. graduation in 2009.
Jordan Stanton always admired United States Veterans. His grandfather, Jim Reynolds, served in the Vietnam War, and Jordan wanted to follow in his footsteps. His father, Robert Stanton, told the Orange County Register: "He knew he wanted to do this. He wanted to do something special, on his own. He was a little older than his years in high school – he matured a little faster."
A friend, Zach Vosough, told the Orange County Register: "He was always incredibly disciplined even before he was in the Marines. "He's someone who knew what he wanted and would do what it took to go get it."
He played football, wrestling, baseball and even skateboarded during downtime from the other sports. He wanted to be a Marine and he was in excellent shape to go into the Marine Corps. Though he was extremely skilled in sports, his father told the OC Register he wouldn't let his athleticism define him, eventually breaking away from sports to pursue "a more certain path."
Jordan had been accepted to all the colleges he applied to, but decided his future was with the United States Armed Forces. He enlisted in the Marines just before he graduated from high school in 2008.
Jordan was well liked at school and in the community. A local 3rd Grade class at Melinda Heights Elementary School expressed their condolences by putting up signs to thank him for his service and sacrifice.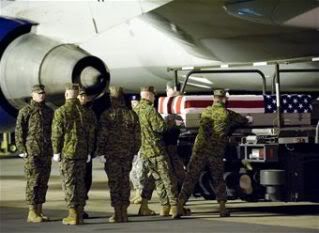 Rest in Peace, Corporal Jordan Stanton.
Semper Fi.
He will miss his son's first birthday
Sources: Charleston Post and Courier, Rock Hill Herald Online, WIS-10 TV.com, SC Military News, Stars and Stripes, Yahoo News, First Baptist of Lexington fb page, Gabberface
Army Pfc. Kalin Christopher Lee Johnson died on March 8 near Rangrizan village in Kandahar province, of injuries sustained in a non-combat incident. He is the 25th member of the U.S. military with South Carolina ties to have died in Afghanistan since the war started in late 2001. Sixty-four have died in Iraq since March 2003.
Kalin C.L. Johnson attended Lexington High School and received his diploma in 2009. In August 2009 he joined the Army, and was an infantryman — 11 Bravo — assigned to the 3rd Squadron, 2nd Stryker Cavalry Regiment, headquartered at Vilseck, Germany. Johnson's unit deployed to Afghanistan in May 2010. He was expected to return to Germany by early April, about three weeks ahead of schedule.
According to Christina Chandler of Lexington, S.C., whose son went to high school with Pfc. Johnson, four graduates of Lexington High School have died in military service since 2003, and all of them were 19 years old. "It's just heartbreaking. It's horrible. [Kalin] had a small child," said Chandler.
Johnson's Facebook page listed his hometown as Charleston, South Carolina, and says that he liked the martial arts, tattoos, LeBron James, Linkin Park and Michael Jackson. Chrissy Chandler posted this on the WIS TV-10 Facebook page in response to Johnson's death: "Kalin and my son Joshua went to school together and were friends. I am so sorry for the Johnson family. My thoughts and prayers go out to them. Thank you for the service you gave and the sacrifice you made Kalin. God Bless You! Rest in Peace!" Linda Ouellet MacDonald posted: "Kalin lived up the street from me. His mom, younger brother and sister attend my church. This is a HARD loss." Another friend posted to WIS TV-10: "Kalin was an upcoming soldier with a bright future, he was also my best friend. He loved his family very much especialy his son Logan, he was a great father. He was easily one of the funniest men with us and would be able to fill a room with his warm smile and outrageous antics. You will be missed my brother."
He is survived by his parents, Brent and Kay Johnson, a sister Brittany, a brother, Noah, and his son, Logan, who will be one year old in June. A memorial is scheduled for March 17 at Rose Barracks Cavalry Chapel in Vilseck, Germany, according to Dave Gettman, 2nd Cavalry Association webmaster. Plans for a memorial in South Carolina to honor his life and service have not yet been released.

Although family members are not giving interviews to the media at this time, his parents released a statement on Wednesday expressing their grief: "We are devastated by the loss of our beloved son Kalin who died serving his country."
I Got the News Today is a diary series intended to honor, respect and remember. Its title is a reminder that almost every day a military family gets the terrible news about a loved one.

All of the U.S. fatalities can be seen here and here. The DoD news releases are here. Each of these lives is precious. They all have loved ones, families and friends. Please rec and comment in these diaries to pay your respects.

Diaries about the fallen usually appear two days after their names are officially released by the DoD, which allows time for the IGTNT team to find and tell their stories.

Click the IGTNT tag to see other entries in the series, which was begun by i dunno, and is maintained by monkeybiz, noweasels, blue jersey mom, Chacounne, twilight falling, joyful, roses, SisTwo, Spam Nunn, TrueBlueMajority, CalNM, Wide Awake in Kentucky, Maggie Jean, JaxDem, Kestrel 9000, racheltracks, csas, and Sandy on Signal.

If you're willing to write a diary for this series, even once every other month, please leave a message in this diary and contact Sandy on Signal at sandy3660 AT comcast DOT net.

PLEASE note that these comments may be read by friends and family who are overcome with raw grief. It is our custom here to leave politics aside as we offer our remembrance tributes with respect and compassion.