Yesterday, over 1,000 people flooded the lawn in front of the Capitol in Michigan and filled the Capitol itself at an AARP-sponsored protest rally. Photos by my friend and Kossack la58.
Unfortunately, it wasn't enough to stop the state Congress from passing the oppressive Emergency Financial Manager act which creates Super Czars to take control of municipalities which the Governor has decided are in financial trouble and need to be rescued. The bill goes to Michigan Governor Rick Snyder for his signature.
A group of about 40 people, led, in part, by former MI-08 candidate Lance Enderle, attempted to occupy the Capitol building last night after the 5:30 closing time but they were rebuffed by Capitol security. So much attention is on Michigan right now that these 40 intrepid souls were significantly outnumbered by the press as the showdown played out.
Today a much larger rally is scheduled, this one hosted by a wide variety of groups including the AFL-CIO, the UAW, and MoveOn.org. OFA folks from around the state have also pitched in their efforts to help recruit. I'll be there myself and will report on it tomorrow.
UPDATE: Video of Lance Enderle speaking yesterday, courtesy of second gen in the comments:
More photos at the Lansing State Journal.
Adding...I should probably explain my position on these rallies given my pessimistic statement about them in my last diary. I do not think these rallies will change a single Republican vote. Michigan Republicans know they hold all the cards; all the political power right now. However, the rallies serve to show that Democrats are not silent and, more importantly in my opinion, should help to energize Democrats to ORGANIZE NOW!!! in preparation for 2012. We may not have a voice now but we will on November 6, 2012 and now is the time to start getting ready for that. It doesn't matter which group you connect with, we need all hands on deck, in Michigan and elsewhere, in 2012.
I'm just sayin'...
Cross-posted at Eclectablog.com.
1:15pm - This guy is a teabagger. I overheard him tell the guy next to him, "Well, I'm going to try to get some recognition for this sign and get it plastered all over the fucking place." He posed for me no fewer than three times and helpfully posed for anyone with a camera.
Notice that his buddy in the white shirt next to him has the Swastika/Snyderkamph image literally taped to his shirt. That shirt is an SEIU shirt. Shades of Mark Williams???
At least 3,000 people here and growing.
Some friends of mine at the activist's tent:
2:15 - Got to be 5,000 people here now with more flowing in.
2:50 - Speaker from the NAACP: "If we are honest, we will admit that some of us here today voted for the WRONG people last year. If we want change, we have got to vote for the RIGHT people and throw the bums out! ... We have to go back to our neighborhoods and ORGANIZE!"
Amen, brother.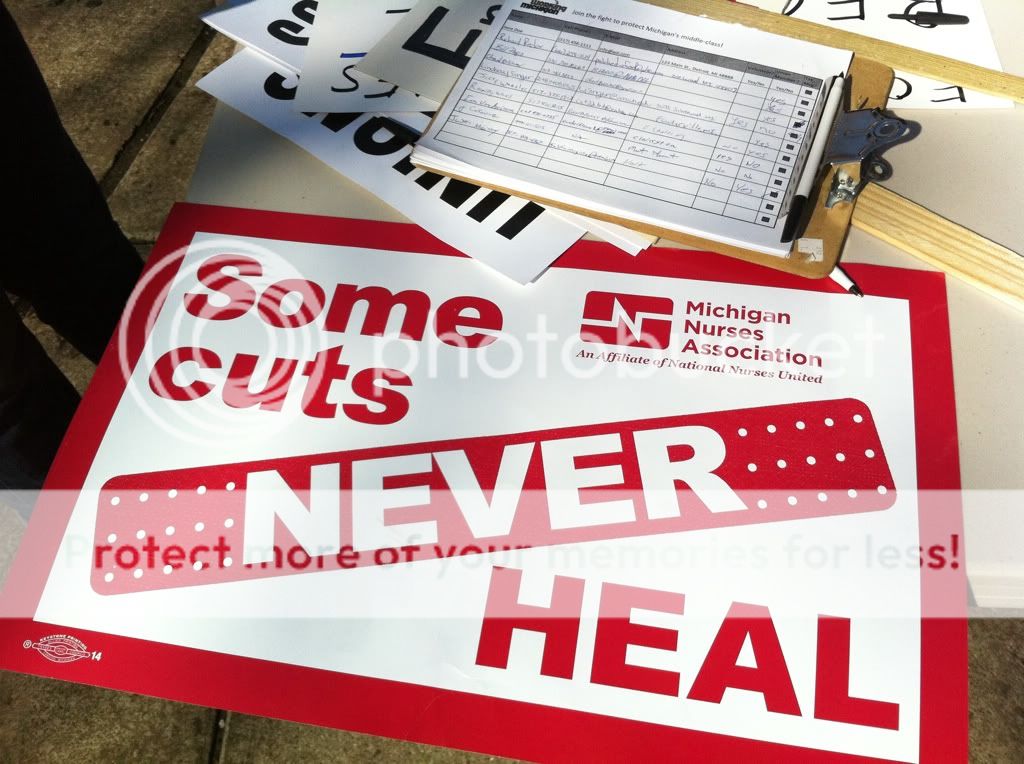 The Michigan Nurses have a HUGE presence here. Clipboard from the OFA table where they are collecting info from rally antendees for Working Michigan, a coalition of Michigan unions.
Live video from inside the Capitol building taken at 3:40. Sorry for the crappy iPhone quality.
It is LOUD in here right now!
Former MI-07 Congressman Mark Schauer: "We need a HIRING plan, not a FIRING plan!"

Next at the podium, president of the Michigan Education Association.
Round three of speakers on the Capitol steps. Still several thousand people here.
5:15 - The man who should be Governor, Lansing Mayor Virgil Bernero at the podium.

5:38 - The Capitol building is now officially closed and I am actually inside. there is a HUGE throng of people in the Rotunda chanting and a LOT of cops running around looking very concerned.
5:52 - Approximately 100 people have taken up residence in the Capitol Rotunda. Lots of chanting and discussion about how to let in the hundreds of people outside trying to get in. Cops are saying we three minutes before we have to leave. A police officer with a bullhorn just informed us we have 5 minutes to clear out.
6:00 - As fun as it might be to be arrested, I am have left the building. Others are actually being arrested.
Here's the scene outside the back of the Capitol:
Reports are that some people were maced trying to enter the Capitol.
Phone dying. More tomorrow.
9:00 - Home now. The Michigan State Police were in VERY large numbers inside the Capitol. They ended up arresting 11 kids regaining control of the building and locking it up. I say "kids" because most of the "occupiers" were in their 20s.
That last picture was literally the last photo I took and uploaded before my iPhone died. It was the perfect capstone photo for the day. Oh, and can I give a big shout out to my iPhone? All the live blogging except the last entry was done using it. Magic to me.