Ever want to go to Saturn? There's a filmmaker in Greensboro NC who is making a travelogue. Not CGI or animation, but a moving image created from actual still photos of Saturn and its neighborhood. A movie of a visit to Saturn.
He just released a, well call it a "trailer" for the movie, and a couple days ago NASA chose it for its Astronomy Picture of the Day (link is to NASA's site).
I found myself thinking about the implications of this, not just for space and science, but for our own life here on Earth.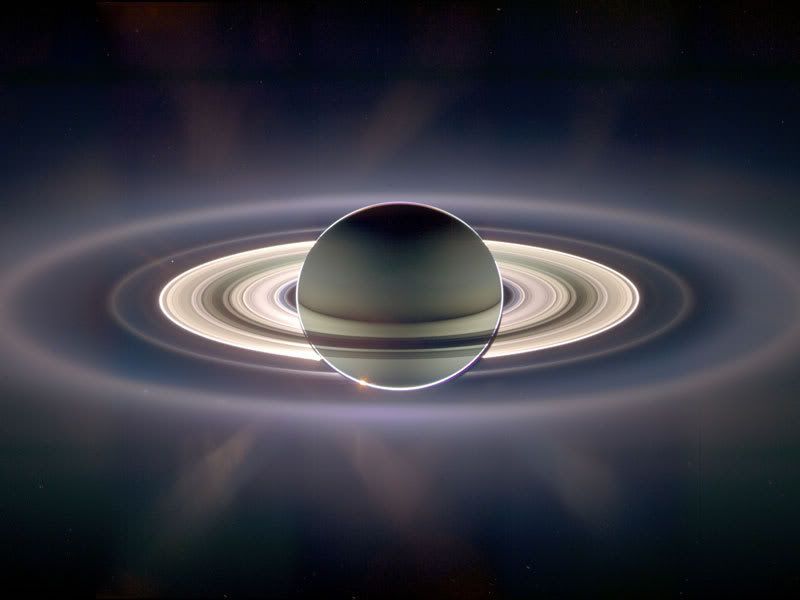 The Cassini spacecraft arrived at Saturn in 2004 and since then has taken many thousands of still pictures. These images are awesome by themselves, but when filmmaker Stephen van Vuuren saw them he had an equally awesome thought. Movies are just strings of still images, shown quickly one after the other. Could he find enough suitable Cassini images to string them together and create a movie?
He's well on the way, literally making this film in his basement, and the full IMAX movie is scheduled for release this November. (On 11/11/11, nice touch, that.) More on that at his site http://www.outsideinthemovie.com/ which has lots of background on this nonprofit project.
What would it be like to go to Saturn, almost a billion miles away? To see its rings, its moons? Not our animated speculations from Earth, but real moving images from on the scene?
Occasionally I run across something that, for me, puts it all into perspective, makes our petty bickering here on Earth seem so, well, petty. Do we really have to argue over small things? Can't we all just get along?