Recently I've focused on the Wisconsin and how the Koch brothers and M&I Bank have taken over Wisconsin politics. Today I've decided to turn my analysis on my home state of Colorado. As many know I was formerly involved with Republican politics here in Colorado. The 2010 race was confusing because the Colorado GOP appeared extremely disorganized. For example, during the 2010 caucuses it was literally impossible to get ANY information on the district 4 Congressional candidates. This is what I said at the time:
The caucus I attended was literally the most boring I have ever attended (and I have attended almost every caucus since 1992). We had eleven attendees which was the same number for the one my daughter attended. Multiples caucuses were held in the church and it was very lightly attended. A KUNC reporter wandered about the very sparsely attended proceedings. One of the attendees openly wondered why nobody was there given "what was going on this week". The same individual ran for the state assembly with the rationale for his running being his personal edification! He had no idea who to support. None of us knew squat about any of the candidates. There was only one speech where one woman endorsed some personal friends. Two of the candidates she supported were running for the Congressional seat but she gave nothing substantive on why we should support either or why one was preferable over the other. The only candidate that stopped by was running for Sheriff. Another of the participants asked to delay the straw poll until some of the candidates stopped by (which never happened). The winners of our straw poll were Diggs Brown, Scott McInnis, and Jane Norton. At the county level Gardner, Maes, and Buck won handily.

So, the effect of the Tea Partiers at the local level was to purge the moderates and even mainstream conservatives out of the GOP. I saw no evidence of inside-the-party enthusiasm I have seen in local OFA meetings. Most of my friends in county leadership are long gone.
Note the last paragraph as I will comment on that shortly. More recently there came the resignation of Dick Wadhams as chair of the Colorado GOP.
Since that time, State Senator Ted Harvey announced that he would challenge Wadhams's bid, saying that "a lot of the grass-roots activists and county officers believe we need to go a different direction."

Harvey was referring to the grass-roots Tea Party groups that became influential within the GOP in 2010. Many of these activists were harshly critical of Wadhams' performance during the 2010 election cycle.

Wadhams told KDVR's Eli Stokols on Monday that he was stepping down because he was "tired of the people who see a conspiracy behind everything we do, people who don't have any clue what the role of the state party really is."

"I have loved being chairman, but I'm tired of the nuts who have no grasp of what the state party's role is," he told the Denver Post.
The county officers are completely disorganized and as we know here the grass-roots activists are astroturf. (Much more on this later.) The Larimer County GOP got fined big time apparently because their chair didn't pick up their mail.
"Because the election was just hectic and busy and we had stuff going on, we're trying to recruit volunteers, we're trying to get people in for making phone calls, we're just trying to do all the election stuff," [former Larimer County GOP chair, Larry Carillo] said.

In most county parties, the treasurer plays a key role in maintaining campaign finance reports. But the Larimer GOP's most recent treasurer Terri Fassi resigned in late July or early August 2010 and hasn't been replaced, interim party Chairwoman Devon Lentz said.
A political party does three things:
Fundraising

Messaging

Organizing

As we see above the party was failing on all three counts, particularly on point 3. Because of that I wasn't very worried going into the elections because of it. What I failed to appreciate is that the powers that be have made the GOP (and its little-d democratic style organization) irrelevant. Even people as savvy as Rachel Maddow assumed that a disorganized GOP means that hyper-conservative candidates will not be able to win. Note her comments on the Nevada GOTV:
As outside organizations run by people like Karl Rove start supplanting what the traditional party has done in terms of fundraising and messaging and organizing, is there a cost to that? Is there a cost to outside groups like those run by Karl Rove doing that instead of the parties doing it?

Here's a specific example from this past election in Nevada. It's the 2010 Nevada Senate race between Harry Reid and Sharron Angle. All of the polls right before that election, right up until the election said Sharron Angle would be the United States senator from Nevada right now. She is not.

Why? Because for all of the anti-Harry Reid sentiment in Nevada, for all of the fundraising prowess of Sharron Angle, for all of the bad indicators for the guy in charge staying in power in Nevada, in November, there was something missing. The Republican Party was notably absent on the ground in Nevada in the days leading up to that election. There was no organizational capacity, it seemed, to turn all of those pro-Republican factors in that election into actual Republican votes.

There was no Republican Party get-out-the-vote machine there. It's something that we found out when we were in Vegas just a couple of days before the election.
Rachel's error was she focused on a Senate race where there was a substantial union GOTV operation in place and a statewide electorate. I contend there isn't really a cost to the outsourcing of the entire Republican party to corporations. I'll will follow the money with Cory Gardner, where the outsourcing produced a different effect below the fold.
Update: Thanks for the rec list. First time. I'm honored.
Update: There was a good question in the comments about how long has this been going on. Here's an early history of the Koch front group Citizens for a Sound Economy provided by sourcewatch.org. CSE later split/merged to become FreedomWorks and Americans for Prosperity.
In 1984 Charles G. Koch, David H. Koch and J. P. Humphries asked Rich Fink to develop a concept for a new organization that could advocate free-market policies effectively in Washington. Fink (now executive vice president at Koch Industries) produced a 110-page business plan and the CSE, along with the CSE Foundation, started operations later that year. Fink became the first president. Ever since, Koch Industries and the Koch Family Foundations have continued to give substantial financial support to the CSE and the CSE Foundation.

In 1988, Jim Miller, President Reagan's Director of the Office of Management and Budget, joined CSE's staff and board of directors. This helped raise the profile of the CSE enormously. Until then, it had campaigned mostly on tax issues (advocating a low, flat-rate tax), but now it started focusing on legal and regulatory issues, starting with a telecommunications and financial services.

In 1989, Wayne Gable succeeded Rich Fink as President. That year CSE Foundation rescued the Tax Foundation from financial trouble and restructured its management and board of directors. Gable is currently Managing Director of Federal Affairs at Koch Industries. In 1991, Gable went on the become president of the Tax Foundation, and Paul Beckner took over as president. That year, CSE launched Citizens for Congressional Reform, which went on to become U. S. Term Limit.

In 1993 C. Boyden Gray became Chairman, and CSE led a major press and public relations campaign to defeat the Clinton administration's 1993 proposal for an energy tax. "Our belief is that the tax, over time, may have destroyed our business," said Fink, who by then had left CSE's employ. While the Koch Foundations could not legally lobby against the tax, CSE rallied public opposition, especially in Oklahoma, where then-Senator David Boren agreed to help kill the tax. [2]
First of all, let me give some context on CO-4. We have a substantial alternative energy business presence here.
Fueled by a surge of clean-energy projects and research, the northern Colorado economy is regaining some of its lost strength.

The state's fledgling "new energy economy" is gaining an impressive foothold on the plains of Weld County, along the Interstate 25 commercial corridor and in the research labs of Colorado State University.

More than 40 businesses involved in clean or renewable energy have set up shop in the region in recent years, bringing more than 1,300 jobs. Other shops such as Woodward Governor Co., which makes components for power-generation equipment, also have added jobs.

The gains fall short of making up for the more than 4,000 high-tech jobs northern Colorado lost earlier this decade in a devastating round of layoffs by Agilent Technologies, Advanced Energy, Celestica, Hewlett-Packard and LSI Logic. But regional officials say they're optimistic that projected growth in the alternative-energy sector will generate thousands of relatively high-paying new jobs.

Solar-panel manufacturer AVA Solar expects to have 400 to 500 workers on its Fort Collins payroll by the end of next year. Vestas Wind Systems, a maker of wind-turbine blades, says its new Windsor plant will employ up to 600.

Like the rest of the state, northern Colorado has witnessed a slowdown in new jobs, population growth and housing starts, as well as rising rates of foreclosures and bankruptcies.

But economists expect the clean-energy sector to start making up for a 2 percent drop in the region's per-capita income since 2001 — a direct result of the high-tech job losses.
Cory Gardner got a plum assignment on the Energy and Commerce Committee, so he would be pumping the new energy economy vital to jobs in CO-4, right? Wrong.
Gardner shills for his oil and gas buddies as told in this 2010 story. Like all the Congressional Republicans he voted for continuing the oil and gas subsidies. He voted for denying the EPA the ability to regulate greenhouse gasses and denied the reality of anthropogenic global warming. He also voted for anti-renewable energy budget priorities in the Republican budget: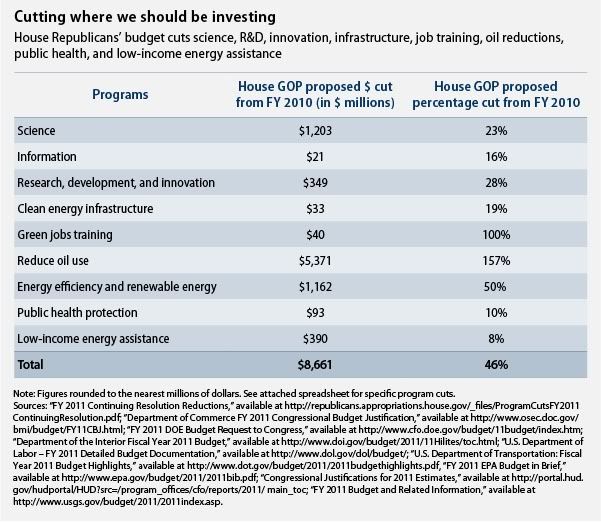 But how did someone who is not representative of the interests of his district get elected, particularly when the Republican Party in Northern Colorado is so disorganized? Answer: The Republican party is not who got him in but rather it was his corporate buddies.
Let's go through the three facets of the political party. First off, fundraising. According to Open Secrets Gardner got $10,000 from the Koch brothers and 16,500 from Houston-based Anadarko Petroleum that worked with him while he was in the Colorado legislature to try to reduce regulation on gas wells on the eastern plains. These are just the direct helps. He also got some help indirectly. Note this "party" before the Colorado primaries:
For: Cory Gardner (R, CO-04)
Hosted by: Brian Conklin Koch Industries PAC Lake Coulson Tim Powers Vin Weber Mark Isakowitz Dan Meyer Mary Hanagan
When: June 24th, 2010 (12 p.m.)
Where: Bistro Bis - 15 E Street NW
Type of Event: Luncheon
Other Lawmakers Mentioned: Rep. Marsha Blackburn (R, TN-7) Erik Paulsen (R, MN-3)
Contribution Information: $1,000
Make Checks Payable To: Gardner for Congress - 507 Capitol Court NE #100 Washington, DC 20002
RSVP: Steve Gordon | Katherine Ferriter; 202-546-0900; kferriter@stevegordon.com
Distribution Paid for by: Gardner for Congress
Note the Kochs are there. Another name to pay attention to is Steve Gordon. Steve Gordon is a longtime Republican operative. His company Total Spectrum provides the following services that look strangely like what a political party would do:
At Total Spectrum, each client enjoys a personalized strategy, developed by our experienced professionals. We can equip each client with a wide range of political tools.

Grassroots Programs
Grasstops Initiatives
Communications
Fundraising and PAC Development
Contribution Strategy
Training
Relationship Building
Issue Advocacy
Coalition Building
Web-Based and Direct Mail Campaigns
Political Analysis
Public Relations
Polling and Data Research
Of course there's the messaging part. Since we all know this very well I'll gloss over it other than to note the communication part of the campaign came more from the independent groups than the parties. This is the focus of the Citizens United ruling. The ruling wrongly assumed that this is the bulk of what the independent organizations do for a candidate.
Finally and most importantly is the organizing part. Unlike the fundraising and messaging activities this is more in the shadows. Two independent organizations stuck out in Gardner's FEC filings: Americans for Jobs Security and Americans for Tax Reform. The latter is funded by the Lynde and Harry Bradley Foundation who is one of the puppet masters pulling Wisconsin Governor Walker's strings. These organizations are 501 c(6) organizations and do not disclose their donors. According to the tax code:
"it is not prohibited from intervening in political campaigns so long as political campaign intervention is not its primary activity."
Let's see if this is the case with respect to Gardner. ALL the expenditures for both organizations were to one company (it was also a common donation for supporters of Scott Tipton and opponents of Gabby Giffords).

So what is Direct Response? It's a company by Jack Padovano that does microtargeting.
DIRECT RESPONSE GROUP - one of the many faces of primarily DCI Group principals with 2005 AZ corporation filings indicating Doug Goodyear, Tom Synhorst, Charles Gately, Christopher Holt and Jack Padovano as then-principals. aka GPS VENTURES
What's microtargeting?
In 2006, oddly enough, a Computerworld reporter sought out Mike Connell -- rather than Karl Rove -- to inquire into the GOP's electoral outlook. It was Connell (not Rove) who described how substantially the GOP was counting on microtargeting to make the difference in a difficult year. Two years earlier, Connell was the strategist who summarized "A Republican Perspective: What Worked Online in the 2004 U.S. Elections"in a presentation slidedeck. In that analysis, he emphasized email list development, microtargeting and the big data push of 2004, 72-hour programs, and special GOTV emails detailed even to the level of providing driving directions to the polls.

So there you have it. A political campaign where all the functions of a political campaign are outsourced to corporations who are friendly to oil and gas interests. Not only that they can make unlimited donations in secret. We don't even know if they're Americans. For example, it could be the Chinese undermining our alternative energy industry. So, it comes as no surprise when Cory Gardner chooses between his patrons and his constituents who gets the goldmine and who gets the shaft.