The history of ancient Egypt is generally divided into periods of time when Upper and Lower Egypt were united followed by periods when it devolved into competing kingdoms. Following the period known as the Middle Kingdom, Egypt entered into the Second Intermediate period. During this time foreign rulers, known as the Hyksos, controlled much of Lower Egypt.
The Hyksos began moving into the delta area of Lower Egypt during the Middle Kingdom (1800 to 1640 BCE). They were most likely a Semitic people who came from the area that is present-day Syria and Palestine. They came in as traders, merchants, wine makers, sailors, craft workers, doctors, and artisans. The Egyptian art of the Middle Kingdom shows them as having beards and wearing different clothes. They have a colored cloth with lots of fancy designs. The art work shows them bringing trade goods and tribute.
The Hyksos merchants and traders brought in timber from Byblos, and semi-precious stones from Afghanistan. They were exporting grain and beer from Egypt to Greece.
The archaeological sites of the eastern Delta area during the time when this region was occupied by the Hyksos include many artifacts which are characteristic of the Syro-Palestinian Middle Bronze Age II culture.
About 1649 BCE, the Hyksos gained control of part of the delta region and began to rule Lower Egypt as pharaohs. The sculptures commissioned by the Hyksos rulers were characterized by the style and iconography of Middle Kingdom rulers. It is clear that they were emulating Egyptian rulers.
The term "Hyksos" derives from the Egyptian expression "heka khasewet" and is today translated as "rulers of foreign lands." This is seen as a political term rather than as a designation of an ethnic or linguistic group. Most archaeologists consider the Hyksos to have been multi-ethnic.
While the Hyksos were often associated with new weapons, including the chariot, sophisticated bronze weapons, and powerful bows, there is little archaeological evidence supporting the idea of an invasion from southwest Asia.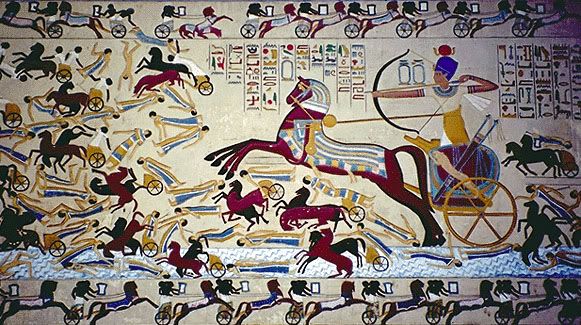 The Hyksos transformed Avaris at Tell el-Dab'a into their capital. From Avaris, the Hyksos developed far flung alliances and contacts. This included contacts with Crete, Cyprus, and Anatolia. Minoan artists created frescos for the Hyksos which included both Minoan bull-leaping and Egyptian landscapes.
With regard to religion, the Hyksos worshiped Seth, an Egyptian god. In earlier times, Egyptian mythology tells that it was Seth who hacked Osiris into 13 pieces and tried to destroy him. Thus, Seth was not necessarily seen as a "good" god, and there are those who have considered him to be evil. Still, there were also Egyptians who continued to worship Seth and not portray him as evil.
Seth was represented as an animal: it has a head that looks a bit like a goat with kind of ram-shaped horns going back. He has a body that looks feline or canine with a tail that is forked.
The Hyksos, in addition to adopting an Egyptian god, also had their own god: Reshep, a god of storms and war.
While the Hyksos seem to have adopted many Egyptian ways, they don't seem to have mastered Egyptian writing. The Egyptians had traditionally carved scarabs (little beetles carved out of stone as amulets) and then carved their names and magical prayer on them. The scarabs carved by the Hyksos have scrollwork and designs, but no language.
The Hyksos ruled at Avaris until about 1570-1550 BCE when Ahmose from Thebes defeated them and established the Egyptian 19th dynasty, which marks the beginning of the New Kingdom. The final Hyksos ruler, Khamudy, withdrew to the Levant.