In this weekly series we have been discussing the benefits of a vegetarian diet including: better health, public health, animal rights, global food crisis, frugal living, and the immense contribution of meat/livestock production to climate change/resource depletion
Tomorrow March 22, is International World Water Day and it's a good time to highlight the huge advantages of a vegetarian/less-meat diet to the protection of the world's water supply.
Nearly half of all the water used in the United States goes to raising animals for food.
It takes more than 2,400 gallons of water to produce 1 pound of meat, while growing 1 pound of wheat only requires 25 gallons.
You save more water by not eating a pound of meat than you do by not showering for six months!
A totally vegan diet requires only 300 gallons of water per day, while a typical meat-eating diet requires more than 4,000 gallons of water per day.
I was inspired to create this series by former Beatle and vegetarian advocate Paul McCartney(Macca) who partnered with the Meatless Monday campaign to promote less consumption of meat. We not only discuss the many advantages of a vegetarian diet we also do some cooking, share recipes and listen to great Beatle/McCartney music!
Pasta is one of the most popular foods on the planet. It's easy to see why as it's a delicious foil for the mundane to the exotic flavors available worldwide. It's been around since at least 2000 B.C. when it was just a combination of the most elemental ingredients available; flour and water, and has been essential as a nutritious staple in many cultures. Today pasta still maintains it's importance as foodstuff for the world due to it's accessibility, it's economy and it's ease of preparation. It's now available in many flour combinations including spelt, quinoa, vegetable and most bean flours making it one of the most versatile and nutritious foods.


Pasta is also a fun and imaginative food whose character and taste can be changed by utilizing the many shapes and flavors which are now available.
As pasta was first recognized in the East I will start with an Asian inspired recipe.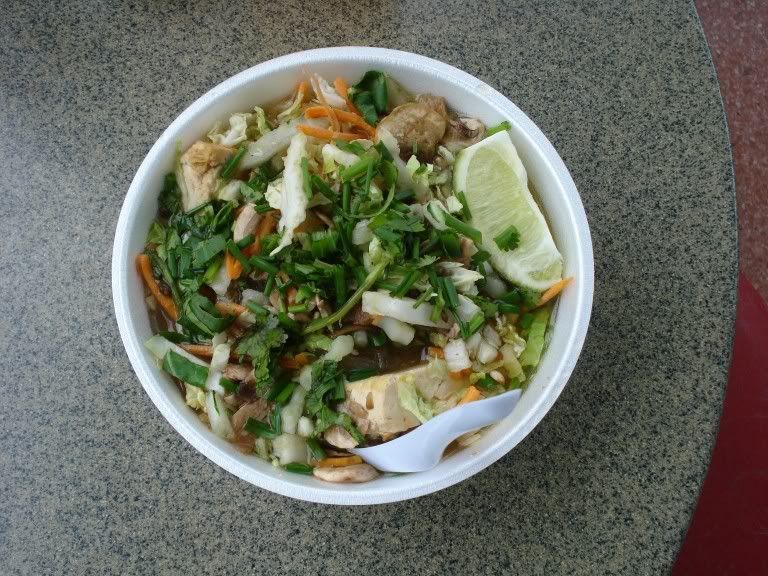 SPICY TOFU UDON NOODLE BOWL
6 ounces uncooked udon noodles (thick, round fresh Japanese wheat noodles) or spaghetti
2 teaspoons canola oil
2 cups sliced mushrooms
3 cups vegetable broth
2 cups snow peas, trimmed
1 tablespoon minced peeled fresh ginger
2 tablespoons low-sodium soy sauce
1 teaspoon brown sugar
2 garlic cloves, minced
1 serrano pepper, sliced
1 cup light coconut milk
3 tablespoons fresh lime juice
1 teaspoon Sambal oelek (ground fresh chile paste see below for recipe or may buy commercially) (may substitute schiracha in a pinch)
1 (12.3-ounce) package lite firm silken tofu, cut into (1/2-inch) cubes
1/2 cup chopped green onions
1/4 cup chopped cilantro
Cook noodles according to package directions, omitting salt and fat. Drain.
Heat oil in a large saucepan over medium-high heat. Add mushrooms to pan; sauté 3 minutes or until tender. Add broth and next 6 ingredients (through serrano); bring to a boil. Cook 4 minutes. Stir in milk, lime juice, and Sambal oelek; reduce heat, and simmer 5 minutes. Add tofu; cook 5 minutes. Place about 1 cup noodles into each of 4 bowls. Ladle about 1 1/4 cups soup into each bowl; sprinkle each serving with 2 tablespoons green onions and 1 tablespoon cilantro.
SAMBAL OELEK
200g small red chillies
1 cup water
1 tsp salt
1 tsp sugar
1 tbsp vinegar
1 tbsp sunflower oil
1. Remove stalks from chillies, chop roughly. (Wearing gloves is advised). Combine in a pan with water and bring to the boil. Reduce heat to low, cover and simmer for 15 mins.
2. Pour the chillies into a food processor, add salt, sugar, vinegar and oil, blend until finely chopped.
Store in a small glass jar in the fridge for up to two weeks.


LINGUINE with SAN MARZANO TOMATO SAUCE
This is what we're more familiar with in this country. Pasta with tomato sauce can be the most comforting of foods and can also be carried to the sublime with attention to the ingredients.
6 tablespoons virgin olive oil
1 Spanish onion, cut into 1/4-inch dice
4 cloves garlic, thinly sliced
4 teaspoons fresh thyme leaves (or 1 teaspoon dried)
1/2 medium carrot, finely shredded
2 28-ounce cans of tomatoes( recommended,San Marzano), crushed by hand and mixed well with their juices
Salt, to taste
basil, for garnish (optional)
Place oil into a sauce pan with onions and garlic, and cook over medium heat until translucent but not brown (about 10 minutes). Add the thyme and carrot; cook 5 minutes more. Add the tomatoes. Bring to a boil and then lower the heat to just bubbling, stirring occasionally for 30 minutes.
Season with salt to taste. Serve immediately or set aside for further use. The sauce may be refrigerated for up to 1 week or frozen for up to 6 months.
Serve mixed with freshly cooked hot linguine and garnish with basil, if desired.


If you're lucky to have some homegrown Roma tomatoes this is definitely the way to go

Bet you didn't think you would see these here, but yes you can have 'meatballs' on Meatless Monday and here's how...


POLPETTE
Sicilian eggplant 'meatballs' A Sicilian tradition with pasta & tomato sauce or as an appetizer
for the polpette:
2 large eggplants, cut in half
extra virgin olive oil
salt and freshly ground black pepper
4 large cloves garlic, finely chopped
2 cups (200 g) breadcrumbs
1 1/4 cups (125 g) freshly grated Parmesan or Pecorino cheese
2 egg yolks
1 tablespoon chopped mint (or may use basil)
1 tablespoon chopped flat leaf parsley (italian)
a pinch of grated nutmeg
to make the polpette, preheat the oven to 350°F (180°C). Rub the halved eggplants with olive oil and sprinkle with salt and pepper. Place them on a baking tray and roast for 25 to 30 minutes. Remove from the oven and leave to cool slightly.
Scoop out the flesh of the eggplants, place in a sieve and press gently to squeeze out the excess liquid. In a mixing bowl, mash the garlic and eggplant together, then stir in the breadcrumbs, Parmesan, egg yolks, basil, parsley and nutmeg. Add salt and pepper to taste.
Shape the eggplant mixture into golf ball-sized 'meatballs'. Heat some olive oil in a pan and fry the balls in batches until golden, turning from time to time and taking care not to crowd the pan. Place on a paper towel to drain.
May add the polpette to tomato sauce and simmer gently for 10 to 15 minutes before serving.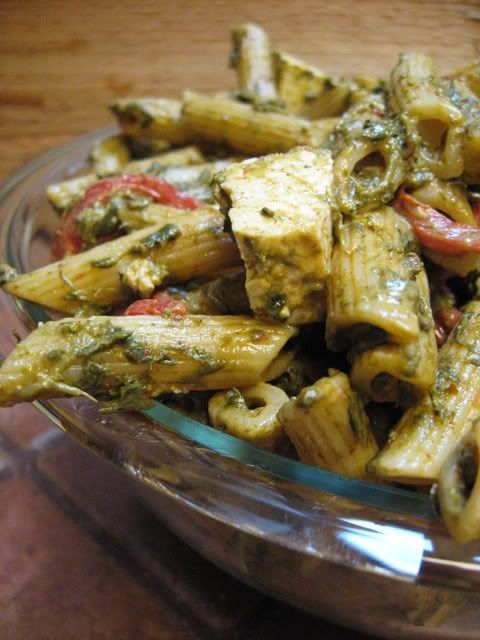 SMOKED TOFU and PASTA SALAD in a CHIPOTLE, SPINACH and ROASTED RED PEPPER DRESSING
1 lb pasta (any shape)
1 lb block of extra firm smoked tofu (you can buy it already smoked, or make your own), cut into bite sized chunks
1 cup vegan mayo
1 tsp garlic powder
1 tsp onion powder
1 tsp ground chipotle powder
1 tsp chili powder
12 oz roasted red peppers, sliced thinly
14 oz spinach (2 cups chiffonade)
salt and pepper to taste
Prepare pasta according to package instructions. In a large bowl, combine all other ingredients. When pasta is ready, drain and run cold water over it to cool it down quickly. Toss the pasta with the dressing. Refrigerate until ready to use.
Smoked Tofu
First, find yourself a food safe cedar plank. Soak it in water for at least an hour, more if you have time. Preheat your oven to 200 degrees. Slice up a block of extra firm tofu and arrange it on the plank. Place the plank in the oven and bake for at least 90 minutes and up to 3 hours. The outside of the tofu will brown and become firm. The inside will stay moist and chewy. Use the tofu in any recipe.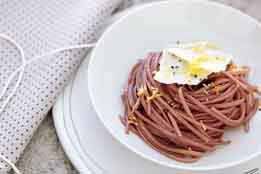 RED WINE PASTA with ROMANO
A lovely little recipe for a special occasion
1 pound dried linguine
2 tablespoons kosher salt
1/2 bottle (1 1/2 cups) red wine
1 1/2 tablespoons extra-virgin olive oil
1/3 cup (2 ounces) shaved Romano (or use vegan grated cheese)
1/2 teaspoon black pepper, preferably cracked
1 teaspoon grated lemon zest
1. Bring a large pot of water to a boil. Add the linguine and salt and cook for 7 minutes. Drain the linguine and return it to the pot.
2. Meanwhile, bring the wine to a simmer in a small saucepan. Pour it into the pot with the drained pasta and place it over medium-high heat.
3. Cook, tossing occasionally, until the wine is almost completely absorbed, about 5 minutes.
4. Remove from heat, add the oil, and toss. Divide the linguine among bowls and sprinkle with the Romano or slice as above, pepper, and lemon zest.
Serves 4
"Ever Present Past" Paul McCartney from Memory Almost Full

"Waterfalls" Paul McCartney from McCartney II

What have you all been cooking? Please share your recipes and fave Beatle/McCartney music here!
Did you think Beatlemania was over? Have you been to Abbey Road Studios? Now is your chance. Here is the internationally popular Abbey Road Webcam. You can now have your Beatle/McCartney fix day or night.