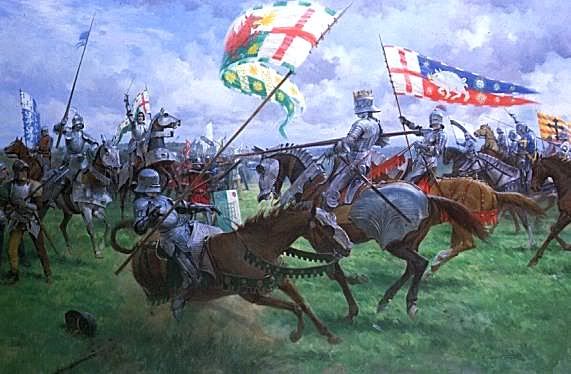 On this Day in 1461 – Wars of the Roses: Battle of Towton – Edward of York defeats Queen Margaret to become King Edward IV of England.
The Wars of the Roses were a series of dynastic civil wars for the throne of England
fought between supporters of two rival branches of the Royal House of Plantagenet: the houses of Lancaster and York (the "red" and the "white" rose, respectively). They were fought in several sporadic episodes between 1455 and 1485, although there was related fighting both before and after this period. The final victory went to a relatively remote Lancastrian claimant, Henry Tudor, Earl of Richmond, who married Elizabeth of York, the daughter of the late Yorkist king Edward IV, to reconcile the two factions and founded the House of Tudor, which subsequently ruled England and Wales for 117 years.
In the News

Obama: West stopped Libya 'massacre'

President Barack Obama declared Monday night that the U.S. military action in Libya had "stopped (Moammar) Gadhafi's deadly advance," fulfilling what he said was a U.S. responsibility not to "turn a blind eye to atrocities in other countries."

"It may not happen overnight, as a badly weakened Gadhafi tries desperately to hang on to power," the president said. "But it should be clear to those around Gadhafi and to every Libyan that history is not on Gadhafi's side."

Science News
Will the Car of the Future Be Made from Coal Ash?

Could coal be the key to manufacturing lighter, more energy-efficient vehicles, including electric cars?

It may seem counterintuitive to use coal to reduce a vehicle's fuel consumption, and thus its CO2 output. But one scientist at a New York technical school thinks he's found a way, and hopes to market it to automakers and the growing electric vehicle industry.

Dr. Nikhil Gupta, an instructor at the Polytechnic Institute of New York University in downtown Brooklyn, says the secret lies in the cumbersome and ubiquitous waste product from burning coal -- fly ash. Less than half of the fly ash produced from power plants is captured to make a certain type of cement, while the rest ends up in landfills.


Sorry, James Cameron: NASA Nixes 3-D Camera for Next Mars Rover

(Academy Award-winning director James Cameron (right) inspects engineering model of camera mast for NASA's Curiosity Mars rover. Cameron is a member of the camera team for the Red Planet mission.
CREDIT: NASA/JPL)

A 3-D zoom camera system developed for NASA's next Mars rover with the help of filmmaker James Cameron has been shelved due to a lack of time to get it ready for the mission's November launch.

The camera builder, Malin Space Science Systems of San Diego, Calif., was hoping to use the 3-D imaging system to replace the main fixed focal-length camera on NASA's new Mars Science Laboratory rover Curiosity.

That 3-D video capability on Mars was backed by Cameron, director of the 2009 box office smash "Avatar" and other films. Cameron also serves as a public engagement co-investigator for Curiosity, now being prepared for its voyage to the Red Planet.

Health news
Study Finds Sleepwalkers Learn as They Go Through the Motions

By videotaping sleepwalkers as they got some shut-eye (with their permission, of course), French and Swiss researchers caught on tape what other studies have deduced through brain recordings and memory tasks: As we sleep, our brains seem to replay what we learned during the day.
Love and Sex
20 Things You Didn't Know About... Kissing

Our unique human lips, the conquests that carried kissing, and how kissing makes men and women more like each other.

Technology
SmartBird Flaps and Flies Like the Real Thing



Roger Ebert

Reviews The Algerian War seen from the other side

For France, the Algerian War was like our experience in Vietnam, but closer, more personal, and with bloodshed on domestic soil. France had already lost its war to retain French Indochina as a colony when we moved in. At about the same time, it was facing a revolt in French Algeria, which was much more important to it; indeed, many families had members living in either place and supporting either side.

Outside the Law" is a big, expensive historical film that considers the war from an Algerian point of view. It assumes in a straightforward manner that the National Liberation Front's attempts to throw the French out of Algeria were directly comparable to the attempts of the French Resistance to throw the Nazis out of France. This is heresy in some circles, and indeed caused right-wing demonstrations against the film, but as attitudes about colonialism shift, this view is gradually becoming more accepted.
twitter

RT @RyanNewYork Donald Trump was born in America, but his toupee was certainly made in China. #p2 #tcot HAHAHAHAHAHA!!!!!

Animal Lovers
10 amazing camouflaged animals

Pop Culture

Last month, during an appearance on "Conan," Justin Bieber revealed that he can do a spot-on Barack Obama impersonation.

Happy Birthday

Lucy Lawless, MNZM (born Lucille Frances Ryan; 29 March 1968) is a New Zealander actress and singer. She is best known for playing the title character of the internationally successful television series Xena: Warrior Princess which ran from 1995 to 2001. She is also known for the role of D'anna Biers (Number Three) on the re-imagined Battlestar Galactica. Most recently she appeared on the television series Spartacus: Blood and Sand and Spartacus: Gods of the Arena as Lucretia, Quintus Lentulus Batiatus' wife.


Elle Macpherson (pronounced ˈɛl məkˈfɝːsən; born 29 March 1963) is an Australian model, actress, and businesswoman nicknamed "The Body". She is perhaps best known for her record six cover appearances for the Sports Illustrated Swimsuit Issue beginning in the 1980s. She is also known as the founder and primary model for a series of business ventures including Elle Macpherson Intimates, a lingerie line, and "The Body", a line of skin care products. According to Forbes, Macpherson possesses assets around $60 million. In 2010, she became the host and executive producer of Britain's Next Top Model.


Pearl Mae Bailey (March 29, 1918 – August 17, 1990) was an American actress and singer. After appearing in vaudeville, she made her Broadway debut in St. Louis Woman in 1946.[1] She won a Tony Award for the title role in the all-black production of Hello, Dolly! in 1968. In 1986, she won a Daytime Emmy award for her performance as a fairy godmother in the ABC Afterschool Special, Cindy Eller: A Modern Fairy Tale.

Her rendition of "Takes Two to Tango" hit the top ten in 1952.


Samuel Moore "Sam" Walton (March 29, 1918 – April 5, 1992) was a businessman and entrepreneur born in Kingfisher, Oklahoma best known for founding the retailers Wal-Mart and Sam's Club.


Eugene Joseph "Gene" McCarthy (March 29, 1916 – December 10, 2005) was an American politician, poet, and a long-time member of the United States Congress from Minnesota. He served in the U.S. House of Representatives from 1949 to 1959 and the U.S. Senate from 1959 to 1971.

In the 1968 presidential election, McCarthy was the first candidate to challenge incumbent Lyndon B. Johnson for the Democratic nomination for president of the United States, running on an anti-Vietnam War platform. The unexpected vote total he achieved in the New Hampshire primary led Johnson to withdraw from the race, and lured Robert F. Kennedy into the contest. McCarthy would unsuccessfully seek the presidency five times altogether.


Philip Ahn (March 29, 1905 – February 28, 1978) was a Korean American actor. He was the first Asian American film actor to receive a star on the Hollywood Walk of Fame.


Denton True "Cy" Young (March 29, 1867 – November 4, 1955) was an American Major League Baseball pitcher. During his 22-year baseball career, he pitched from 1890-1911 for five different teams. Young was elected to the National Baseball Hall of Fame in 1937. One year after Young's death, the Cy Young Award was created to honor the previous season's best pitcher.

Quote of the Day

"A horse! a horse! my kingdom for a horse!" ~William Shakespeare Play Richard III (Act V, Scene IV).