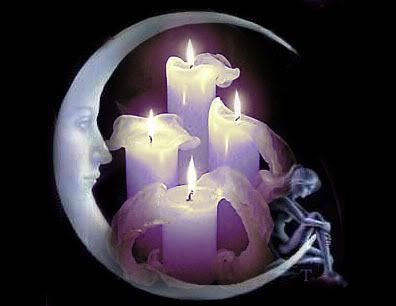 Many firmly believe that religion and politics are a bad combination. It's never stopped the Moral Majority, or its later incarnation, the Christian Coalition. It's never stopped countless numbers of conservative pastors across the US, either. Many on the left, however, have always been reluctant to mix these two. Still, it's inevitable that politics will come up at a "pagan night out" or some other sort of social gathering. With the story of a TSA employee getting fired because she's Wiccan, earth-based religions return to the political limelight.
(more below the fold)
But what about really mixing religion in politics, in a way only magick practitioners can do? Is it possible to use magick to effect social/political change? Should magick be used to contribute to the national defense? Guard us from terrorism?
Let's start with some definitions. Cunningham's definition of magic (he spells it without the 'k') is simple:
Magic is the projection of natural energies to produce needed effects.
Kraig, on the other hand, uses a somewhat more complex set of definitions, making the distinction between "white," "grey," and "black" magick. The key definition from Kraig is Grey Magick:
Grey Magick is the science and art of causing change to occur in conformity with will, using means not currently understood by traditional Western science, for the purpose of causing either physical or non-physical good to yourself or others, and is done either consciously or unconsciously.
Even though they approach the subject from different places, both authors/teachers come to the same outcome--"causing changes," and "produce needed effects" are close enough.
What if we were to apply magick to some of the topics near and dear to the hearts of the dKos community at large, such as electing progressives, gay marriage, improving the government's environmental policy? Witches and other practitioners could do workings to project positive energy to support protesters in Wisconsin, or to send peaceful, loving thoughts to the "God Hates Fags" crowd, for example. These sorts of workings wouldn't violate a Wiccan's principles, and would be on the "white" side of "grey" by Kraig's reckoning.
Now, carry this a step further. Your coven, lodge, or even on your own as a solitary, decide to raise power to shield soldiers/marines in Afghanistan, or pilots flying over Libya. You do magickal workings to project thoughts of insecurity or failure to a Republican political candidate running against a Democrat you support. What about weather-working to attract rain that might suppress an opponents GOTV effort?
Even further: You do workings to protect feelings of dread, sickness, etc., on Mr. Justice Scalia, the goal being to make him sick enough to retire. By Kraig's definition, this would be "black" magick, but would the greater good be served if President Obama was able to appoint a more-moderate person to the Court? Would it be worth the sacrifice if a coven accepted the karmic implications of such workings?
The practical considerations here aren't that big a deal. The moral/ethical considerations are immense. Depending on your beliefs, the long-term effects of the sort of workings mentioned above could be extreme.
Let's talk about this a bit.
"Candle Magic" graphic via The Puckish Pagan
Updated by YatPundit at Wed Mar 30, 2011 at 09:10 AM PDT
TROLL REPELLANT: Gentle Kossacks, please, if you don't accept the premise of this diary, please move along to the next one. This is a community for those who do accept this premise. Please respect that.