Cross posted from the Community Quilt Project
Our friend, David W, has suffered from AIDS for a long, long time. He is a survivor -- one who finds balance through his art. But recently, some other, very serious health concerns have arisen that are really rocking him -- that and concerns about cuts to his Social Security disability payments and concerns about how he will be able to take care of treatments should the worst occur. These sorts of things are very depressing to face alone -- but David W does not have to. Let us lend David W our support and help this very strong man get through this latest challenge.
We'll make a "love catcher" for him -- a quilt bearing supportive messages from all of you, transcribed in archival ink. He'll be able to wrap himself up with all your love whenever he feels lonely or overwhelmed. Your support will be with him always, to hold, to cuddle, to cry into if necessary. Shall we do this?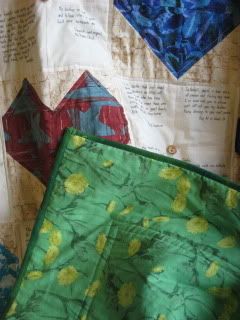 DaNang65's quilt, showing the backing
If you would like to contribute to the cost of materials and a bit of our time making this, here is a PayPal link -- or message me if you would prefer to send a check. But regardless, leave a message for David W in the comments below. It is not necessary to donate money to include your loving words in this quilt.
We are about to layer Lt. Choi's quilt for quilting. Nurse Kelley's quilt is on the design curtain!
These are the Community Quilts we have completed to date:
othniel (cellulitis and ensuing complications)
exmearden (cancer of heart and lung, RIP)
MsSpentyouth (brain tumor)
Moe99 (lung cancer)
Michelle Caudle (ovarian cancer)
BFSkinner (lupus)
Kitsap River (long wait for kidney donor that ended 2/18/11)
Frederick Clarkson (blood clots)
Dreaming of Better Days (lymphoma)
one bite at a time (lost house and belongings to fire)
Timroff (cellulitis)
Sol Fed Joe (multiple cancers and health problems)
Brubs (AIDS, immune reconstitution syndrome)
rserven (gall bladder infection with dangerous complications)
grndrush (brain tumor, RIP)
ImpeachKingBushII (needs liver transplant)
andsarahtoo (lupus)
Frank Cocozzelli (muscular dystrophy)
luvsathoroughbred (breast cancer)
Predictor (stroke and HIV)
Austex54 (caretaker to othniel)
Theodore Olbermann, RIP
cskendrick (antibiotic resistant infection)
Keith Olbermann (caregiver to father)
Juan (cancer)
Ana (a young horse belonging to Juan, hit by truck)
MA Liberal's mother (Alzheimer's)
Charles CurtisStanley (caretaker to Kitsap River)
Lorikeet (cervical cancer)
Dr. Lori (metastatic cancer)
ulookarmless (cancer, heart condition, stroke)
riverlover (caregiver to husband suffering from liver failure, now widowed)
Melody Townsel (caregiver to dying father, now deceased)
dadanation (AIDS)
Dr. William F. Harrison (leukemia, RIP)
Larry Bailey (sudden loss of partner to heart attack)
ramara (adopted son with fetal alcohol syndrome)
Noor B (herniated disk from car accident)
Louisiana 1976 (fibromyalgia, severe arthritis, depression)
stumpy (MS, stroke, RIP)
bleeding heart's niece (cancer, RIP)
escapee (failure of corneal surgery)
SarahLee (lymphoma, Lyme Disease)
Bustergirl (ovarian cancer)
mimi's niece (cancer)
ZenTrainer (breast cancer)
Miss Blue (severe injury to shoulder, anxiety over coverage for surgery)
Granny Doc (bladder cancer)
mango (heart attack)
nudger (ovarian cancer, RIP)
DaNang65 (heart condition)
Future Community Quilts are planned for:
Peregrine Kate (endometrial cancer)
Sensible Shoes (caring for sister with brain cancer)
Plutonium Page (pulmonary embolisms, pulmonary infarction)
MsGrin (life long heart problems requiring multiple surgeries)
UnaSpensor (Lyme disease)
MA Liberal (caretaker to her mother who has dementia)
labwitchy (diffuse scleroderma)
paradox (cyclical vomiting syndrome, PTSD, depression)
Stranded Wind (Lyme Disease and other health issues)
woodtick (caretaker to mother who has Alzheimer's)
Ellinorianne (rheumatoid arthritis and fibromyalgia)
PAYPAL LINK FOR DAVID W'S QUILT -- THANK YOU

Boots says, "Thank you for supporting the Community Quilt Project!"
Namaste.