NewsFeed ... Elevation to Level 7 Event ... Workers have started the process of removing highly radioactive water in the plant ... Experts urge external cooling system.. No abnormalities in pumping or power for Fukushima post 6.3 quake ... More than 150,000 people have been displaced ... Images of evacuation zone ... 1:08 AM 04 13 11 JNI Combined Sources
This is another clearinghouse diary for discussion and commentary about the ongoing nuclear disaster(s) in Japan. For updated information on news and a timeline of the events following the March 11 Japanese Earthquake, visit the Mothership. The Mothership is updated regularly and also provides a more extensive list of news and data sources, social media, crisis mapping and other relevant information.
If you would like to recommend this diary feel free to do so. All previous liveblogs published to the Japan Nuclear Incident group can be found here. The group also serves as an archive for Coverage@Kos.
The"ROV" (a Remote Operating Vehicle) is a 'child diary' for liveblog coverage of major breaking news stories. (The term was borrowed from the Gulf Watchers coverage of the Deep Water Horizon crisis.)

Given the seriousness of this situation, please use this diary for posting information DIRECTLY Related to coverage of the developing news!

To continue following and participating in the breaking coverage in Japan Nuclear Incidents series, click here and then click the heart icon underneath the profile picture to the Right. This will bring these diaries directly into your personal "stream."
Overview of events - April 12-13 JST
Japan yesterday elevated the ongoing disaster at the Fukushima Nuclear Reactor site from a Level 5 to Level 7, the highest level incident. This established Fukushima as the most serious nuclear event since Chernobyl. Although the amount of radiation released by the Fukishima meltdowns is not as high, the ongoing release of radioactivity from the four reactors elevates the crisis. In yesterday's news conference, officials announced that 10,000 Terabequerels per hour of radiation were emitting from the plant for a period of hours.
According to the International Atomic Energy Agency, a level seven incident is characterized by a major release of radiation with widespread health and environmental effects. A five-rated event is a limited release of radioactive material, with several deaths from radiation. The scale is designed so the severity of an event is about 10 times greater for each increase in level.
"The difference between Chernobyl and Fukushima is this - Chernobyl had a massive explosion and spread a large radioactive cloud over much of Europe very quickly and it looks as though the Fukushima incident is not going to do that, although there is some in the atmosphere that has been released." NISA spokesman, Hidehiko Nishiyama



Radioactive strontium detected more than 30 km from Fukushima plant
TOKYO, April 12, Kyodo

Minute amounts of radioactive strontium have been detected in soil and plants in Fukushima Prefecture beyond the 30-kilometer zone around the crippled Fukushima Daiichi Nuclear Power Station, the science ministry said Tuesday.
It is the first time that radioactive strontium has been detected since the Fukushima plant began leaking radioactive substances after it was severely damaged by the March 11 earthquake and tsunami.
There is no safety limit set by the government for exposure to strontium, but the amount found so far is extremely low and does not pose a threat to human health, the Education, Culture, Sports, Science and Technology said.
Experts, however, expressed concern that the accumulation of strontium could have adverse health effects. When strontium enters the human body, it tends to accumulate in bones and is believed to cause bone cancer and leukemia
Mayors in Fukushima disillusioned with nuclear safety myth: poll h/t peraspera
(Kyodo News)

Most heads of the 12 municipalities within a 30-kilometer radius from the crippled nuclear power plant in Fukushima Prefecture say they have become disillusioned with the myth of the safety of nuclear power generation and called for a drastic overhaul of Japan's atomic energy policy, according to a recent poll by Kyodo News.
Asked about how to go about the reconstruction of areas affected by the nuclear crisis, about half the mayors surveyed indicated they cannot begin to think about rebuilding unless the situation at the plant is settled.
Live away from home is 'unbearable' h/t ricklewsive
The Japan Times
It gives some idea of the stresses.

According to the National Police Agency, more than 150,000 people have been displaced by the disaster. A tally by Kyodo News found that about 35,000 people mostly from Fukushima Prefecture have fled to other prefectures. [I believe some 70,000 were thought to formerly live in the 20 km zone]
...
Asked to pick three issues that worry them most, 53 percent cited money (for living expenses), 50 percent chose work and 40 percent said housing.
Some 30 percent said they were worried about their houses and assets, 28 percent they were concerned about their health and their family members, while 25 percent said they were fretting over education for their children and grandchildren.

The Japan Times
"The leakage (from the reactors) has to be stopped. Leaking means the water inside the reactors is decreasing. So the water has to be replenished, and then it leaks again. This cycle has to be stopped," said Hisashi Ninokata, professor of nuclear reactor engineering at the Tokyo Institute of Technology.
...
Some experts, including Ninokata, have started floating the idea of temporarily building a brand new external cooling system for the reactors, given the daunting task of removing the deadly water in the building housing the RHRS. http://search.japantimes.co.jp/...
Experts urge external cooling system
Some Japanese Evacuees Brave Radiation Fears to Briefly Return Home
In Namie - about 15 kilometers from the crippled Fukushima nuclear power plant - a dog crossing the main intersection is initially the only sign of life. The traffic lights still cycle
between red and green. But, within the space of an hour, only a few cars pass through the intersection, paying no heed to the signal.

The virtual silence is only broken when a powerful aftershock rattles the already damaged downtown buildings and the pavement rumbles. Elsewhere in Fukushima prefecture, the tremor knocks out power to thousands of homes and temporarily forces a halt to repair work at the damaged reactors.

Passing through Namie on Tuesday is a man who only identifies himself as a 48-year-old air conditioning specialist at Reactor 1 of the damaged Fukushima nuclear plant. He says he felt compelled to return home to retrieve his personal seal, required to stamp legal documents.

The Namie resident says police at a roadblock tried to convince him not to return home, even for a short time. But he says he knew today might be his last chance before the off-limits notice becomes legally enforceable. He predicts that is inevitable, now that the nuclear disaster has been deemed a Level Seven on the international nuclear
incident scale.
"I live about 30 min northwest of Tokyo... scary day today. My wife and I felt no less than 6 earthquakes. The big one mentioned in the article really was huge, I was in a Mr. Donut (like a Dunkin Donuts) and the whole place really was shaking. The first one woke me up in the middle of the night. And with every earthquake, the question hovers in the air... did the nuclear plants get through it, or do we need to shelter from radiation in our apartment for the next few weeks? So we turn on the TV and wait for a statement from the nuclear plants... which you have to trust, there's nothing else you can do besides move. This situation is pretty unbelievable... 6 earthquakes in one day is really more than enough. NYT Community Comments
4:14 pm PST 12 April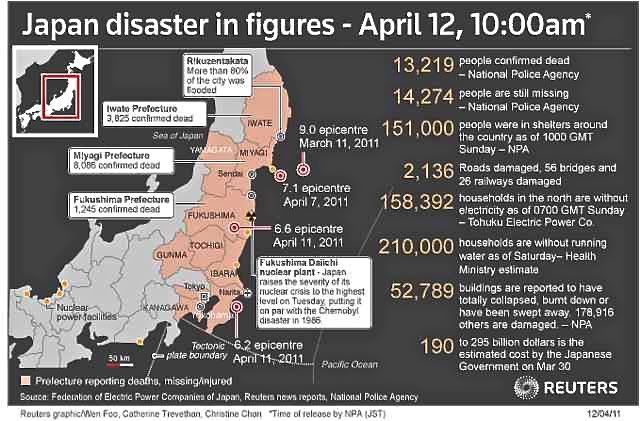 Higher resolution version of image
STATUS UPDATES: 4/12 JST
10,000 Terabequerels per hour of radiation were emitting from the plant for hours
In an article indicating that Japan may raise nuke accident severity level to highest 7 from 5, Kyodo News revealed that

the crippled Fukushima Daiichi nuclear plant had been releasing up to 10,000 terabecquerels of radioactive materials per hour at some point after a massive quake and tsunami hit northeastern Japan on March 11.
--snip--
Haruki Madarame, chairman of the commission, which is a government panel, said it has estimated that the release of 10,000 terabecquerels of radioactive materials per hour continued for several hours.
Japan's government called for evacuations Monday from several towns beyond the danger zone already declared around the Fukushima Daiichi nuclear power plant, warning that residents could receive high doses of radiation over the coming months...
Chief Cabinet Secretary Yukio Edano said the municipalities are likely to see long-term radiation levels that exceed international safety standards, and he warned that the month-old crisis at Fukushima Daiichi is not yet over.
"Things are relatively more stable, and things are stabilizing," he said. "However, we need to be ready for the possibility that things may turn for the worse."
The decision announced Monday does not create a wider radius around the plant...Instead, "if there are areas in the northwestern parts where there is a risk of exceeding 20 millisieverts as a cumulative dose over a one-year period, the area will be designated an evacuation area even if it is beyond the 30-kilometer area...
--snip--
Five towns and cities to the north and west of the plant -- Katsurao, Kawamata, Namie, Iitate and parts of Minami Soma...[are to evacuate]
Residents of five other areas -- in Hirono, Kawauchi, Naraha and parts of Tamura to the south, and the rest of Minami Soma -- were told they should be prepared to clear out soon...
(h/t Kurious)
Procrastinator john who is in Japan offers the following perspective and observation:

Expansion of the evacuation zone a month after the earthquake means two things. First, the situation is much, much worse than they have been saying for a month. Second, the ability to maintain a stance of denial has just about been wrung out of the agencies involved.
NISA has completely and utterly lost credibility in this mess, but it is likely that its parent ministry METI was a huge driving force in NISA's denial. In that context, I think Just Bob's comment above is dead on: METI is going to sacrifice NISA.
The Mainichi Shinbun has this map in an article from yesterday about the areas of Fukushima outside the 30 km zone that will have to be evacuated.
There are areas on the map that range from red to yellow in color, and the scale at the bottom of the map explains the colors. Red is a cumulative exposure of over 200 millisieverts by March 11 of next year (the one year anniversary of the earthquake). Yellow is 30 millisieverts cumulative exposure.
I suspect that the reality of this data is behind upgrading the crisis to a level 7 today. h/t Procrastinator john
Interactive Greenpeace Map: Fukushima evacuation zone expanded
Our field radiation monitoring teams have wrapped up a second round of data collection outside of the exclusion zone that surrounds the stricken Fukushima nuclear complex: one investigating health threats and testing food and milk and the other is looking at surface contamination. Based on the radiation levels found, we are calling for the greater Fukushima area to be given official protective status and for the evacuation of pregnant women and children from high risk areas in Fukushima City and Koriyama.
Sinister seven: what Japan's new nuclear crisis rating means h/t mahakali overdrive
Minoru Oogoda of Japan's Nuclear Industry and Safety Agency (NISA) told the Associated Press that his country had updated the severity level to seven "as the impact of radiation leaks has been widespread from the air, vegetables, tap water and the ocean".

(snip)

... the total amount of radiation released in Japan may exceed Chernobyl, spokesman for plant owner Tokyo Electric Power Company (TEPCO) Junichi Matsumoto said at a news conference today.

Japanese nuclear safety agency officials said the radiation released so far was estimated to be around 10 per cent of that from Chernobyl 25 years ago.
But they fear the total amount of radiation released in Japan may exceed Chernobyl, spokesman for plant owner Tokyo Electric Power Company (TEPCO) Junichi Matsumoto said at a news conference today.
NHK Radiation levels exceed permissible limit h/t there but for fortune
Hiroshima University Professor Kiyoshi Shizuma says most of the radiation observed in Fukushima is believed to be radioactive cesium that has fallen to the ground.
A few days ago a group of researchers went to the area near Iitate and took extensive measurements of the air and five soil samples. Their report (in Japanese) is here. Kiyoshi Shizuma is the third researcher on the list. His statement about cesium is based on measurements the team took in Iitate on March 29.
The two prominent isotopes he is talking about are Cs-134 and Cs-137. See the table on p. 5 of the PDF. The y-axis on the table is dose rate in μGy/h (logarithmic scale), and the x-axis is the level of radiation after so many days (with 100 as the maximum). The Iodine isotopes and Cs-136 (plus a few others) will be gone by 100 days. The only remaining radiation will be Cs-134 and Cs-137.
The PDF of the report has some maps that may be worth a look, even if you can't read Japanese.
For a little bit about the methodology they used, see my comment here h/t procrastinator john
TEPCO tardy on N-plant emergency h/t rja

The Yomiuri Shimbun
This article has a timeline which lays the blame entirely on TEPCO. It claims that Prime Minister Naoto Kan kept trying to get TEPCO to vent the Unit 1 reactor, but TEPCO kept delaying the venting.

USGS h/t siri

6.0
Date-Time
Tuesday, April 12, 2011 at 05:07:42 UTC
Tuesday, April 12, 2011 at 02:07:42 PM at epicenter
Time of Earthquake in other Time Zones
Location
37.112°N, 140.578°E
Depth
10.6 km (6.6 miles)
Region
EASTERN HONSHU, JAPAN
Distances
27 km (16 miles) WNW of Iwaki, Honshu, Japan
36 km (22 miles) SSE of Koriyama, Honshu, Japan
72 km (44 miles) S of Fukushima, Honshu, Japan
175 km (108 miles) NNE of TOKYO, Japan
Location Uncertainty
horizontal +- 12.8 km (8.0 miles); depth +- 5.1 km (3.2 miles)
Parameters
NST=490, Nph=497, Dmin=221.5 km, Rmss=0.95 sec, Gp= 29°,
M-type=regional moment magnitude (Mw), Version=9
Source
USGS NEIC (WDCS-D)
Event ID
usc0002p47

April 11 JST (Combined Sources)
There was a small fire that was quickly extinguished in an outbuilding near reactor #4. It apparently started in batteries stored in the sampling room. TEPCO is investigating the cause.
Kyodo News
An eathquake of 7.1 magnitude caused the water injection to have to be shut off for 50 minutes earlier today. This has been restarted, and TEPCO states that no additional damage has been observed. Transfer of contaminated water that was set to begin today has been delayed until Tuesday.Kyodo News (h/t Siri)
NISA METI have not published a new status update for data covering the time since Apr. 8th. The Fukushima data page has not been updated since the 9th. No explanation has been given for this slowdown in release of data. MEXT data on environmental levels of radiation are up to date and indicate that although the radiation levels in Fukushima Prefecture remain high, there have been no obvious new spikes since nitrogen injection into reactor unit 2 began on Apr. 6th.
Today's Choice: Best MSM Overview
BBC NEWS: Fukushima: What happened - and what needs to be done
SPRING ACTIONS FOR A NUCLEAR FREE WORLD
Coverage @ Kos 4/9-4/11
Citisven: German Town Shows How to Achieve Nuclear Free Future
HoundDog: Japan Will Raise the Fukushima Nuclear Accident Rating to Level 7 on 4/11 (PLS READ: REC LIST as of 11:05 PST)
GlowNZ: One Month
Finehelen10: Uranium Conference Adds Discussion of Japan Accident
Radical def:Fukushima: Greenpeace Urges Wider Evacuation Zone
Nathguy: Fukushima: The Failure was Deliberate indifference and the NRC knew and Lied.
Rock Strongo: Heartbreaking Video from Japan Nuclear Evacuation Zone
Please visit ROV 45 for news, discussion and analysis as well as Coverage@Kos from Friday through Sunday.
Regularly Updated Data Sources
@Kos: A database of temperature, pressure, radiation levels, etc readings over time can be found in: The Daiichi Database This is an evolving diary that will be updated regularly.
• Japanese Atomic Industrial Forum (JAIF)
• RSOS Emergency & Disaster information Services - Japan
• Daily Telephone Media Briefings from Union of Concerned Scientists
• Energy.gov: The Situation in Japan
• EPA RadNet Map View & EPA's Radiation Air Monitoring
Scribble Live
• Fukushima Data Page: Data for all 3 reactors, as well as a good chunk of data over time: pressure, water flow, core nozzle temp, core bottom temp
• Japan Municipal Water Charts (in Japanese)
• Google Crisis Response Page

*New background source:Fleep: Graphing Earthquake, Radiation and Water Data in Japan 3/11 through 4/9

The Radiation Graphs are made from data from monitoring posts setup by the Prefectural Offices, TEPCO and NISA. I am focusing on these as they are only in Japanese and provide a different view on the MEXT Radiation Data that everyone else is graphing. Please note that the graphs do have different scales depending on the data. All Radiation readings are converted to μSv/h for consistency. 3/11 through 4/9
Best News Sources

Kyodo Nuclear News Feed
GreenAction Fukushima Update
NHK Japan Live
OilDrum: Fukushima Open Thread - Tue 3/29
Asahi on Facebook
Reuters
Fukushima Wikispaces
Fukushima Wikispaces Tweet Feeds AND Fukushima Wikispaces Newsround up
Google Earth Engine (download required): Radiation Over Japan. Visit Pachube for mapping.
Rules of the Road
Due to extensive coverage, Coverage@KOS is including diaries covering two-day periods. All coverage is then archived to the group page.
You can assist us in including relevant diaries by providing links to any postings we may have missed to insure they are included in this coverage. Also, note below if diaries are being reposted to other groups so we can direct readers there as well.
Please be kind to kossacks with bandwidth issues. Please do not post images or videos. Again, many thanks for this.
Remember when posting to the thread: STICK TO THE FACTS. Source and link all new information. (This includes insuring authenticity of twitter sources.) Both the Mothership and the ROVs are for reporting and discussing the developing news. Neither space is for opinions or for editorializing on the subject of nuclear energy.
Follow the Japan Nuclear Incident group for 24/7 coverage. Click on heart next to the group name to follow. After following the group, you can access coverage through your personal stream. To join the group, send an email (sidebar to the right).