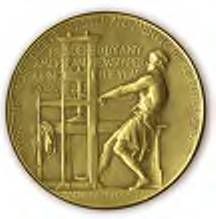 Pulitzer Prize winners for 2011 are. . .below the fold. The medal face you see here is the reverse side. Ben Franklin's profile from the Jean-Antoine Houdon bust is on the obverse. The whole medal is silver with 24-ct. gold plate.
I've been noticing the attention being paid to the impact of e-readers on the publishing industry and want to devote some time in tonight's newsletter about the significant impact on publishing trends this media has had.
Also included tonight is the latest Weekly Magazine Schedule and an update regarding the NFTT Group Challenge fund drive (thanks aravir.) ADMINS PLEASE NOTE: Please check this diary weekly and update your copy of the Weekly Schedule included in your diary series. Please include the NFTT fundraiser link, too. Thank you!
Please turn the page.

Readers & Book Lovers Series Schedule
| | | | |
| --- | --- | --- | --- |
| DAY | TIME (EST/EDT) | Series Name | Editor(s) |
| SUN | 3:00 PM | Science, Math, and Statistics Books | plf515 |
| SUN | 9:30 PM | SciFi/Fantasy Book Club | quarkstomper |
| MON | 8:00 AM | And the Winner Is. . . | 88kathy |
| MON | 11:00 AM | eReader Cafe | Dichro Gal |
| TUE | Noon | The Mad Logophile (bi-weekly) | Purple Priestess |
| TUES | 8:00 PM | Readers & Book Lovers Newsletter | Limelite |
| WED | 7:00 AM | WAYR? | plf515 |
| WED | 8:00 PM | Bookflurries: Bookchat | cfk |
| THU | 11:00AM | Books for Young Adults and Children (BYAC) | Dichro Gal |
| THU | 8:00PM | Write On! | SensibleShoes |
| FRI | 9:00 AM | Books That Changed My Life | etbnc, aravir |
| SAT | 9:00 PM | Books So Bad They're Good | Ellid |
Intermittent Diaries
SUN
?
Justice, Not Charity
Runaway Rose, allie123
You will notice that series marked suspended last week are now canceled since I did not hear from their Editors that they would be continuing. Consequently 3 new slots are open for new series.
Looking for Editors
Mystery is a genre that really needs its own series. In fact, there are other genres that need representation on a weekly basis: thriller/action and graphic/comics.
R&BLers also deserves an on-going series devoted to reviews of current fiction, not to mention a conversation cafe on the classics. Where are our arguments about the Western Literary Canon?
Is there any interest among our members in political books specifically, and non-fiction (history, biography, special interests like photography and art books)? This is a political blog and elections are in the offing -- topical, pertinent, and important.
What about My Favorite Author? as a new series? I'd love to read those diaries where devoted fans gush about their personal "affairs" with writers!
More esoteric, but who knows among our Followers, is antiquarian and out-of-print books that you don't want to forget, or let us forget about. Tell us what those books are and why they're on your shelves.
In fact, it would be great to hear every one of our Followers tell the community about their personal libraries -- how it came into being, where its focus is, what you consider before adding a volume to your collection. If you have an idea for a new series or wish to propose a casual diary for the Group, please message me.
Pulitzer Prizes Awards for 2011
Nonfiction: The Emperor of All Maladies: A Biography of Cancer
Siddhartha Mukherjee
Fiction: A Visit from the Goon Squad
Jennifer Egan
Poetry: The Best of It: New and Selected Poems
Kay Ryan
History: The Fiery Trial: Abraham Lincoln and American Slavery
Eric Foner
Biography: Washington: A Life
Ron Chernow
This year's Pulitzers in hardcovers from Powell's Books (30% limited time discount).
For Kindle.
Publishing Trends
It's all about the phenomenal impact of e-books. They were the number one format of books to be sold in the month of February 2011, surpassing adult hardcover and paperback sales, enjoying a triple-digit percentage growth of 202.3%, vs February 2010. For the year to date 2011 vs 2010), e-books grew 169.4% to $164.1M while
the combined categories of print books fell 24.8% to $441.7M.
Market data and industry anecdote point to an explosion in e-book sales in the US and UK in 2011. Leading consumer publishers are seeing e-book sales at 10-15 percent of total sales in January and February, driven by Christmas device sales.

So far e-books had been strongest in niches: romance, business books and frequent travelers. They have now moved into the mass market: few genres will be untouched.

This shift brings with it a very different market structure, with Waterstones likely to shrink dramatically, technology companies with little stake in the health of publishing taking major roles and publishers faced with disintermediation and forced to build direct consumer relationships for the first time in their history. paidContent.org
With the explosion in popularity of e-books there is a coming trend to market them by brand. The latest ventures in publishing will probably by-pass paper and go straight to e-Ink. Oprah may not have her daily TV show with its widely followed book club, but Oprah may become a publisher. That's right, "Oprah Books" coming to an e-reader near you.
There's no escaping it, the death of the bookstore looms as publishing houses and authors begin direct marketing their wares via social media. Buy your next book off Facebook. Some in the publishing field insist that selling DRM-free ebooks in five different formats, that customers can resell will become de rigueur. Publisher, and even author, to reader direct sales are where the industry is headed.
The $9.99 price point that Amazon associated with best-seller trade titles and that the everyday e-book purchaser thinks should be the top price for all e-books won't last. The trend is for e-books to become more interactive, enriched, and contain more refined illustrations. These are going to cost more. And as increasing numbers of academic books and texts are published as e-books, demands for more sophisticated execution will drive prices up, possibly as high as hardcovers. Think Stephen Wolfram's A New Kind of Science -- a complete HUGE text online and designed to either stand-alone or be used in conjunction with the hardcover. It's available for download to the iPad. Wolfram's revolutionary (or not) e-book is free. The multi-pound hardcover sells for $34 and change on Amazon (not for Kindle yet). For more trends.
Another revolutionary trend in textbook publishing is E. O. Wilson's interactive free online for everyone biology textbook that is under development. Called Life on Earth, it will draw heavily of movies and digital animations and be self-paced.
What I've featured is the tip of the iceberg on how we'll read in the near future. The implications for publishing, bookstores, and even schools are enormous. This isn't change that's merely "coming," this is change that is "avalanching" down on us as I type.
NFTT Groups Challenge Fund Drive Update
As you probably know, NFTT has committed to raising $100,000, which would provide 600 CARE packages to those overseas. Meteor Blades has issued a challenge to DK4 groups to raise a certain amount of money, based on the membership of the group by May 10th. Our goal is $3000.
So far, we have raised $421.67. That puts us at around 14% of our goal. However, of that amount, only $33.33 has come from group members.

aravir estimated that if each group member donated $33.33, we would reach our goal. Now, based on the number of members who have not donated, and the amount raised so far, we would meet our goal if each group member donated $28.03.
Help us meet our goal by the May 10th deadline, if you can. Here's where you can make your donation -- and feel especially great about yourself after doing it!
For the Twitterati
Other than that, nothing's happening!