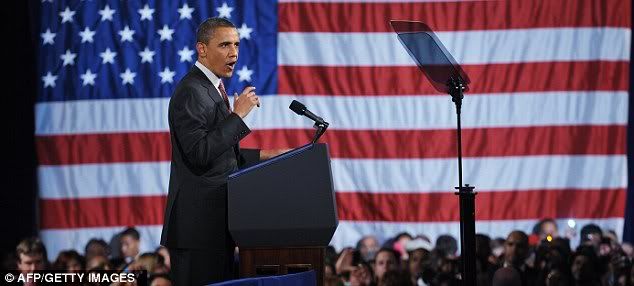 A standing room only crowd of happy supporters of President Obama awaits his arrival, for a summer campaign pep rally, in Ohia, a critical swing state.
The 2011-2012 election cycle is now in full swing.
The background music subsides for a moment, and everyone looks eagerly to the stage, in hushed excitement. Suddenly, the speakers blare, Bruce Springstein's "Born in the USA!"
The crowds cheer, leaping to their feet, in a joyous burst of sing along, looking for our President who can not yet be seen.
Just as it seems the frenzy can reach no higher heights, a young, vibrant President Barack, Born-in-the-USA, Obama, as he has affectionately become known, bounds to the stage, in front of a gigantic American Flag, and the cheers are deafening.
As witless, and vapid as Donald Trump may appear to many, he has handed us Democrats a brilliant winning campaign theme for the next year. Trump has commited a strategic blunder Republican strategists are already, desparately, trying to deflect.
In the article below, a dozen flumuxed GOP strategists, try to put this unexpected boomerang consequence of their birther silliness behind, them. But, will Democrats cooperate? Not a chance! Not a Chance.
GOP Strategists Fear Fallout From Obama Birth Record Without exception, all dozen of the GOP Strategist interviewed for this article express the need for the GOP to put this behind them. Which of course, suggests that we Democrats should drag it out, as long as possible, and rub their nose in it, with our Born in the USA theme song strategy.
The question of whether President Barack Obama was born on U.S. soil ... could significantly damage Republicans' prospects for retaking the White House if it lingers. That was the consensus analysis of more than a dozen experienced GOP political strategists, consultants and operatives who were interviewed Wednesday within an hour of Obama going on national television to publicly release the long-form version of his birth certificate.

These Republicans were nearly unanimous in their desire to see the issue permanently put to rest because they fear it could make the party seem too extreme.

A second GOP operative, adds, "Having this issue go away helps any Republican candidate and the party as a whole." But, of course, clever Democrats are not going to let this winning issue go away, not when if viserally reminds voters how completely silly and backwards, the GOP looks.
Ya think? Now, the GOP is worried about appearing whacky, non-substantive, fringe, and non-serious? Hello!
But they worry that any attention given to the birth certificate issue could paint the Republican Party as out of touch and extreme, making it anathema to independents and swing voters while protecting Obama from the glare of what they view as troubling economic indicators that should sink his re-election bid.
...
"The whole question — and that word gives the whole bizarre thing too much credence — has never mattered to any swing voters in any election," this strategist said. "And, it won't."
Really? The birther issue, "could paint the Republican Party as out of touch and extreme?" You betcha! And this campaign theme song strategy is a great way to cement this meme deeply into our collective pcyche, while allowing President Obama to keep focused on the substantive issues.
Dave Gilliard, a Republican consultant based in Sacramento, Calif., argued that the GOP presidential field needs to stay focused on "kitchen table" economic issues. "Legitimate GOP presidential contenders need to pound away on the spending and debt, gas prices, and most of all the economy, which is an albatross Obama cannot escape from," he said.

The matter seems to have catapulted potential celebrity candidate Donald Trump into the forefront of the 2012 presidential discussion, while doing wonders for Trump's initial support with GOP primary voters. .... More than one GOP operative interviewed for this story referred to Trump as a "nut." Just about all who discussed the birth certificate issue said the matter is unlikely to reach beyond the party's "black helicopter" crowd, voters who they said are unlikely to accept Obama's birth certificate as legitimate documentation.

"It is absurd and embarrassing that we have such a vacuum of substance that a carnival barker like Trump can actually elevate this issue to the level that the president finally had to confront it," added Rob Stutzman, a Sacramento-based GOP consultant who has advised Golden State Republicans.
That "birther" viewpoint appeared to gain mainstream traction in recent weeks, according to public opinion polls, as Trump loudly questioned whether Obama was born here. A USA Today/Gallup poll released Monday showed that only 38 percent of Americans thought the president was definitely born in the U.S.; 24 percent said he probably or definitely was not.

Obama had described the issue as a "silly" distraction from the real problems facing the country. He suggested the issue was cooked up by dishonest "carnival barkers." Republican strategists focused on the 2012 elections tend to agree, among them Republican National Committee Chairman Reince Priebus.

"I think it was a clever tactic by the White House," Stutzman said. "Releasing the certificate draws sympathy to the president from swing voters and further defines elements of the GOP as, frankly, wacky."

Some Democrats may be discouraged to learn of the poll where only 38 percent of Americans think Obama was born in the USA. But, the good news, is that all that don't migth currently be expected to vote for the GOP. So, this is a big conversion opportunity.
With a year long barrage of President Obama --- Born in the USA, with clips from these rallies, making the nightly news on the traditional media, we can watch this little mounds of birthers melt away into dispair. And, any objective independents, or GOP, come on over to the side of reason, and optimism.
I'm sort of psyched about it. What do you think?
PS Just for a contrast take a look at our President's Competition, my diary of yesterday is still active, and I welcome anyone wanted to help us rake, The Donald, and his Hair-Creature, over the coals.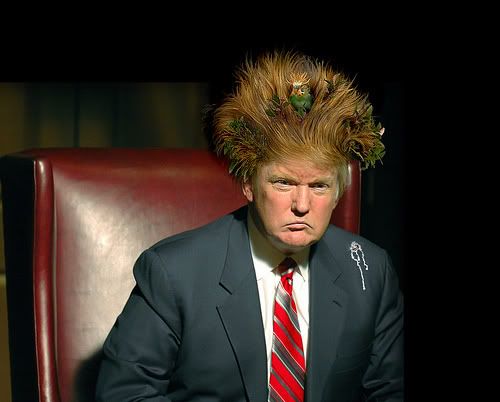 Donald Trump's Hair Creature Must Provide Birth and Rabies Certificates