I attended an academic conference a few months ago and particularly enjoyed one session called Perceptions of Race and Racial Inequity in the Obama Era. The research presented largely challenged the notion that we live in a "post-racial America". I was especially struck by one set of findings but I haven't written about them because the study was in press (accepted for publication, but not net published). With the final version available for download on the primary author's website and the Wall Street Journal reporting on the findings, I can report on a striking finding that shouldn't be horribly surprising:
Whites See Racism as a Zero-Sum Game That They Are Now Losing
Note: I am going to use the terms Blacks and Whites in this diary as this is the terminology employed by the researchers.
In a free society that believes all men are created equal, everybody should have equal access to resources and opportunities for advancement. In America, we haven't necessarily lived up to that idea, though great progress has been made since the civil rights movement gained steam in the 1950s. In terms of how Americans view the march to equality, what we would hope for is pattern akin to that depicted in the chart below, where over time, Blacks rise to the level of Whites.
But is this how Americans actually view equality? Many conservative politicians and pundits have distorted programs created to advance the state of racial/ethnic minorities (e.g., affirmative action in higher education) as taking something away from deserving Whites to give to undeserving Blacks (while ignoring the gains made by whites when racism was codified into law). Note: punditician relayed a story in the comments the really brings this point home. Given this drumbeat of "helping this group comes at the expense of your group" from some quarters, is it possible that White Americans have come to view equality as something threatening to Whites? Might they see equality as depicted below, a zero-sum game where gains by Blacks come at the expense of Whites? And if so, who is "winning"?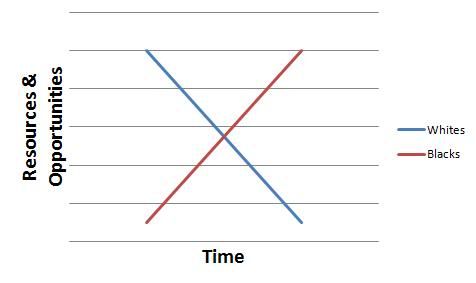 Dr. Michael I. Norton, an associate professor of Business Administration at the Harvard Business School, and Dr. Samuel R. Sommers, an associate professor of psychology at Tufts University, wanted to see just how White America views equality. They worked with an online survey research company to recruit a large representative sample (N = 417; 208 Black, 209 White) of Americans. They matched the sample to representative of Black and White America on age, gender, and education level, as measured by the 2000 census. These demographic variables had no effect on the results and I will not discuss them further.
Norton and Sommers asked the participants to rate on a 10 point scale the degree to which they felt that Blacks and Whites were victims of discrimination for each decade from the 1950s through the 2000s. So each participant answered two questions for each decade:
Indicate how much you think Blacks [Whites] were/are the victims of discrimination in the United States in each of the following decades
The researchers analyzed their findings by looking at both the race of the participant and the race of the target.
I was unsure about copyright issues, so I did not republish the graph from their journal article. I created the image below using the data reported in the paper. The blue lines represent ratings by the Black participants and red lines represent ratings by the White participants. The solid lines are ratings of anti-Black discrimination while the broken lines are ratings of anti-White discrimination. Allow the trend depicted below is perfectly linear, that is not necessarily the case in the graph produced by Norton and Sommers (2011). But the mean ratings for the 1950s and the 2000s found by the authors are depicted accurately below: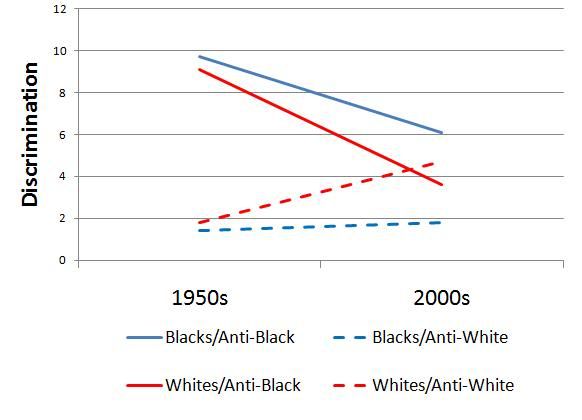 Blacks and Whites have basically indistinguishable views about discrimination in the 1950s, but those views diverge over time. Both see large decreases in anti-Black discrimination, with Whites observing a larger drop than Blacks. The most striking finding is that Whites see an increase in anti-White discrimination such that Whites perceive anti-White discrimination as worse than anti-Black discrimination in the 2000s.
For the statistics people, the authors submitted the ratings to a Race of Participant (between) by Race of Target (within) by Decade (within) mixed-model Analysis of Variance (ANOVA). This yielded a significant three-way interaction, F(5, 376) = 17.39, p< .001. Follow-up t-tests showed that in the 2000s, Whites saw anti-White discrimination as worse than anti-Black discrimination, t(208) = 3.94, p < .001.
But does this mean that Whites view equality is a zero-sum game? Yes, the gains by Blacks seemed to linked to losses by Whites among the White participants. The researchers analyzed the ratings of anti-Black and anti-White discrimination for each decade and found that for Whites, ratings of anti-Black discrimination and anti-White discrimination were significantly and negatively correlated. This means that White participants who gave high ratings of anti-Black discrimination tended to give low ratings of anti-White discrimination. The reverse is also true, with White participants who gave high ratings of anti-White discrimination generally giving low ratings of anti-Black discrimination. The correlations for Black participants were also negative, but the magnitude of the correlations were smaller and they were only statistically significant (the values are likely an accurate reflection of the population) for ratings of the 1970s, 1980s, and 1990s.
Moreover, the change in discrimination toward Blacks and Whites was negatively correlated among White participants, but uncorrelated among Black participants. In other words, White participants who saw anti-Black discrimination declining tended to also see anti-White discrimination climbing. For Black participants, perceived changes in anti-Black discrimination were not linked to perceived changes in anti-White discrimination.
Put shorter: The perceived link between White losses and Black gains was strong for White participants, but almost non-existent for Black participants.
What does this mean? Whites seem to believe that the progress that Blacks have made have largely come at their own expense. This is unsurprising, especially in tough economic times when politicians are blowing racist dog whistles, depicting social programs as a "milk cow with 310 million tits".
The final question is more difficult to answer: What do we do about it?