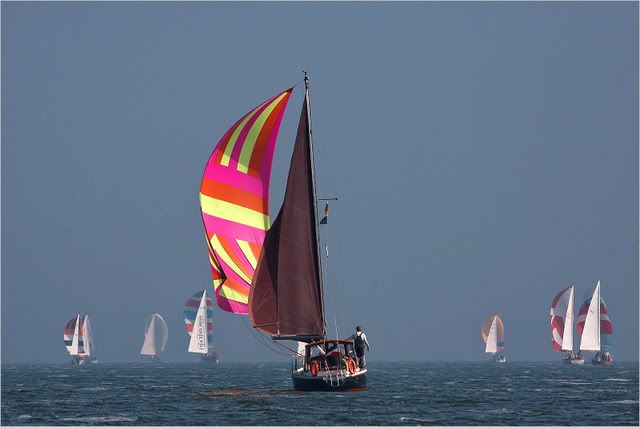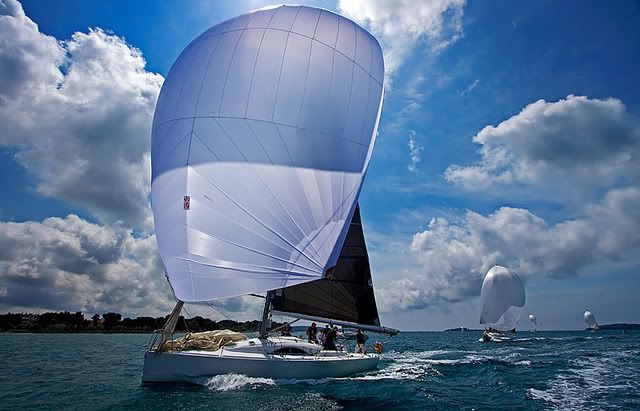 Hello everyone, Happy Friday!
It's that time of year when people get out their summer toys like convertible cars, motorcycles and sailboats...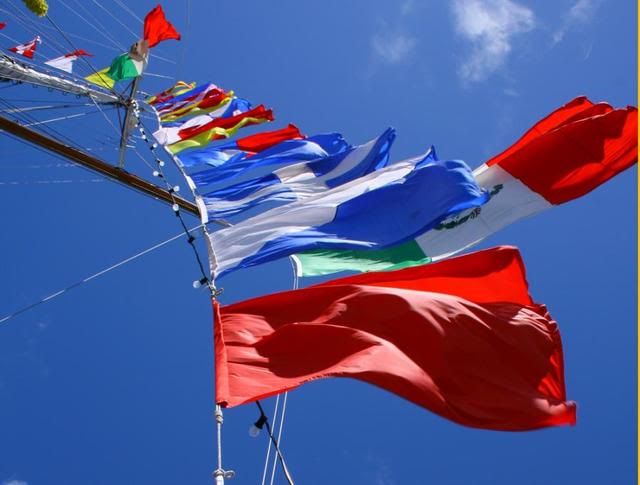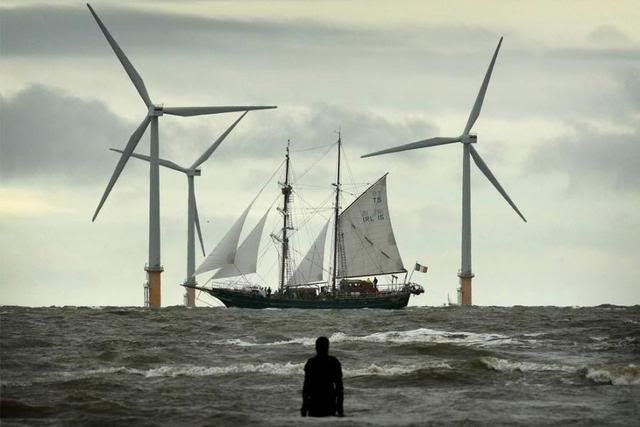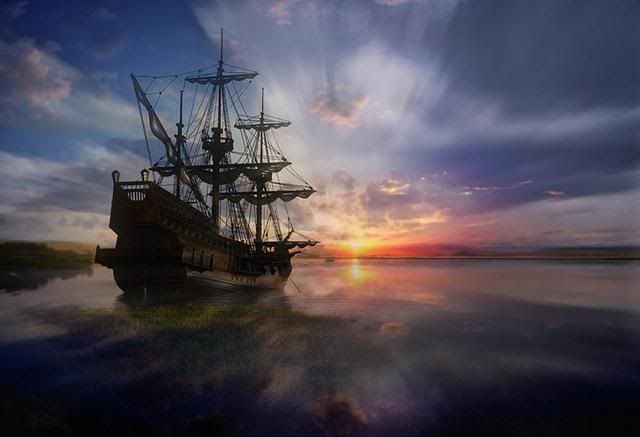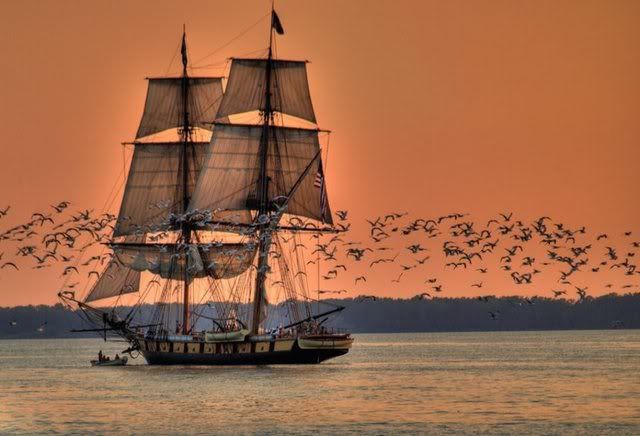 (All photos via Pixdaus.)
Science News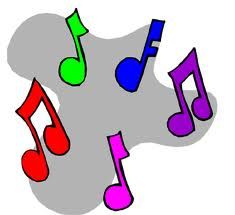 Musical experience and thinking skills go together among older adults. Mental faculties stay sharper after age 60 among people who have played a musical instrument for at least 10 years, compared with nonmusicians, say neuropsychologist Brenda Hanna-Pladdy of Emory University Medical Center in Atlanta and psychologist Alicia MacKay of the University of Kansas Medical Center in Kansas City. In a study to appear in Neuropsychology, experienced amateur musicians between ages 60 and 83 scored particularly well on tests of, object naming, flexible problem solving and memory for drawings. It's not known whether musical training causes brain changes that aid older people's thinking.

Health News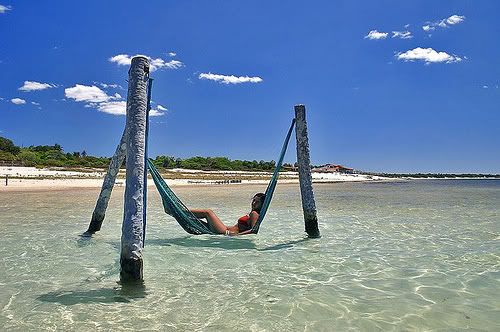 (this article submitted by Jupiter Surf)
By Carolyn Butler
I left for a recent sun-filled getaway determined to protect myself from tropical rays and armed with a cache of lotions, creams, gels and sprays promising advanced, all-day, broad-spectrum, water- and sweat-proof protection, with SPFs all the way up to 100+. I mean, the higher, the better, right?
I returned to Washington five days later with a face full of freckles and a burned scalp, wondering if sunscreen is everything it's cracked up to be.
Not necessarily, say the folks at the Environmental Working Group, a nonprofit that assessed the safety and effectiveness of nearly 500 sunscreens last year. While these products can block harmful UV rays and prevent sunburn, which may lower the risk of skin cancer, "not all sunscreens are created equal, in terms of the level of protection they provide and also in terms of how safe are the actual ingredients," says Olga Naidenko, a senior scientist at EWG.
She adds that since the Food and Drug Administration has yet to finalize sunscreen regulations (a process underway since 1978), manufacturers are not required to show that their products work or to substantiate claims about them. "Everybody is using whatever label words they want . . . and [making] absolutely crazy statements about efficacy which are not substantiated," Naidenko says.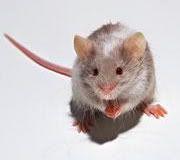 Reprogrammed Cells Repair Damaged Livers
Cells taken from the tips of mouse tails and genetically reprogrammed to mimic mature liver cells can repair damaged livers.
The ultimate goal of such studies is to use the same technique to reprogram human cells, reducing the need for liver transplants in patients with end-stage liver disease. Although the study in mice, published online today in Nature, is still far removed from the clinic, it does provide an important proof of concept: it is thought to be the first time that cells reprogrammed using a process called transdifferentiation - produced without passing through a stem-cell stage - have been shown to fix a damaged organ.
"It's really exciting," says Paul Gadue, a stem-cell biologist at the Children's Hospital of Philadelphia in Pennsylvania who was not involved in the study. "If this work could be translated to humans, it could be very powerful."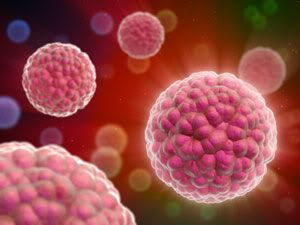 Altered Virus Calls Out Hidden Cancer Cells--and Might Help Fight Them, Too
Most forms of cancer still must be spotted visually to be diagnosed. But if a newly devised virus can do the job, it could track down cancer cells too small or well hidden to be seen in scans. It might also help shrink tumors, too.
The virus in question is a herpes virus, modified genetically to act only on cancer cells.
Using mice, researchers injected the altered virus, which then "deliver[s] genetic information that induces a known blood biomarker for cancer to be secreted by cancer cells," Timothy Cripe, a physician in the Division of Oncology at Cincinnati Children's Hospital Medical Center and co-author of a new paper outlining the technique, said in a prepared statement.
The biomarker, Gaussia luciferase, is easy for researchers to spot via urine or blood tests. The virus might also help to diminish any existing tumors, the study authors reported, making it a so-called theragnostic compound. Altered versions of smallpox and herpes viruses are already in clinical trials to help battle back cancer.
Proud of being overwhelmed? You may be a stress seeker Addicted-to-high-anxiety lifestyles are common and unhealthy, experts say
When you think about it, stress is a mysterious thing: You can't see it or touch it, but you definitely know it's there. And its enigmatic nature just might be preventing us from fully realizing the damage stress can do to our minds, bodies, and spirits.
According to the American Psychological Association, more than half of all women say they're "highly stressed," an increase of 25 percent from just four years ago. But very few do anything to chill out. In fact, many seem to be saying "bring it on!" because somewhere along the line being stretched to the limit turned into a badge of honor.
That's how it was for Meredith Bodgas, 28, of Forest Hills, New York. Before switching to a lower-key Web job, Bodgas worked until 9 p.m. most nights. "I figured anyone who left before 7 p.m. simply wasn't as valuable," she says. She subscribed to the same misguided belief adopted by so many modern women: Stress is synonymous with success—and if you're not totally fried, you may not be doing enough. "I loved it when people would ask me 'How do you do it?' " admits Bodgas, "even though I suspect what some of them really meant was 'Why do you do it?' "
Stress appeal - Turns out, high anxiety may be, well, an actual high.

Pop Culture

X-Men: First Class - Official Trailer. In theaters June 3, 2011.

Darren Aronofsky May Next Direct Sci-Fi Film HUMAN NATURE Starring George Clooney
Just over a month ago, director Darren Aronofsky dropped out of The Wolverine at the last minute. The project, which was set to start filming in March, was left in a state of limbo without a director and with their shooting location of Japan ravaged by a giant earthquake. Now, it looks like Aronofsky is closing in on his next directorial effort following last year's critical lauded Black Swan.
Vulture reports that Aronofsky is eyeing the sci-fi film Human Nature. The spec script by Jeff Welch, which has been around for 15 years, centers on "man who is cryogenically frozen and wakes up years later to a world in which humans have become pets of another species." George Clooney is attaching himself to star, with producer Akiva Goldsman (I Am Legend) currently budgeting the flick. If everything works out, this is expected to be the director's next project.

White House photo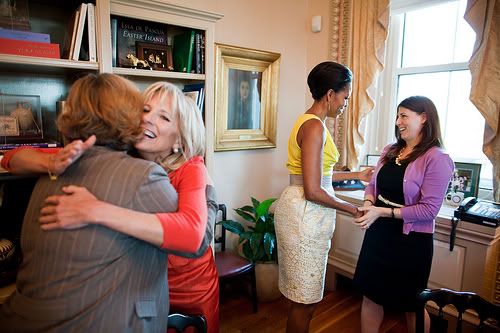 First Lady Michelle Obama and Dr. Jill Biden greet participants during a roundtable meeting with military spouses, veterans, and volunteers to discuss the Joining Forces military families initiative in the Eisenhower Executive Office Building, April 6, 2011. (Official White House Photo by Chuck Kennedy)
Funny Picture
Fashion
Kinect Fitting Room
A Topshop store in Moscow is offering shoppers the possibility of trying clothes on virtually via Microsoft's Kinect technology. The Kinect starts by scanning your body and then it overlays the 3D model of an outfit over you, giving you a general idea of how the outfit will look on you.
Happy Birthday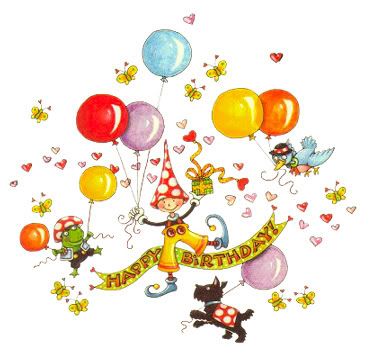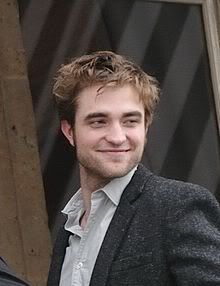 Robert Douglas Thomas Pattinson (born 13 May 1986)[4] is an English actor, model, musician, and producer.[5] Born and raised in London, Pattinson started out his career by playing the role of Cedric Diggory in Harry Potter and the Goblet of Fire.[6] Later, he landed the leading role of Edward Cullen in the film adaptations of the Twilight novels by Stephenie Meyer, and came to worldwide international fame.[7][8] Pattinson was ranked as one of the highest paid actors in Hollywood based on 2009 earnings.[9] In 2010, Pattinson was named one of Time magazine's 100 Most Influential People in The World, and also in the same year Forbes ranked him as one of the most powerful celebrities in the world in the Celebrity 100.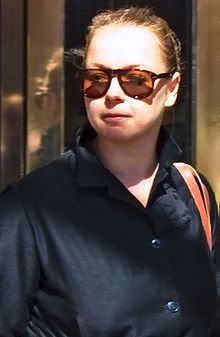 Samantha Jane Morton (born 13 May 1977) is an English actress and film director. She began her performing career with guest roles in television shows such as Soldier Soldier and Boon before making her film debut in the 1997 drama film This Is the Sea, playing the character of Hazel Stokes. After a string of roles in low-budget and television films, she landed the role of Hattie in 1999's Sweet and Lowdown, for which she received the attention from Hollywood, the critical acclaim and an Academy Award nomination for Best Supporting Actress.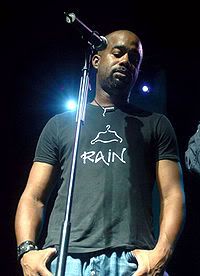 Darius Rucker (born May 13, 1966) is an American musician. Born in Charleston, South Carolina, he first gained fame as the lead singer and rhythm guitarist of the rock band Hootie & the Blowfish, which he founded in 1986 at the University of South Carolina along with Mark Bryan, Jim "Soni" Sonefeld and Dean Felber. The band has released five studio albums with him as a member, and charted six top 40 hits on the Billboard Hot 100. Rucker co-wrote the majority of the band's songs with the other three members.

Stephen Tyrone Colbert born May 13, 1964) is an American political satirist, writer, comedian, television host, and actor. He is the host of Comedy Central's The Colbert Report, a satirical news show in which Colbert portrays a caricatured version of conservative political pundits.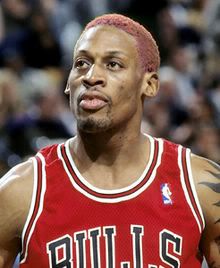 Dennis Keith Rodman (born May 13, 1961) is a retired American professional basketball player of the National Basketball Association's (NBA) Detroit Pistons, San Antonio Spurs, Chicago Bulls, Los Angeles Lakers and Dallas Mavericks. Born in Trenton, New Jersey, he was nicknamed "Dennis the Menace" and "The Worm" and was known for his fierce defensive and rebounding abilities. Playing small forward in his early years before becoming a power forward, Rodman earned NBA All-Defensive First Team honors seven times and was voted NBA Defensive Player of the Year twice. He also led the NBA in rebounds per game for a record seven consecutive years and won five NBA championships (1989, 1990, 1996, 1997, 1998). His biography at NBA.com states that he is "arguably the best rebounding forward in NBA history". On April 1, 2011, the Pistons retired Rodman's #10 jersey that he wore throughout his tenure with the team.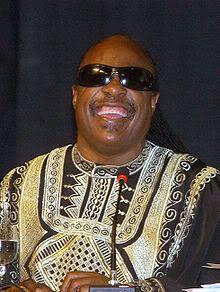 Stevland Hardaway Judkins (born May 13, 1950), name later changed to Stevland Hardaway Morris,[1] known by his stage name Stevie Wonder, is an American singer-songwriter, multi-instrumentalist, record producer and activist.[2] Blind since shortly after birth,[3] Wonder signed with Motown Records' Tamla label at the age of eleven,[2] and continues to perform and record for Motown to this day.
Among Wonder's best known works are singles such as "Superstition", "Sir Duke", "I Wish" and "I Just Called to Say I Love You". Well known albums also include Talking Book, Innervisions and Songs in the Key of Life.[2] He has recorded more than thirty U.S. top ten hits and received twenty-two Grammy Awards, the most ever awarded to a male solo artist. Wonder is also noted for his work as an activist for political causes, including his 1980 campaign to make Martin Luther King, Jr.'s birthday a holiday in the United States.[4] In 2009, Wonder was named a United Nations Messenger of Peace.[5] In 2008, Billboard magazine released a list of the Hot 100 All-Time Top Artists to celebrate the US singles chart's fiftieth anniversary, with Wonder at number five.

Quote of the day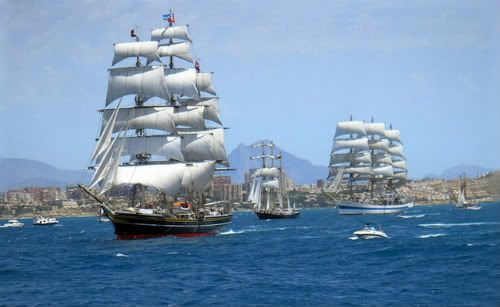 I keep sailing on in this middle passage. I am sailing into the wind and the dark. But I am doing my best to keep my boat steady and my sails full.
~Arthur Ashe