Well, that little truce didn't last very long.
But hey!
We have to give those 42 GOP Congresscreatures credit for scrawling letters down on paper and sending them to the President.
Right?
I mean, stringing words together is tough business and at least 3 GOP crayons were broken while they were trying to draft that letter.
GOP Freshmen On Medicare Attacks: Let's Let Bygones Be Bygones
We know they were probably concentrating real hard while writing it: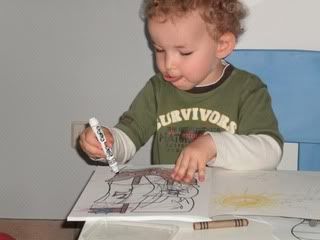 They probably want some credit for all their hard work, even if they weren't really being sincere at all. And we better give it to them, or they'll probably start whining again.
After all, it's the thought that counts...or maybe not.