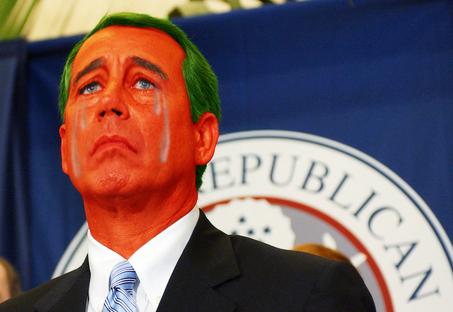 And has the Weeper of the House broken a law?
Amanda Terkel at Huffington Post, who's been on the DOMA story like white on rice, has some new and exciting disclosures today. Seems, no one on the Hill knows where exactly the budget appropriations are coming from to pay Paul Clement's salary.
Moreover, Speaker Boehner may have broken the law by obligating the government to a contract there has been no appropriation for.
The House of Representatives has signed a contract to pay a law firm up to $500,000 (and possibly more) to defend the Defense of Marriage Act (DOMA) in federal court. But there's a problem with this arrangement: No one seems to know where that money is going to come from, and at least one lawmaker believes House Republicans may be violating federal law.
See, it seems the House Bipartisan Legal Advisory Group (BLAG) voted to take on the defense of DOMA in a 2/3 split (need I mention 2 Dems vs. 3 GOP?) has no actual budget of their own.
Rep. Mike Honda of California is following the money:
Rep. Michael Honda (D-Calif.) pressed House General Counsel Kerry Kircher on the matter. Although the contract states that "the General Counsel agrees to pay the Contractor for all contractual services," Kircher said he was told by the House Republican leadership that no funds would come out of the Office of General Counsel's budget for this purpose.
Furthermore:
Honda believes that Boehner's agreement could be violating the Antideficiency Act, which prohibits "involving the government in any obligation to pay money before funds have been appropriated for that purpose." Knowingly violating the law could lead to being fined or imprisoned.

A source familiar with House finances told The Huffington Post that Honda may have a case. The House General Counsel signed the contract and agreed to pay the funds. But since he has admitted that his office doesn't have the money for this case, House leadership would have to have the funds reprogrammed or transferred from other House accounts. The source said that transfer should have been executed before Kircher signed the contract with Clement and Bancroft.
Hat tip to Joe Sudbay at AmericaBlog.
Not much to add myself, are we surprised Republicans can't follow the rules? No. Are we surprised in their zeal to go medieval on the gays they couldn't pause long enough to figure out how they were going to pay for it?
How about showing some fiscal conservatism Speaker Boehner?