There's some important news on the health care front.
For Americans utterly incapable of shelling out another nickel for skyrocketing health insurance premium, HHS has finally stepped in and is going to require the insurance industry to explain rate hikes over 10%.
This is what the New York Times and other news organizations are reporting today.
Alarmed at soaring premiums and profits in the health insurance industry, the Obama administration demanded on Thursday that insurers justify proposed rate increases of more than 10 percent, starting in September.
Of course, just as night follows day, AHIP is pushing back with clever accounting sleigh-of-hand and concoctions designed to conceal the huge profits insurers are making.
Let's review for a moment, why insurers are doing so well. They're flush with cash and record profits because the industry has been able to amass a fortune by avoiding paying for care. They do this by moving their policyholders into high-deductible plans and spending far less on medical care—and far more on overhead—than they have in the past. We're all paying way more for way less. Higher deductibles, co-pays, co insurance, all designed to put a financial barrier between you and health care.
Much to their credit, HCAN and our national hero Wendell Potter are tirelessly working to explain the AHIP deceit.
How does AHIP get away with such bold faced lying? Well, because they can. Here's the truth though.
Health care plans (insurance companies) have an ROE (return on equity) of over 16% By this measure, health insurers are ranked fourth highest of the 16 industries in the health care sector. They deliver a higher return for investors than cell phone companies, beer companies, mortgage companies, life insurance companies, TV broadcasters, drug store companies or grocery stores.
Yesterday in the Huffington Post, Wendell(God bless him), went even further. He describes the culture of deceit within the for-profit insurance industry and its chief lobbyist AHIP. How they turn the truth about profits into a campaign of lies designed to obscure and shield their members from the spotlight of truth.
I turned 43 a couple of weeks after I joined CIGNA in 1993. One of the birthday gifts from my new colleagues was a framed three-word quote by E. B. White: "Be obscure clearly."

We laughed and laughed. It was an inside joke -- and a perfect present for an HMO PR guy who more than a few times had to be obscure when responding to media inquiries. Reporters always wanted more information than I dared give them, but I had to give them something. Hence the need to follow White's sage advice.

. . .Yesterday, Robert Zirkelbach, spokesman for America's Health Insurance Plans (AHIP) took aim at the health care advocacy group Health Care for America Now (HCAN). HCAN took issue with AHIP's assertion that the average profit margin for health insurance firms is just 4.4 percent. Zirkelbach did not explain how he came up with that figure, but considering the fact that the big for-profit insurers had significantly higher margins than 4.4 percent last year (according to Yahoo! Finance), AHIP's calculations must have included the insurers that, at least in theory, don't make profits at all, like the so-called nonprofit Blue Cross and Blue Shield plans.

In a memo to editors and reporters Thursday afternoon, HCAN took issue with the 4.4 percent figure and accused AHIP of trying to pull the wool over journalists' eyes.

"AHIP's focus on profit margins is misleading and designed to protect their massive income by shifting attention away from their return on equity -- a key measure of profits as a percentage of the amount invested," HCAN's executive director, Ethan Rome, wrote.

"That return is a phenomenal 16.1 percent as of today. By that measure, health insurers are ranked fourth highest of the 16 industries in the health care sector. The health insurance industry has a higher return for investors than cell phone companies, beer companies, mortgage companies, life insurance companies, TV broadcasters, drug store companies, or grocery stores."
But in the end, there's no more running from the huge profit margins generated from soaring premiums and a falling MLR. HHS issued the final rules on Thursday and we have to hope that in the coming months, we might begin to see some relief. Of course, this won't help the 60 million Americans with no health insurance, they will have to continue waiting until 2014 when the ACA is fully implemented.
The CIGNA MLR (Medical Loss Ratio--the percent of premium dollars spent on delivering health care) is appalling.
Health insurer Cigna Corp.'s (CI) first-quarter profit rose 52% on growth in enrollment and revenue and patients' relatively moderate use of medical services.

. . .Deutsche Bank analyst Scott Fidel said the strong quarter was marked by upside in each key business segment. The commercial medical cost ratio--the percentage of premium revenue used for patient care--was much lower than he had expected, at 77.3%, compared with 82.9% a year earlier.
And the AHIP lying continues unabated.
AHIP misleads with colorful charts and graphs filled with self-serving crap.
And this one from Fortune occupies a prominent position on the AHIP web site.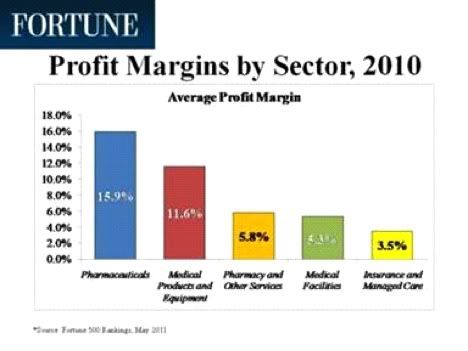 And the next time a Republican talks about how 'Obamacare' is turning the magnificent U.S. healthcare system into some socialist experiment, remember this.