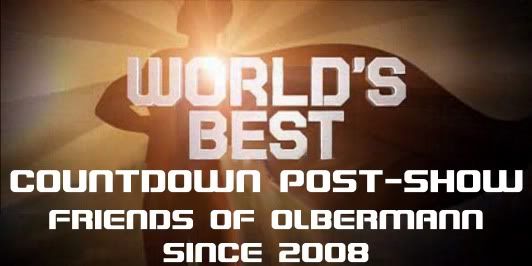 No, this logo probably isn't the one that'll be used for the diary series once the show's actually on the television machine. ;D Until I officially begin begging y'all with teh artistic ability to submit THE official diary logo, I'm just going to kind of recycle through all of the Mr. Keith material I have. Me thinks there won't be too many objections to that plan.
Welcome to the countdown to Countdown with Keith Olbermann diaries that will transition back to the good 'ol Countdown with Keith Olbermann once the show begins exactly 1 month from tonight on CurrentTV at 8 pm & repeats at "the usual" times. Do you get CurrentTV on your television machine? Better click here to find out! :D
The purposes of this specific diary series are many - fold. I need to get used to doing back - to - back diaries 5 nights a week because I will continue to diary The Rachel Maddow Show after Keith's show begins. Doing this run - up will help me with timing, material, posting timing & issues, etc. This series also will hopefully introduce people to Keith Olbermann's life & career (from Wiki, his own website, and his books) to those who may not know so much about him - with the full realization that if you frequent Daily Kos, ya' probably know your Mr. Keith pretty sparkin' well. ;D Don't be surprised to see segments from the MSNBC version of the show to give an idea as to what to expect from Keith's triumphant return to the television machine. Y'all don't mind THAT possibility, do you? I didn't think so.
To begin discussion of Keith Olbermann's life & career, I quote from Charles Dickens' David Copperfield, "To begin my life with the beginning of my life, I record that I was born..." He was born in New York City on January 27, 1959. His Mom, Marie Olbermann, was a preschool teacher & a life - long fan of baseball that she passed onto her son. His Dad, Theodore Olbermann, was an architect. Keith was generous enough to introduce his parents to us through powerful segments & "special comments" upon their deaths around a year apart. Keith also has a younger sister, Jenna, and a niece & nephew - who are cuter than a bug's ear if you've seen pictures. :D
I'll throw in some other early life/career material in comments, so welcome to all F.O.O. old & new! Keith is BACK on the television machine t - 1 month exactly!!