Once again the time has come to gather around and take a well deserved hiatus from the politics of the day. Science talk is here. New discoveries, new takes on old knowledge, and other bits of news are all available for the perusing in today's information world. Over the fold are selections from the past week from a few of the many excellent science news sites around the world. Today's tidbits include new thinking about early emerging life, maybe evolution is more than survival of the fittest, artificial tissue promotes skin growth in wounds, oil palm plantations are no substitute for tropical rainforests, a new strategy aims to reduce agricultural ammonia, scientists cultivate human astrocytes (very common brain cells) in a lab dish, and energy harvesters transform waste heat into electricity. Gather yourselves around. Pull up that comfy chair and bask in the sunshine. There is plenty of room for everyone. Get ready for one more session of Dr. Possum's science education and entertainment.
Featured Stories
Researchers studying ancient Canadian rocks have found evidence that challenges current theories of early emerging life.
Carbon found within ancient rocks has played a crucial role developing a time line for the emergence of biological life on the planet billions of years ago. But applying cutting-edge technology to samples of ancient rocks from northern Canada has revealed the carbon-based minerals may be much younger than the rock they inhabit...

(snip)

The samples come from the Nuvvuagittuq Supracrustal Belt, a sedimentary banded iron formation located in the Archean Superior craton, one of the earth's ancient continental shields. Samples were subjected to a range of high-tech tests in an effort to more clearly characterize the carbon in the rock.

Traditional techniques used by scientists have involved collecting samples and crushing them into powder and then determining the bulk characteristics of carbon minerals. The new approach relies upon a variety of microscopy and spectroscopy methods to characterize intact micro-fabricated cross-sections of crystalline graphite removed from the rock samples. The results found that the carbon was very young compared to the age of these oldest rock samples ever unearthed.
Evolution has long been thought to be the result of survival of the fittest but new research suggests errors in protein structure sparked evolutionary diversity.
Over four billion years of evolution, plants and animals grew far more complex than their single-celled ancestors. But a new comparison of proteins shared across species finds that complex organisms, including humans, have accumulated structural weaknesses that may have actually launched the long journey from microbe to man.

(snip)

On their own, these unstable proteins might be expected to perform their cellular duties more poorly, possibly causing harm to the organism. But unstable proteins are also "stickier," more likely to form associations with other proteins that could introduce more flexibility and complexity into the cell. If these complexes create a survival advantage for the organism, forces of natural selection should take over and spread the new protein complex through the population.
The treatment and repair of skin wounds in humans is a serious medical challenge which may be made easier by artificial tissue.
Victims of third-degree burns and other traumatic injuries endure pain, disfigurement, invasive surgeries and a long time waiting for skin to grow back. Improved tissue grafts designed by Cornell scientists that promote vascular growth could hasten healing, encourage healthy skin to invade the wounded area and reduce the need for surgeries.

(snip)

The biomaterials are composed of experimental tissue scaffolds that are about the size of a dime and have the consistency of tofu. They are made of a material called type 1 collagen, which is a well-regulated biomaterial used often in surgeries and other biomedical applications. The templates were fabricated with tools at the Cornell NanoScale Science and Technology Facility to contain networks of microchannels that promote and direct growth of healthy tissue into wound sites.

(snip)

A key finding of the study is that the healing process responds strongly to the geometry of the microchannels within the collagen. Healthy tissue and vessels can be guided to grow toward the wound in an organized and rapid manner.
Wildlife are endangered by the continued growth of oil palm plantations.
Palm oil, used in food, cosmetics, biofuels and other products, is now the world's leading vegetable oil. It is derived from the fruit of the oil palm, grown on more than 50,000-square miles of moist, tropical lowland areas, mostly in Malaysia and Indonesia. These areas, once covered in tropical rainforest, the globe's richest wildlife habitat on land, are also home to some of the most threatened species on earth.

(snip)

Within countries, oil palm is usually grown in a few productive areas, but it looks set to spread further. Demand is increasing rapidly and 'its potential as a future agent of deforestation is enormous', the study says.

Most of the suitable land left is within the last remaining large areas of tropical rainforest in Central Africa, Latin America and Southeast Asia. Where oil palm has replaced tropical forest the impact on wildlife depends on what species survive in the new oil palm habitat.

The study confirmed that oil palm is a poor substitute habitat for the majority of tropical forest species, particularly forest specialists and those of conservation concern.

Ammonia is an abundant agricultural gas which contributes to air pollution.
Besides its pungent smell, ammonia that volatilizes from cattle manure is highly reactive in the atmosphere, forming particulates that travel long distances and contribute to environmental problems such as acid rain, nutrient pollution, and smog.

Feeding tannins (ed: a group of natural plant compounds) to cattle could not only help dairy farmers reduce these impacts and meet regulatory standards, Powell says, but tannins could also boost nitrogen use efficiency in cows, thereby decreasing the need for expensive protein supplements. Only 20 to 35% of feed nitrogen ends up in milk on commercial dairy farms, with the remainder excreted about equally in manure and urine as the compound, urea.

Urea is produced when nitrogen-rich proteins break down mainly in the cow rumen, forming ammonia gas that's eventually converted to urea before being excreted. Tannins are thought to cut urea production by somehow allowing more protein to escape digestion in the rumen and enter the cow intestine, where it's used more efficiently to produce milk protein.
Astrocytes have long been considered a structural item similar to putty holding the brain cells together.
Although astrocytes have gotten short shrift from science compared to neurons, the large filamentous cells that process and transmit information, scientists are turning their attention to the more common cells as their roles in the brain become better understood. There are a variety of astrocyte cell types and they perform such basic housekeeping tasks as helping to regulate blood flow, soaking up excess chemicals produced by interacting neurons and controlling the blood-brain barrier, a protective filter that keeps dangerous molecules from entering the brain.

Astrocytes, some studies suggest, may even play a role in human intelligence given that their volume is much greater in the human brain than any other species of animal.
The ability to grow large numbers of these cells in the laboratory offers may opportunities to study their function.
They could be used as screens to identify new drugs for treating diseases of the brain, they can be used to model disease in the lab dish and, in the more distant future, it may be possible to transplant the cells to treat a variety of neurological conditions, including brain trauma, Parkinson's disease and spinal cord injury. It is possible that astrocytes prepared for clinical use could be among the first cells transplanted to intervene in a neurological condition as the motor neurons affected by the fatal amyotrophic lateral sclerosis, also known as Lou Gehrig's disease, are swathed in astrocytes.
In the US more than 50 percent of energy produced by all sources is lost as waste heat.
(Researcher) Hunter's technology uses cantilever structures that are about 1 millimeter square in size. About 1,000 of these energy converters can be attached to a 1-inch square surface such as a computer chip, concentrated photovoltaic cell or other devices that generate heat. Although the amount of electricity each device can generate is small – 1 to 10 milliwatts per device – many arrays of these devices can be used to generate sizable amounts of electricity that can power remote sensor systems or assist in the active cooling of the heat generating device, reducing cooling demands.
Other Worthy Stories of the Week
Google search patterns could track MRSA spread
Milky Way galaxy has mirror-like symmetry
Satellites spot illegal logging of uncontacted tribes' home
Scientists fight University of California to study rare ancient skeletons
Landsat offers stunning comparison of flooding
Researchers gain new insights into comet Hartley 2
Free floating planets may be more common than stars
Octopuses make some pretty good moves
World record of 18.7 percent set in flexible solar efficiency
Can Mississippi River sediment be used to repair the coast?
A direct path for understanding and treating brittle bones
Japan considers a plan to make solar panels compulsory for new buildings
LED bulbs hit 100 watts as federal ban looms
Spiders suffer from human impact
Archeologists uncover oldest mine in the Americas
Researchers create nanopatch for the heart
For even more science news:
General Science Collectors:
Alpha-Galileo
BBC News Science and Environment
Eureka Science News
LiveScience
New Scientist
PhysOrg.com
SciDev.net
Science/AAAS
Science Alert
Science Centric
Science Daily
Scientific American
Space Daily
Blogs:
A Few Things Ill Considered Techie and Science News
Cantauri Dreams space exploration
Coctail Party Physics Physics with a twist.
Deep Sea News marine biology
Laelaps more vertebrate paleontology
List of Geoscience Blogs
ScienceBlogs
Space Review
Techonology Review
Tetrapod Zoologyvertebrate paleontology
Science Insider
Scientific Blogging.
Space.com
Wired News
Science RSS Feed: Medworm
The Skeptics Guide to the Universe--a combination of hard science and debunking crap
At Daily Kos:
This Week in Science by DarkSyde
Overnight News Digest:Science Saturday by Neon Vincent. OND tech Thursday by rfall.
Pique the Geek by Translator Sunday evenings about 9 Eastern time
All diaries with the DK GreenRoots Tag.
All diaries with the eKos Tag
A More Ancient World by matching mole
Astro Kos
SciTech at Dkos.
NASA picture of the day. For more see the NASA image gallery or the Astronomy Picture of the Day Archive.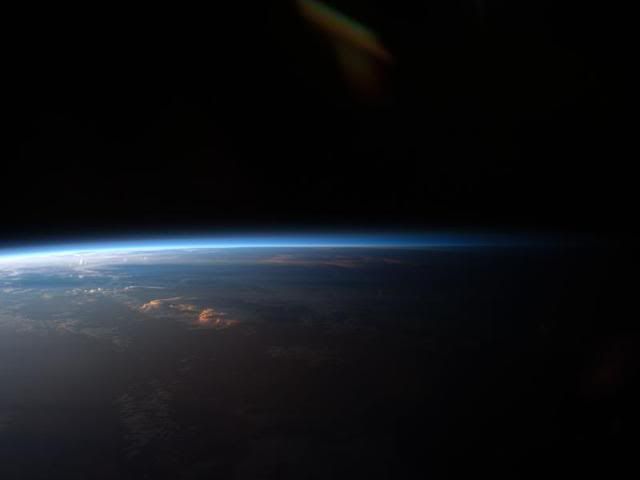 Sunset over South America, NASA, Public Domain