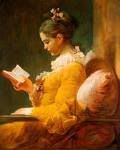 Outside of a dog, a book is a man's best friend. Inside of a dog, it's too dark to read.
—Groucho Marx
All over America, local governments are closing public libraries. Or privatizing them. There was a time -- not too long ago -- when there existed the idea that governments and libraries in partnership created sustainable communities. Once, a town could not boast of itself as being worthy of a spot on the map unless it had a public school system and a public library. What has happened that this partnership is itself, non-sustainable? Is it the fault of our libraries? Or of our government?
Here in Florida, a state universtity asks, "Why Do Libraries Close?" and provides answers in this study.
Politicians have washed their hands. In the eyes of the conservatives, libraries can go by the wayside no harm done in the name of lowering taxes. According to them, the Internet has made libraries obsolete. Anything you -- especially young people -- may want to read is online, they say. Is that so?
Please turn the page.
Anyone who has been a Follower of Readers and Book Lovers knows that "book lover" is not a pejorative term, that "book lover" is a strong self-identifier, that "book lover" is an emotional component of our very beings. So much so, that we harbor strong feelings about whether a "book lover" can ever really be a "Kindle lover," for instance.
The Internet, to the book indifferent, is good enough for those of us plagued by the reading habit. I have a question for those politicians: How many book lovers has the Internet produced?
The library of my youth was a converted Florida pine house. Its white-painted clapboard sides, sash windows, and small veranda at the front door did not remotely resemble a government building. Yet, it was sustained by my parents' taxes, two among a community of about 2,500 who assessed themselves so that a skinny child with a reading habit could get a fix all day Saturday. I spent hours of my dyspeptic teen-aged years hiding from my elders and my peers among the admittedly musty shelves that contained at most about one book per person in our little town. In my memory, the library was virtually deserted except for me and the lone librarian. I curled in wicker chairs and read The New Yorker; I browsed shelves of fiction until I found War and Peace; I scanned non-fiction and settled on Profiles in Courage; I even went to work part time, shelving books, which probably proves I was not the only patron. To me, if I couldn't be on the water, being in the library was bliss, its books were my companions, my refuge and solace. Only gnawing hunger could make me put my book down and walk back up the hill to home, where, after a hearty sandwich, I was likely to curl up with another book.
What has gone wrong? How did it happen that America is losing its public libraries? It may have started when the library scientists shifted their institutions from having "patrons" to having "customers' or "clients." It may have happened when Grover Norquist got Republicans to make cutting taxes their theology. It may be technology is to blame, but I find that hard to believe; in fact, perhaps it will be their savior. [See R&BLers: The Digital Republic of Letters Re-Envisioned in The Digital Library of America]
What I do believe is that technology will never produce book lovers. Books and the public's free access to them will. Free public libraries, abodes of peace and liberty, are the fertile ground from which book lovers grow. They are the structures that symbolize best the Great Experiment that is America. If they are to die, then so will our country as we know it and as the Founders intended it.
Support your local public library. It is a political act. Read a book. It is a political act. Become a book lover. It is a political act.
Readers & Book Lovers Series Schedule
| | | | |
| --- | --- | --- | --- |
| DAY | TIME (EST/EDT) | Series Name | Editor(s) |
| SUN | 3:00 PM | Science, Math, and Statistics Books | plf515 |
| SUN | 9:30 PM | SciFi/Fantasy Book Club | quarkstomper |
| MON | 8:00 AM | And the Winner Is. . . | 88kathy |
| MON | 8:00 PM | My Favorite Books & Authors | billssha |
| TUE | 8:00 AM | Calvacade of Words | aravir |
| TUE | Noon (bi-weekly) | The Mad Logophile | Purple Priestess |
| TUE | 8:00 PM | Readers & Book Lovers Newsletter | Limelite |
| WED | 7:30 AM | WAYR? | plf515 |
| WED | 8:00 PM | Bookflurries: Bookchat | cfk |
| THU | 2:00 PM (bi-weekly) | eReaders & Book Lovers Club | Limelite |
| THU | 8:00PM | Write On! | SensibleShoes |
| FRI | 9:00 AM | Books That Changed My Life | etbnc, aravir |
| FRI | NOON | Pros and Contests | Alexi Hershey |
| FRI | 9:00 PM (every 3rd week) | A Book, Its Movie, and a Glass of Wine | mdmslle |
| SAT | 9:00 PM | Books So Bad They're Good | Ellid |
Intermittent Diaries
SUN
?
Justice, Not Charity
Runaway Rose, allie123
NOTE:
Though not part of R&BLers Weekly Magazine Series, please look for "Indigo Kalliope: Poems From the Left" by various authors republished here every WED NOON by
aravir
.
Linky Goodness
For the Twitterati: @dKosBooks Receive automatic notification the instant we publish new content on your mobile or residential device.
To Follow Readers and Book Lovers Group: Clicking this link allows you to follow Readers & Book Lovers.
Other that that, nothing's happening.