During the period from about 7600 to 6300 BCE, people in the Near East began to domesticate plants and animals. The domesticated cereals provided the people with a new economic system, one in which people manipulated nature for their own benefit. It also meant that they could settle into permanent villages and support larger populations.
These early Neolithic farmers also domesticated animals—sheep, goats, cattle—which provided them with food (meat and milk), wool, and traction power.
These domesticated plants and animals were then introduced into areas where there were no wild progenitors. By 7000 BCE, farming as a way of life was spreading from what is modern-day Turkey into modern-day Greece. From 5400 to 4900 BCE, Neolithic farmers called Bandkeramik by archaeologists spread across the Hungarian plain, then into Slovakia, the Czech lands, Austria, Germany, and Poland. They then spread into the Low Countries and eastern France. This movement of farming into central Europe seems to represent a colonization process rather than an in situ development. In other words, this was not just a diffusion of domesticated plants and animals, but a migration of farming peoples.
Bandkeramik sites are spread across Central Europe, from Slovakia and the western Ukraine, to eastern France and Belgium. These farming people located themselves along the rivers and streams of the rolling uplands of central Europe. They settled in basins filled with loess soil, which is very fertile. Bandkeramik settlement sites, called settlement cells, are usually separated from each other by some distance.
The Bandkeramik fields were surrounded by trees. While initially archaeologists thought that the Banderkamik engaged in slash-and-burn agriculture, further research as shown that their small fields were located in the fertile zone where the floodplain meets the watershed. Throughout the Bandkeramik area, the people grew emmer and einkorn wheat, peas, lentils, and linseed. Barley was also grown in some areas. The cereals and livestock used by Bandkeramik have no native counterparts in Central Europe.
Eincorn is shown above.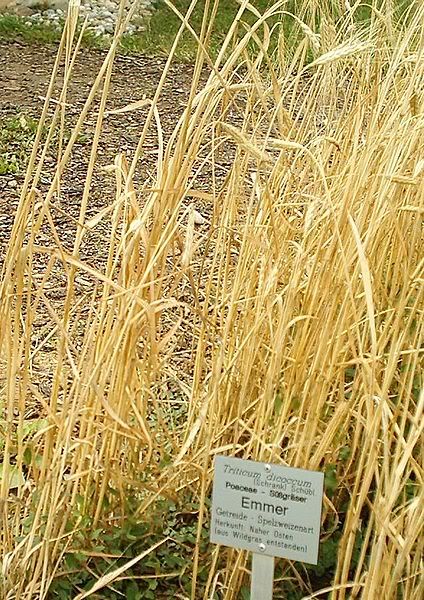 Emmer is shown above.
The Bandkeramik also engaged in animal husbandry. Cattle, likely used for dairy, were the dominate domesticated animal. Sheep and goats were also raised. Hunting did not make a significant contribution to the diet.
Bandkeramik material culture is very uniform over wide areas, particularly in the earliest phases. One of the characteristic markers of Bandkeramik culture is pottery known as Linear-bandkeramik (LBK). There was no pre-existing pottery tradition in Europe.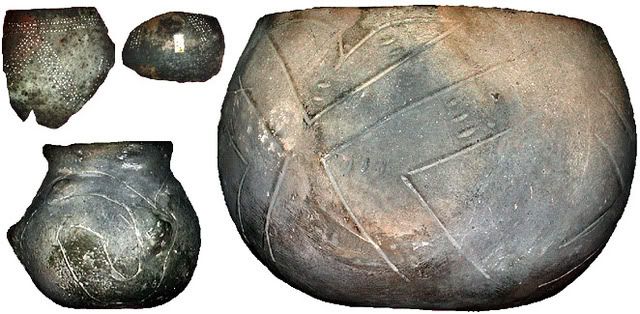 The pottery was often decorated with incised lines, strokes, and indentations. Most of the decorated vessels take the form of a three-quarters-spherical bowl. They are made from high-quality clay and are rarely tempered. The curvilinear incised lines were made with a stylus. During the last phases of Banderamik culture, many pots were decorated with dots or strokes which were made in parallel rows using a denticated spatula. The coarse ware is often in the form of large flasks which were decorated with patterns of fingernail impressions.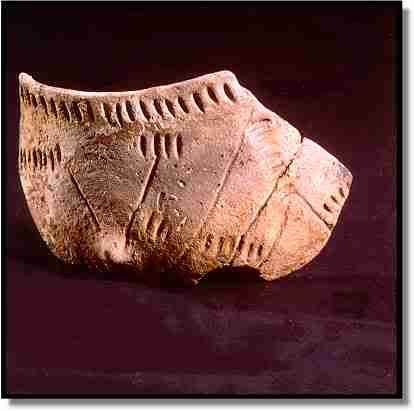 Bandkeramik pottery from the village and cemetery site near Vaihingen/Enz in Germany is shown above.
The Banderamik cultures belong to an era which archaeologists call the Neolithic (New Stone Age) which means that they had a heavy reliance upon lithic (stone) technology. The Bandkeramik flint technology was quite different from the types used by the local foraging cultures.
The Bandkeramik flaked stone tools included knives, sickle blades, borers, burins, and scrapers. To harvest their cereal crops, the Bandkeramik manufactured sickles by inserting flint blades inside of a curved piece of wood. The process of breaking (flaking) stone to form tools is not a random process: it is not simply a matter of banging two stones together. The toolmaker will take a piece of stone and shape it into a culturally acceptable form. Thus, in a culture the same basic tool shapes appear over and over again.
One important thing to understand about stone tools is that not all stone can be used in tool-making. In flintknapping, the Bandkeramik people needed stones that would break in a predictable fashion and would provide a sharp edge. In making their stone tools, they tended to use high-quality flint which meant that the stone for these tools often had to be transported over long distances. In addition, they also used obsidian, a type of volcanic glass which provides an extremely sharp edge. The obsidian had to be imported over even longer distances.
Another way of making stone tools is through grinding. Ground stone tools can be made from stone which is not usable for flaking. Among the ground stone tools used by the Bandkeramik people were adzes and chisels. One of the typical Bandkeramik tools was the shoe-last celt which was made by attaching a ground stone chisel blade to a handle. This tool worked like the modern plane and removed flakes of wood. These were used in carpentry and in the construction of their longhouses.
The Bandkeramik house forms are totally unlike anything found in Europe previously. The Banderamik longhouses were up to 148 feet (45 m) in length. At this time, these longhouses were the largest buildings in the world. They were multipurpose structures which provided shelter for both humans and livestock. They also provided storage and workshop space. They were built from massive timber posts, usually in five rows, two forming the exterior walls and three providing the interior support for the roof. They had rectangular floor plans: 23 to 148 feet (7 to 45 m) long and 16 to 23 feet (5 to 7 m) wide. The space between the posts on the exterior walls was filled with wooden wattle (woven twig and branches) which was then plastered with mud taken from elongated pits dug alongside the walls. The houses were often rebuilt in the same locations.
Bandkeramik houses were usually constructed on gravel river terraces in forest clearings. This gave the people easy access to water and to their fields. The houses were often grouped in twos and threes. Some sites, such as Vaihingen/Enz in Germany, had a ditch around the residential area. The ditch does not appear to have been a fortification.
Archaeologists can get a lot of information about an ancient people through an examination of the dead. The Bandkeramik people buried their dead in cemeteries located a short distance from the settlements. The dead were usually placed in separate graves in a contracted position. A small quantity of grave goods was included. Grave goods include adzes, ceramic vessels, arrowheads, and flint tools. Beads and bracelets made from the marine mollusk Spondylus gaedoropus, found in the Mediterranean and Black seas, suggest distant trade.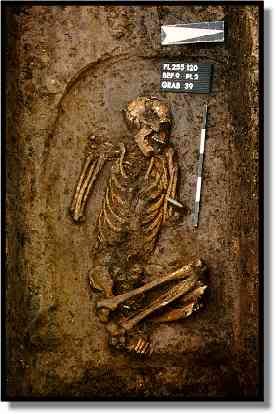 The grave goods as well as the architecture of the long houses suggest to archaeologists that the Banderkeramik had an egalitarian social organization. That is, they did not have social classes or groups of people which had great access to resources. The grave goods also show that long-distance trade brought in exotic goods from distant places. They also had some contact with the local hunting and gathering bands.
The graves of the Bandkeramik women were often highly decorated. This suggests to some archaeologists that these people traced descent through the female line.